1 View
Best ATV Ramps for Loading Onto Trailers and Trucks
April 14th, 2022 7:23 PM
Share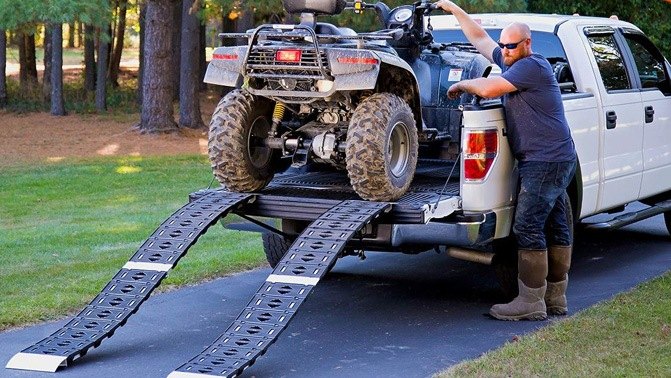 Good ramps make loading your ATV safer and easier
Sturdy, reliable ATV ramps are something that every rider should have in their arsenal. Trying to load your quad onto a truck or trailer without ramps is needlessly difficult and risky, and even if you're lucky enough to live where you ride, inevitably you'll eventually need some of our best ATV ramps to load your machine up to take it in for servicing or head off in search of new trails.
Thankfully, there's no shortage of well-built, durable ATV loading ramps on the market, most at a price point that's easy to swallow. Granted, that means you'll have plenty of choices to make, the most important of which is material. Aluminum ATV ramps have come to dominate the market these days, thanks to their light weight and easy deployment, and lastly durability since they won't rust like less expensive steel ramps. If you're on a budget, there are plenty of steel options out there that have many of the same features of aluminum ramps without the weight savings or corrosion resistance, in a time-tested material. Once you narrow down your selection to which material you want your ramps to be made from, you still have plenty of other options to take into consideration. Things such as ramp length, weight rating, whether you need hinged folding ramps, whether you need contours to provide extra clearance, etc.
Is all of this a little overwhelming? That's why we're here: to serve as a guide to some of the best, most highly rated ATV ramps on the market. We've rounded up a handful of our top picks, encompassing both steel and aluminum ATV ramps, folding and solid designs, and a range of price points, all to help you select exactly the right set of ATV loading ramps for your needs. What's more, we've made sure that each and every one of our picks can support a minimum of 1,500 pounds, so these should be able to accommodate most UTVs, as well. Read on.
1. Editor's Choice: Rage Powersports Black Widow Aluminum 7'6" Arched ATV Ramps
If foldability is something you can't live without, these Rage Powersports Black Widow aluminum ATV ramps make for a solid, inexpensive solution. Combined, they just meet our minimum weight capacity restriction of 1,500 pounds, but they're among the most portable ATV loading ramps out there, each one weighing in at just 14.5 pounds and folding down to around four feet in length. What's more, they're arched for maximum clearance, for both your truck and your ATV or UTV, and the rungs are serrated for excellent traction in all conditions, whether covered with rain, mud, or snow. A clear choice of our staff to top the list of best ATV ramps.
2. Lowest Loading Angle - Cargo Smart Hybrid S-Curve Centerfold Ramp
The Cargo Smart Hybrid S-Curve Centerfold Ramp is, simply put, one of the most advanced, well-designed and overall best ATV ramps we've ever seen. The S-curve design reduces the incline grade at both the top and bottom of the ramp, with a large radius to ease loading and unloading even for low-clearance items – perfect for if you ever have to load with a flat tire or busted suspension. The ramps utilize a proprietary construction consisting of aluminum and a composite material, resulting in a ramp that's uncommonly strong for its weight and size, and delivers superb traction for loading and unloading in inclement weather. There's even an illuminated version with built-in LEDs for better low-light visibility.
3. Quickest Setup: Yutrax 78-Inch Tri-Fold Aluminum UTV/ATV Loading Ramps
If you'd rather not fiddle with trying to align a pair of ramps, the Yutrax 78" tri-fold aluminum ATV loading ramp is perfect for you. Rated at up to 1,750 pounds and weighing in at just 32 pounds, this stowable, single-piece ramp measures 50 inches across, so there's virtually no chance of it shifting and going crooked while you're trying to load or unload. It's welded – not riveted – together and uses enclosed rectangular side rails for extra strength and stiffness, and folds down to just 17.5 inches wide, although you will have to account for its full 78" length even when folded. It's the only tri-fold ramp setup on our list of best ATV ramps as our staff feels that they work perfect for lower height trucks with limited storage space.
4. Most Budget Friendly: Reese Explore 80" Steel Centerfold Loading Ramp
There are some very good reasons why steel has long been the backbone of American industry; it's strong, durable, inexpensive, and far more resistant to fracturing or cracking than aluminum. If you're looking for a simple, reliable set of steel ATV ramps that won't let you down, this 80" Reese Explore Centerfold Loading Ramp is just the ticket. Its galvanized coating gives it a protective barrier against rust, and not only does it fold for easier storage – it even separates into two half-length loading ramps for a bit of extra flexibility. Each ramp has a maximum load rating of 800 pounds, so a pair of these should be able to support just about any ATV or UTV you throw at it. Priced at just under $100 for the pair, it's a no-brainer to include on our list of best ATV ramps.
5. Strongest Ramps: Broozer 84" Car/ATV Truck Trailer Ramps
Looking for maximum weight capacity? For the money, these Broozer aluminum car and ATV ramps are the best we could find, and at a combined total weight rating of 6,000 pounds, they're absolute overkill for the average ATV or UTV – perfect if maximizing safety is your thing. To achieve that weight capacity rating, these ramps have been designed without a hinged folding joint, so you'll need to figure out a way to stow 7 feet of heavy-duty aluminum ramp, but their lightweight aluminum alloy construction helps ease the burden of transporting them. While not the most convenient, they're by far the most heavy-duty on our list of best ATV ramps.
6. Most Compact: Larin Folding Steel ATV/Truck Ramp
Another great steel option in our list of best ATV ramps, are these Larin ATV ramps. What sets them apart from the rest of the field is their dual-purpose functionality; not only can they be used to load and unload ATVs and UTVs up to 1,500 pounds in weight, but folded, they can also serve as 6" elevation ramps for your car or truck, with an impressive 5,000-pound combined weight capacity. The tri-fold design means that a 78.5" long ATV loading ramp can be reduced down to a 38" elevation ramp in seconds, making them very stowable. Also, each of these ATV ramps features a convenient carry handle for transport.
How long do I need my ramps to be?
This is entirely up to you. The longer ramps you have, the less approach angle you'll have to climb making it easier to load your ATV or UTV onto your truck or trailer. You just need to take into account how much storage space you have to stow the ramps. The Rage Powersports Black Widow Aluminum Ramps are 7.5-feet long and fold in half where as the Yutrax 78-inch Tri-Fold Aluminum loading ramps are substantially shorter giving you more of a steep angle to load up. One gives you easier loading while the other takes up less space when you're done.
How do I know if the ramps I'm looking at are strong enough?
You need to see what the load capacity is of the ramp and then look at the weight of your ATV or UTV that you want to load. If you're not sure, take a visit to the website of the manufacture of your machine. They almost always have a spec list that will include the weight, but you also need to take into account any accessories or modifications that have added weight to your machine.
What are the benefits of a hinged ramp over a set of bi-fold ramps?
Hinged ramps are usually tri-fold style ramps that are all one-piece that stack each section on top of the other. These usually aren't as long making the loading angle steep, but are great if your truck or trailer are low to the ground and have the ability to stow the full length of the ramp. Bi-fold ramps usually have less of a load angle (depending on the height of your truck or trailer) that makes loading your ATV or UTV much easier. The tradeoff is that you have to deal with stowing two separate ramps.
Do ramps need to be secured to the vehicle you're loading onto?
While we always recommend securing your ramps to a truck or trailer, it is at your discretion. Most ramp systems will automatically come with some kind of retention cable to ensure that your ramps don't slid off during the loading/unloading process. If they don't you can use your tie-downs to secure the ramp to the vehicle. At times this method might even be better than what is supplied.
Recent Updates
04/14/2022: Updated product links, added additional resources, added to FAQ
March 9, 2021: Added an FAQ and updated the details on some of our recommendations.
We are committed to finding, researching, and recommending the best products. We earn commissions from purchases you make using the retail links in our product reviews. Learn more about how this works.
Published July 20th, 2020 10:35 AM
Top Brands
Popular Articles