40 Views
May 25th, 2021 2:44 AM
Share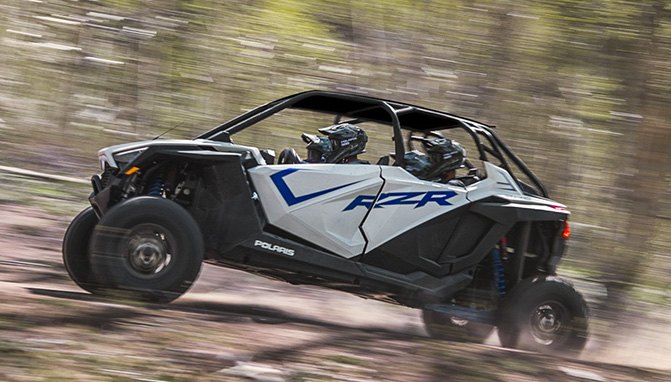 Tough treads suitable for any terrain
Whether you're looking for more ground clearance, more contact patch, or even more curb appeal for your UTV, 32x10x14 UTV tires are one way to get there.
Tires measuring 32 inches in overall height are certainly toward the high end of the spectrum; they're just about the biggest tires you should ever try to fit on an unmodified factory UTV. But as large as they may be, there is a whole wide range of different 32x10x14 UTV tires available on the market, from general-purpose all-terrain tires to rock-crawlers, mud-terrains, and even the odd extreme-terrain tire. What's more, these tires are offered by some of the biggest, hottest, and most trusted brands in the powersports tire market – brands like Maxxis, Sedona, and GBC.
Here, we've done the hard work of shopping 32x10x14 UTV tires for you, rounding up the best options available today. On this list, you'll find tires that fit into each of the major terrain-style categories, representing a diverse range of reputable brands.
1. Editors Choice: Tusk Terrabite
A go-anywhere, DOT-compliant radial with a light truck-inspired tread design, the Tusk Terrabite is the versatile Swiss Army Knife of a UTV tire you've been looking for. With radial construction and a rounded profile, the Terrabite is among the most stable, predictable 32x10x14 UTV tires around under hard cornering, but its no flimsy lightweight; like many of the best UTV tires, it boasts an 8-ply rating, giving it exceptional strength and puncture-resistance. The Terrabite's big, wrap-around lugs and hefty center tread blocks contribute to a truly well-rounded off-road tire, too, as at-home on rocks and hard pack as it is in sand, mud, and loose gravel.
2. Best Desert Terrain Tire: Maxxis Carnivore
This Carnivore, for one, doesn't eat meat, preferring instead to feast on rocks, roots, and desert terrains. The Maxxis Carnivore is a light truck-inspired tire tailor-made for the sort of dusty, dry conditions that permeate the American Southwest, with radial construction for superior stability and predictability at speed, and an 8-ply rating for outstanding durability and puncture-resistance. It features a specialized rubber compound bred to give it a long treadwear and excellent traction in extreme west coast terrain, and the tread design incorporates tons of biting edges in all directions for grip along every axis. It's a bit narrower in focus than some of the other 32x10x14 UTV tires on this list, but what it does, it does well.
3. Best Rock Crawling Tire: Pro Armor Crawler XG
Pro Armor might be better known for its exterior protection and customization accessories, but it turns out that the manufacturer knows a thing or two about making excellent UTV rubber, as well. Enter the Pro Armor Crawler XG. Built primarily for rocks, the Crawler XG features countless rows of tall, tightly packed siped tread blocks that deflect, and grab hold of the slickest of rock faces, and don't let go. That said, dirt and sand trails are well within the Crawler XG's purview, too, and alternating scalloped shoulder lugs allow it to find traction even in mud. But rock crawling is really where the Crawler XG is most at-home, and in the world of 32x10x14 UTV tires, few can do it better.
4. Best Mud Tire: Sedona Mudda InLaw
Trudging through the occasional mud hole and really excelling in the muckiest of conditions are two very different things. If you're more interested in the latter, look at the Sedona Mudda Inlaw. A true, hardcore mud tire from one of our favorite ATV/UTV tire brands, the Mudda Inlaw rocks some seriously deep tread lugs, measuring a full 2 inches deep, with a paddle-like design that's meant to swim through the deepest mud holes with ease. Surprisingly, though, the Sedona Mudda Inlaw is a radial tire, not a bias-ply, which contributes to its superior handling and smooth ride – at least, you know, for a crazy bonkers mud tire.
A solid go-anywhere performer made for the most extreme terrains on planet earth, the SuperATV XT Warrior is the "next evolution" in SuperATV's Warrior Tire technology. It's an aggressive-looking 8-ply-rated brute with strong, flexible aramid belt construction, patented pyramid-shaped siped tread lugs designed to flex on rocks and other tough terrain to maximize their contact area, and a special rubber compound devised for maximum performance in a wide range of conditions. The end result is a tire that bites and grabs hold of the terrain like it's got hundreds of fingers and refuses to let go. As 32x10x14 UTV tires go, these are among the most versatile you can get.
Do you like rocks, Billy? Take a look at the Sedona Rock-a-Billy. A highly specialized, purpose-built rock-crawling tire from one of our favorite UTV tire brands, the Sedona Rock-a-Billy proved its worth at the 2016 UTV Terracross Championships, and today, it remains arguably the best rock-crawling UTV tire on the market. With a durable 8-ply-rated radial carcass, a super-aggressive tread with tons of hard biting edges and integrated side lugs, integrated stone ejectors, and a full, bead-to-bead layer of puncture-resistant material, it's a supremely tough, grippy rock specialist, and if rock-crawling is your thing, you're not likely to find anything better in the 32x10x14 UTV tires category.
Tough as nails and ready to devour just about any terrain you can throw at it, the GBC Dirt Commander is practically a legend in the world of 32x10x14 UTV tires. It's a bias-plied beast of a tire with deep, siped tread blocks measuring 27/32nds of an inch tall that are only too happy to bite into dirt, mud, rocks, grass, creek beds, and basically everything else in-between, while its large void areas help it self-clean, ejecting dirt, mud, and pebbles to keep the tread clear and ready for more. Eight-ply-rated construction makes it durable and highly puncture-resistant, to boot, and with one of the most respected and sought-after UTV tire brand names behind it, you know you're getting one of the best 32x10x14 UTV tires around.
Additional Resources
We are committed to finding, researching, and recommending the best products. We earn commissions from purchases you make using the retail links in our product reviews. Learn more about how this works.
Can My UTV Handle 32x10x14 Tires?
It's important to understand: 32x10x14 tires are huge for a UTV. Heck, 32"-tall tires are a good size for a Jeep, and a Jeep is a considerably larger vehicle. Naturally, you may ask: can my UTV even take 32"-diameter tires? The short answer: it depends. First and foremost, there's the question of chassis interference. With such a tall tire, rubbing is a real risk on many factory suspension setups. Some models, such as the Honda Talon and Can-Am Maverick, should be able to accommodate 32" tires with the stock suspension, with little to no risk of interference. Many more will require a suspension lift of one or more inches, and while a lift kit doesn't necessarily need to be expensive, it does mean more work. And then, there's also the matter of the extra power required to turn 32x10x14 UTV tires. Remember: it's not just about the added weight from the extra rubber, steel, and other material. It's also about how bigger tires effectively change the gearing, making each gear longer and reducing wheel torque throughout the entire operating range. The engine is also forced to operate below its ideal power band more of the time. What does all this mean in practice? Impaired take-off, impaired acceleration, less torque for conquering obstacles, and even more stress on the drivetrain. A model like the Honda Talon, which features a dual-clutch automatic transmission, ought to be able to cope pretty well with the added stress, but the belted continuously variable transmissions used in most UTVs may suffer from excess belt slip, causing belt glazing and early failure. Granted, changing the transmission drive belt after a failure needn't be the most daunting procedure, and the slippage issue can often be corrected with a clutch kit, but all this equals more time and money spent on modifications. The best advice we can give is to poke around on the internet forums for advice on your particular UTV model and ask fellow owners about their experiences. If it exists, someone has probably put 32" tires on it before.
I ride mainly hard pack trails, but I also come across some muddy trails. Is there a tire that will work great in both of these conditions?
If the muddy trails you come across are in swampy locations, there's pretty much one tire on this list that will work for you. The majority will work for most any terrain, but when you get into an extremely muddy situation, like what you in the southern states, they will pack up with mud and leave you scrambling for winch anchors. That is why tires like the Mudda InLaw have those deep, wide spaced lugs for maximum bite and cleaning in that thick swamp mud.
Published May 25th, 2021 2:44 AM
Top Brands
Popular Articles