108 Views
June 9th, 2021 3:36 PM
Share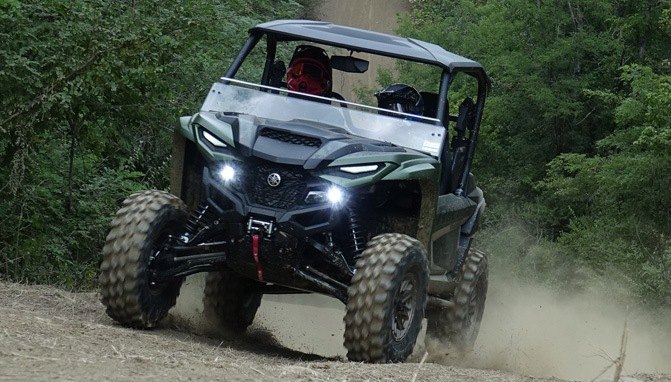 The perfect list of tires for any terrain you encounter.
Shopping around for the best set of 30x10x15 UTV tires? You're not alone.
A new set of tires can dramatically improve your UTV's capabilities and ride quality. In fact, it's the very first mod you should perform should you start overhauling your side-by-side to unlock a bit of extra performance, offering the absolute best bang for your buck and ease of installation among the most popular mods. And whether your suspension-limited to 30-inch-tall tires, or you're apprehensive to install anything larger for fear of how it might effectively change your UTV's gearing, there are plenty of great options in the world of 30x10x15 UTV tires – enough that it can sometimes be difficult to choose.
Here, we're looking at the best 30x10x15 UTV tires available on the market today, encompassing everything from mild all-terrain tires to rugged, go-anywhere cross-terrains, and even a couple of mud-terrain options.
Table of Contents
1. Editors Choice: GBC Kanati Mongrel
Built specifically to serve today's heavier, higher-horsepower side-by-sides, the GBC Kanati Mongrel is a rugged all-terrain tire par excellence. It boasts an absurdly stout 10-ply rating and radial construction, making it perhaps the most durable tire on this list, with reinforced sidewalls to resist punctures. An aggressive, full-coverage tread – 19/32" deep – with a good void ratio and multi-directional biting edges provides outstanding bite and traction no matter what the terrain, with commendable self-cleaning to keep the tread clear and maintain proper traction. And while the GBC Kanati Mongrel might not be the newest tire on the block, how many 30x10x15 UTV tires can say they've swept the podium at the King of the Hammers? Not many.
2. Best Muddy Trail Tire: SuperATV XT Warrior
Looks aren't everything in a set of 30x10x15 UTV tires, but if they were, the SuperATV XT Warrior might just be king of them all. It's a seriously aggressive, bad-ass-looking cross-terrain tire, with the performance and ruggedness to back it up. The 8-ply-rated construction only tells part of the story; in addition to that, the XT Warrior boasts aramid synthetic fiber belts for outstanding strength and puncture-resistance, a built-in rim guard to keep those nice aftermarket wheels safe, and a patented tread lug design with a tapered, pyramid-like shape. This allows them to flex on rocks and other hard terrains for more surface area and improved traction, and to dig into soil, sand, and mud for exceptional bite. With all of that, plus a full inch of tread lug depth, these 30x10x15 UTV tires are true off-road warriors.
3. Best Mud Tire: ITP Blackwater Evolution
Sitting somewhere near the top of all mud-terrain 30x10x15 UTV tires is the Blackwater Evolution – an 8-ply-rated radial mud tire with kick-ass looks, all-terrain capability, and a smooth ride with outstanding, predictable handling. While technically a mud tire at heart, as evinced by its deep tread and massive void areas, the list of things the Blackwater Evolution can't do is rather short. ITP says the tire is suitable for everything from soft/lose surfaces to intermediate terrain, and from mud to rocks, ruts, and even snow. In a world where "mud-terrain" often means giving up a lot of your everyday usability, that makes the ITP Blackwater Evolution a real peach. An 8-ply rating and an exceptionally tough rubber compound make the Blackwater Evo tough and resistant to punctures, while radial construction keeps it smooth and predictable at the limit, and a unique non-directional design offers truly awesome traction.
A versatile go-anywhere all-terrain tire with an attractive price tag, the Tusk Terrabite 30x10x15 is a popular choice among UTV owners everywhere for its light truck-inspired tread, advanced long-wearing tread compound, and tough-as-nails 8-ply rating. The Terrabite excels best in medium- to hard-pack terrain, but with its mixed-use 3/4"-deep tread, there's little it can't handle, providing adequate traction even in gravel, through sand, and over rocks. The rounded profile and radial construction provide smooth, stable, predictable operation at speed and under cornering, and the tire is even DOT-approved for on-road use, meaning you can drive your Tusk Terrabite 30x10x15 tires on public roads – provided that your local laws permit that sort of thing.
The BFGoodrich T/A KO2 all-terrain tire has already made a name for itself as the OE tire of choice on the likes of the Ford F-150 Raptor, but the mud-focused T/A KM3 is still alive and well, even in the world of high-performance UTVs. What more can we really say about a Baja champion, and one of the absolute best mud-terrain tires to come along in the last 10 years? Boasting a characteristic deep Terrain-Attack tread design that excels in mud and loose terrain, mud-phobic bars for exceptional clean-out, and a Linear Flex Zone that lets the tire envelope and all but swallow objects in aired-down off-road driving situations, the BFGoodrich T/A KM3 kicks some serious butt, plain and simple. It's hands down one of the best 30x10x15 UTV tires you can get.
An outstanding cross-terrain radial tire that's none too tough on the wallet, the System 3 XTR370 certainly looks the part of rugged, capable off-road tire with its big, beefy tread blocks, large void areas, and alternating scalloped shoulder lugs. Those shoulder lugs help improve side bite for driving over rocks and through troughs, but from mud to soft and intermediate terrain, there's very little this tire can't handle. These 8-ply-rated radial 30x10x15 UTV tires boast 3/4" to 1" of tread depth for superb traction in even the harshest of conditions, and they're built with the same care and expertise as System 3's full line of impressive UTV wheels.
Tensor Tire isn't a brand that comes up too often in our "best tires" lists, but the Regulator A/T is well worth consideration when you're shopping for that next set of 30x10x15 UTV tires. Like so many newer all-terrain UTV tires, the Tensor Regulator A/T features a tread design based on those found on light truck A/T tires, giving it a smooth ride even on paved surfaces, and predictability and stability alike at speed. That tread features a close lug spacing, limiting the tire's self-cleaning capabilities somewhat, but the extra contact area, in conjunction with a unique variable tread pattern, means a smooth ride and superior grip on intermediate and hard terrain. Add to that the Regulator's puncture-resistant nylon reinforcement and rugged 8-ply construction and you end up with a very effective off-road tire.
Which 30x10x15 UTV Tires Are Best for Mud?
But you'll notice something about our list of the best 30x10x15 UTV tires: just two – the ITP Blackwater Evolution, and the BFGoodrich T/A KM3 – are designated mud-terrain tires. That's because mud-terrain tires are something of a rarity in 30x10x15 sizing; those hoping to run something like, say, SuperATV's Intimidator, Maxxis's Maxzilla, or even a tire from ITP's Mud Lite series should consider downsizing to 14" wheels if possible, or raising their suspension as needed to fit 32" or taller tires.
Of the two mud-rated 30x10x15 UTV tires on our list, we'd recommend the ITP Blackwater Evolution for serious mud duty. It features 70 percent more tread depth and a significantly higher void ratio compared to the BFGoodrich T/A KM3, which means more paddling action and superior clean-out for caked-on mud. That's not to say that the BFGoodrich is a bad option; it benefits from the company's vast engineering resources, after all, and boasts plenty of great features like alternating scalloped shoulder lugs, mud-phobic bars, and advanced compounds, all of which help boost traction in the mud.
In truth, you can't go wrong with either option.
We are committed to finding, researching, and recommending the best products. We earn commissions from purchases you make using the retail links in our product reviews. Learn more about how this works.
Published June 9th, 2021 3:36 PM
Top Brands
Popular Articles