102 Views
May 10th, 2021 6:32 PM
Share
We're committed to finding, researching, and recommending the best products. We earn commissions from purchases you make using links in our articles. Learn more here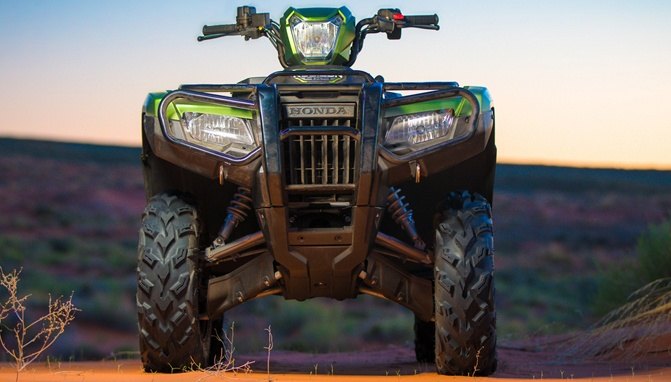 We've rounded up the best tires for your ATV
If you're shopping for a set of 26x10x12 ATV tires, there are some great options available to you. We've rounded up our favorites and put them all in one place.
While not the most common tire size on modern all-terrain vehicles, 26x10x12 ATV tires are available from some of the best-known, most respected manufacturers around, in both all-terrain and mud-terrain styles. It's a good thing, too, because a new set of tires is just about the quickest way to transform the way your ride behaves on the trail. They're the only part of your ATV that actually makes contact with the ground, transforming each twist of the throttle and turn of the handlebars into action.
But with numerous options on the market, how can you know you're getting the best 26x10x12 ATV tires available for your vehicle? That's where we come in. We've put together this list of the tires currently on the market, at a variety of price points, and covering a range of different terrain types. Stick with one of the tire models on this list and you can't go wrong.
Table of Contents
1. Editor's Choice: GBC Kanati Mongrel
A premium tire manufacturer with a sterling reputation, Greenball, or GBC, manufactures tires for light trucks, trailers, yard and farm equipment, golf carts, and most importantly, ATVs and UTVs. All of that varied experience is on full display in the GBC Mongrel – a 10-ply-rated radial all-terrain developed primarily for modern side-by-sides, but perfectly suitable for single-rider ATVs, as well. The tire's uncommonly strong 10-ply rating gives it outstanding puncture resistance and a sky-high max load rating of 760 pounds per tire, while the radial construction lends itself to a smooth, comfortable ride with predictable handling at speed. Add to that an aggressive all-terrain tread design with 21/32" of depth and you end up with one of the best, most well-rounded 26x10x12 ATV tires around.
We had a chance to review the Kanati Mongrel back in 2020 when we put a set on a Yamaha YXZ1000R and found it to be an outstanding choice for trail and desert riders. But if you really like to play in the mud or ride mostly in the sand, there are better options out there.
2. Best Mud Tire: Kenda Executioner
If you're looking for a set of true hardcore 26x10x12 ATV tires, look no further than the Kenda Executioner K538. The Executioner boasts an extra tough 6-ply-rated puncture-resistant casing and a built-in rim-saver feature that keeps your wheels protected from damage. Just as important, it boasts an aggressive 26.5mm of tread depth – just over an inch – to deliver outstanding traction even in the deepest of muddy trails, and dimples between the tread lugs to deliver traction even in the dry. The tread knobs are reinforced to resist flex and rollover at lower tire pressures. The Kenda Executioner is, at the end of the day, a less versatile mud-terrain tire than, say, the ITP Mud Lite series, but it's a great option if you want uncompromising deep mud performance.
The Sedona Rip Saw RT is one of our favorite overall ATV or UTV tires. We've tested the Rip Saw in pretty much every type of terrain imaginable and it works pretty darn well in all of them. Yes, there are better specialty tires out there, but for all-around performance, the Rip Saw holds its own with anything on the market.
Built on a 6-ply rated carcass with a 1-1/8" tread, the Rip Saw has plenty of bite in most situations. Plus, the treads are spaced out enough that mud and dirt is fairly easily dispatched. We also like how the tread wraps around the sides of the tire, giving you traction when you really need it.
One of ITP's immensely popular, well-reviewed Mud Lite tire series, the Mud Lite XL is a versatile mud-terrain tire with far more all-terrain usability than you might expect given its massively deep 1-1/8" tread lugs. The Mud Lite XL is a 6-ply-rated tire utilizing bias construction, but it's surprisingly comfortable and well-behaved on the trail, with good steering feel and the sort of smooth ride you might sooner expect from a radial. Apart from mud, the Mud Lite XL counts intermediate and loose surfaces, rocks, ruts, and snow among its terrain proficiencies, making a set of these ITPs among the best year-round 26x10x12 ATV tires you can get.
The Sedona Mud Rebel is a solid mud tire that is not so aggressive that it can't be used on hard pack. This 6-ply rated tire has 3/4" treads with angled lugs to provide traction in the slick stuff. Not quite as adept in the really deep stuff as mud tires with bigger lugs, the Mud Rebel is much more comfortable on dry land where it offers a reasonably quiet and vibration-free ride. The 26x10x12 versions of the Sedona Mud Rebel tip the scales at 25.8 pounds and each has a load rating of 440 pounds - ideal for large ATVs or UTVs.
6. Best Budget Option: Wanda ATV/UTV P373
When it comes to tires, like most everything else, you tend to get what you pay for. But if your annual mileage is somewhat limited and you don't need the very best, most premium 26x10x12 ATV tires you can get your mitts on, a set of 6-ply rated Wanda ATV/UTV P373 all-terrain tires might be a smart buy. Wanda's no newcomer to manufacturing powersports tires, mind you; the Tianjin, China-based company has been cranking out tires for ATVs, UTVs, golf carts, trailers, and the like for more than 30 years, and the P373 represents some of the best of what they have to offer. This tire looks very similar to the Carlisle AT489 - a very popular tire in the industry. The 0.63" lugs are well spaced out and they offer a claimed 440 pounds of load capacity at 7psi.
User reviews are generally quite good, but there are some complaints, which is to be expected for a budget tire. Most appreciate the traction and quiet ride they provide, but some owners complain that the tires wear out too fast. But when you consider the price tag and the overall positive nature of the reviews, these look like a good value proposition.
Recent Updates
May 10, 2021: Added the Sedona Rip Saw and Wanda P373 to the list and removed the Maxxis Mud Bug due to lack of supply. Also added an FAQ.
Additional Resources
We are committed to finding, researching, and recommending the best products. We earn commissions from purchases you make using the retail links in our product reviews. Learn more about how this works.
Why should you get 26x10x12 ATV tires?
You don't see too many 26x10x12 tires out there, but moving up to this size makes sense if you are currently running 25x10x12 tires (a more common size) and want to add a little more ground clearance and traction without having to invest in lift kit or incurring too much of a weight penalty. It's an affordable and effective upgrade to your UTV or Utility ATV. Aaron Brzozowski
Aaron is a freelance writer, videographer and car enthusiast based out of the Detroit area. He has a special affinity for the Porsche 944 series, and once owned a Volvo 240 sedan with a Weber carb in place of the factory EFI system. His work has appeared on AutoGuide, GM Authority, /Drive, and VW Vortex, among other sites.
More by Aaron Brzozowski
Published January 21st, 2021 3:44 PM
Top Brands
Popular Articles