245 Views
Five of the Best ATVs for Trail Riding
May 9th, 2018 6:40 PM
Share
We're committed to finding, researching, and recommending the best products. We earn commissions from purchases you make using links in our articles. Learn more here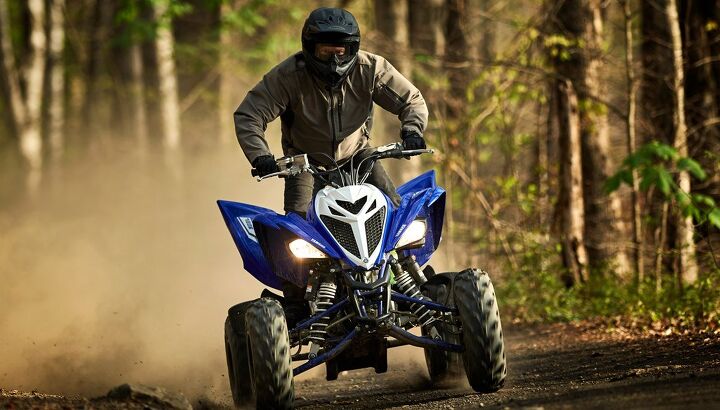 While a working ATV is great, sometimes you just need a machine to hit the trails with. Here are five of the best ATVs for trail riding.
The most popular activity for ATV riders is getting out and enjoying the trails. While some may plan to use their machine for working around the farm or job site, and others plan to hit the race track, pretty much everyone sooner or later ends up hitting the trails for a casual ride. What makes a good trail machine? Comfort, versatility and fun all play into making an ATV a great ride. Here are five of the best ATVs for trail riding currently on the market today in no specific order. This list comes from countless hours of seat time on the trails, riding these and other machines. Are there other trail-worthy machines out there? Sure. These are just some of our favorites.
Yamaha Raptor 700R
Starting out with a beast of a machine that is not for inexperienced riders, Yamaha has been producing and selling Raptors for a while now and with good reason. These machines pack a serious amount of fun into a ride worthy of any trail and any terrain out on the trail. Packing a hefty 686cc single-cylinder, four-stroke motor, the fuel-injected Raptor has a five-speed plus reverse transmission and electric start. This is backed up with 9.1 inches of wheel travel from the front shocks and 10.1 inches from the single rear shock. This gives you a smooth ride whether you're hitting the dunes, rolling through the high desert, or screaming through tight eastern wooded trails. The Raptor is one of the few Sport ATVs still in production. Its popularity, durability and ride quality easily make it one of the best ATVs for trail riding.
Kawasaki Brute Force 750i EPS
The biggest Brute from Kawasaki has been a favorite around here for a long time. Yes, the Kawasaki Brute Force has been out for a few years and hasn't been updated in a while, but that doesn't do anything to its trail worthiness. It's powered by a near bullet-proof 749cc V-Twin engine that makes gobs of torque and horsepower. It has 6.7 inches of wheel travel in the front and 7.5 inches out back. The suspension is smooth and predictable and works well with the power steering and four-wheel drive. The Brute Force is a great machine for working around the farm, but it really shines when adventuring down the trails. It has a nimble feel for a large machine and transitions between sitting and standing are smooth. It may be long in the tooth, but the Brute is usually one of the first machines picked for an adventurous trail ride.
Polaris Sportsman Touring XP 1000
What do you get when you take one of the better 1000-class utility machines and make it so you and a passenger can enjoy the trails? The Polaris Sportsman Touring XP 1000 is a trail riding dream come true for those looking for a powerful machine with room for two. The 952cc ProStar engine pumps out 88 horsepower, more than enough to climb any hill, or scoot down the trail at an exhilarating clip. The passenger seat can be removed for single use. There are rear-view mirrors for trail safety, too. The digital display is Bluetooth connected so you can see if you miss any calls or texts while safely riding down the trail. This keeps you connected while helping you to not be distracted by your phone. Nice touches like this make the Polaris Sportsman Touring XP 1000 one of the best ATVs for trail riding.
Can-Am Renegade 570
There are multiple variations of the impressive Can-Am Renegade ATV. These machines were built to tackle the terrain, chew up obstacles and keep on rolling along. The Renegade is well known for horsepower, which can not only be intimidating to some, but also comes with a higher price tag. When Can-Am unleashed a Renegade 570, we knew this would be a great trail machine. It is powered by a 570cc Rotax V-Twin and pumps out an impressive 48 horsepower. It has the same 9.0 inches of travel up front and 9.3 inches in the rear. These four-wheel drive recreational ATVs are made to play hard, and they do it so very well. The Renegade 570 starts with an MSRP of just $8,349, making it one of the best ATVs for trail riding for those looking for fun on a budget.
Honda Rubicon DCT Deluxe EPS
When Honda redesigned the Rubicon 500-class ATV a couple years ago, we knew after riding it around the trails at Hatfield-McCoy in West Virginia that it was easily one of the best trail machines on the market. It is powered by a dependable Honda 475cc single-cylinder engine. The DCT Dual Clutch Transmission is excellent for picking your way along tight trails and going down steel hills is so easy on this machine. It rides so very well, you will actually think you've got more motor under you, but the power delivery is so smooth that beginners can handle it as well. Honda has tremendous owner loyalty and with machines like the Rubicon, it's easy to see why. This machine easily makes our list of the five best ATVs for trail riding and if you ride one, you'll see why. Derrek Sigler
Derrek's love for all things ATV started when he was a mere 11 years old, growing up on his family farm. His mom gave him and his sister a choice - get a horse, or a three-wheeler. The sister wanted the horse, and Derrek wanted the ATV. Luckily he won out, and was soon burning up the trails on a Yamaha Tri-Moto 200. By the time he was 14, he had saved enough of his own money by working on the farm and in his folks restaurant to buy a new 4-wheeler. That happened the day he and his mom were driving past the dealership and saw 1987 Banshee. His mom had no idea what he was buying, and he never looked back. He's been riding ever since, and been writing professionally for many years. He has ridden all over North America and been behind the controls of just about every machine out there. And yes, he still has his 1987 Yamaha Banshee.
More by Derrek Sigler
Published May 9th, 2018 6:09 PM
Top Brands
Popular Articles