1 View
Best UTV Gun Rack Options
October 28th, 2021 2:51 PM
Share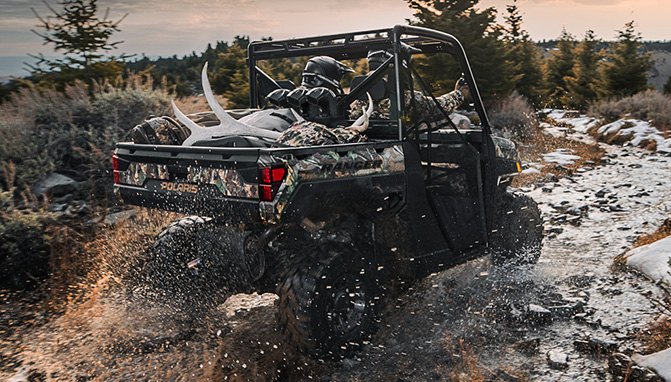 The best options to keep those guns safe and secure during transport
Looking for the perfect UTV gun rack to carry your firearms out into the field safely? We have some tips.
A UTV can be an indispensable tool for the hunter or shooting enthusiast, making it possible to cover ground – whether on public land or your own private hunting property – more quickly than you ever could on foot, with the option of bringing way more gear with you, too. But transporting firearms can be a dangerous endeavor if you don't take certain precautions. Remember: accidental discharges happen every single day and subjecting your firearm to the bumps and jolts of a particularly rough off-road trail only increase the chances of a costly mishap.
And even if you make it a practice to always unload your firearms before transporting them (which you absolutely should), it doesn't take much for your firearms to incur some serious damage on the trail, from scratched and dented stocks to bruised rifle scopes and marred-up barrels. You need a UTV gun rack that can hold your guns safely, securely, out of harm's way, without taking up too much space.
Here, we've done the hard work for you, compiling a list of all the best UTV gun rack options on the market today. This list encompasses everything from UTV overhead gun rack options to bed-mounted units, and even a unit featuring its own weatherproof enclosure.
1. Editors Choice - Classic Accessories QuadGear UTV Double Gun Carrier
Not technically a UTV gun rack, the Classic Accessories QuadGear UTV Double Gun Carrier still handily earns a spot on our list because it delivers the best of both worlds: bed-mounted gun storage that retains your cabin's limited real estate, and protection from the elements courtesy of a weather-resistant enclosure. Depending on where you live, an enclosure might be legally required for you to transport your long guns in your UTV anyway; either way, what this gun carrier offers is a heavy-duty ProtekX6 carcass with a weather- and abrasion-resistant coating and a water-resistant backing, all of which helps keep up to two long guns totally safe from the elements while you drive. It attaches securely to the back of your UTV roll cage with a pair of durable straps with quick-release buckles. Between the weather-proofing measures, the impressive storage capacity, and the overall design, this Classic Accessories gun carrier punches well above its price. These features and convenience make this the best UTV gun rack for our staff.
2. Best Overhead Gun Holder - Kemimoto UTV Overhead Gun Holder
Keep your two favorite long guns stowed safely overhead with the Kemimoto UTV Overhead Gun Holder. This is a near-universal UTV overhead gun rack solution with two carbon steel struts that adjust from 21 to 28 inches in length to fit a variety of factory UTV roll cages. They secure to the cage using adjustable straps, so no drilling is required for installation, and they safely cradle your guns with U-shaped holders furnished with soft sponge padding and rubber straps. This solution not only keeps your expensive long guns safe from marring, but it also helps absorb vibrations on the trail, so your scopes and sights don't get knocked out of alignment and your guns don't make a racket every time you drive.
3. Best Bed Mounted Gun Rack - Kemimoto UTV Sporting Clays Gun Holder
Are things getting just a bit too cramped in the cabin? Then you might consider this: the Kemimoto Sporting Clays UTV Gun Rack. It's a steal of a deal considering what all you get, with a storage capacity of up to four guns and a heavy-duty, steel frame with a protective powder coat finish that attaches to most UTV beds using just a few fasteners. The frame is both vertically and horizontally adjustable to fit most popular UTV beds, and designed to keep the muzzles of your guns pointed up for safety. The rack is also designed to extend high over the bed leaving plenty of room for other gear to be stowed away. Your rifles are safely secured into place utilizing soft inserts that prevent scratching, and thick rubber straps that keep your rifles where you want them with this UTV gun holder.
4. Great Day Quick-Draw Overhead UTV Gun Rack
Like the idea of a UTV overhead gun rack, but your cage can't fit the Kemimoto unit listed above? Try the Great Day Quick-Draw Overhead Gun Rack. Designed primarily with the Polaris Ranger 570 and 900 full-size models in mind, this UTV gun rack should fit plenty of other models with its adjustable span of 48 to 54 inches. The unit has a carrying capacity of two guns, with a set of generously padded enclosing loops to keep them safe and secure on the trail, and it installs easily in just a few minutes with no cutting or drilling required. One thing to be aware of: some owners have reported that the nut on the tensioning rod has a tendency of working itself loose over the course of a few months. One simple fix is to go to the hardware store and purchase a second locking nut to better keep the rod from turning.
5. Kemimoto Seat Mounted Gun Holder
If you're looking for a gun holder that offers quick installation, excellent safety and convenience, the Kemimoto In-Cab Gun Holder keeps your long guns fully within the cockpit like a UTV overhead gun rack, but with no loss of headroom. It's a clever and safe solution that keeps the muzzles of up to two long guns pointed at the floor of the vehicle rather than out the front or sides, installing in-between the seats using the seatbelt to hold the mount in place, in addition to the non-slip bottom that ensures it won't be moving unless you want it to.
A great feature of the Kemimoto In-Cab Gun Holder is that it holds your guns low enough in the vehicle that they don't interfere with most factory or aftermarket UTV roofs, so if you have a roof installed, your firearms are protected from the rain.
Like the Seizmik In-Cab Gun Holder but available at a significantly lower price, the Kolpin UTV gun rack installs inside the cabin of your UTV, affording your firearms greater protection from harm. Depending on the length of your guns, you can often leave your roof installed while carrying, and with height and angle adjustments, you can position your guns exactly how you want them. The bad news: you do have to drill into the floor of your UTV to mount this UTV gun rack. But if you use your UTV to cart your firearms around on the regular, we certainly think it's worth the extra effort. Heavy-duty over-molded rubber keeps your guns supported and protected and dampens vibrations on the trail.
7. mydays UTV Double Gun Rack
Similar to the Editor's Choice, the mydays Double Gun Rack provides a convenient way to carry and protect your favorite rifles in a water-resistant, zipper sealed case. Installation is easy with numerous click-close straps that easily adjust to most roll bars of your favorite UTVs. This gun rack features two diagonal zippers (one per side) to quickly access your rifle when you need it and there are three pockets with quick release buckles to hold ammo or any other accessories.
Is It Legal to Carry A Gun In Your UTV?
Unfortunately, there's no easy answer to the question of whether you can legally carry a firearm in your UTV; laws vary by country and state, so no two locales quite have the same requirements. At a bare minimum, you should always plan on keeping the gun and magazine unloaded during transport; beside being a legal requirement in many areas, it's also the safest way to transport a firearm, especially on bumpy off-road trails where the chances of an accidental discharge are high.
Assuming we are talking solely about long guns like hunting rifles and shotguns, many US states permit the carrying of such firearms on off-road vehicles like UTVs so long as either they are within an enclosed case, or they have a trigger locking mechanism installed. Handguns typically have their own, separate restrictions that depend on whether or not the carrier has obtained a concealed carry permit.
The guidelines above are, generally speaking, pretty good guidelines for how to transport a longarm on a UTV, but to make sure you're not about to run afoul of the law, we recommend that you go straight to the source and read for yourself what the legal requirements are where you live. We take no responsibility for anyone's firearm-related citations.
What's The Most Secure UTV Gun Rack?
Of all the UTV gun rack options to make our list, one stands out as the most stable, safe, and secure unit: the Seizmik In-Cab Gun Holder. Slipping between the seats and resting on the floor of your UTV, the Seizmik gun holder maintains a large contact area with the chassis of your UTV, and it holds your firearms down low, resulting in a low center of gravity that's not going to be as susceptible to tipping or shifting on uneven trails as other designs. It also maintains a large contact area with your guns, safely cradling them with its vibration-damping closed-cell foam and more effectively keeping them still while you drive. And if, somehow, one of your long guns does become unsettled, both guns are within arm's reach, right in your periphery, so you can catch them before they incur any damage.
Of course, there's also the other way of looking at "security," which is how protected your guns are from theft. The truth is that without some sort of a lock, no UTV gun rack is especially safe from would-be thieves, but it stands to reason that one which stores your guns inside the cabin rather than outside it is, generally speaking, less likely to be looted. If you are in a public area where theft is a real concern, we recommend investing in things like enclosed storage and trigger locks.
Recent Updates
10/28/2021: Updated product descriptions, replaced out of stock products with new, updated product links, and added new product (mydays Double Gun Holder)
Become an ATV insider. Get the latest news first by subscribing to our newsletter here.
We are committed to finding, researching, and recommending the best products. We earn commissions from purchases you make using the retail links in our product reviews. Learn more about how this works.
Published May 17th, 2021 2:41 PM
Top Brands
Popular Articles