1 View
The Best ATVs for Beginners You Will Enjoy for Years
March 4th, 2021 3:57 PM
Share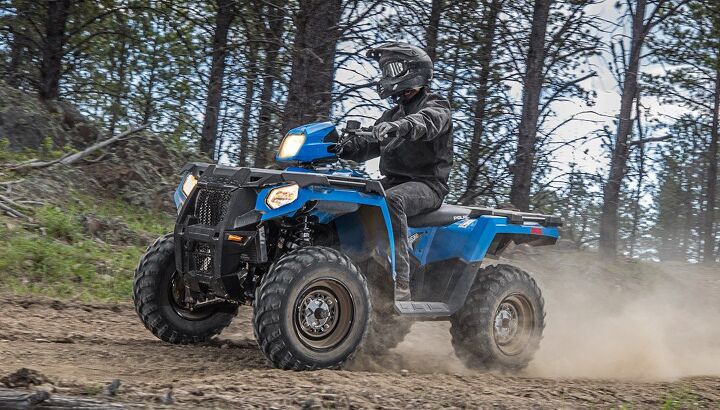 We all have to start somewhere. These ATVs make a great starting point for getting into the sport with proper amounts of power and easy-to-use controls. If you're just starting out, these are the best ATVs for beginners.
Riding an ATV is a whole lot of fun, but it's also a lot of responsibility, too. Far too often, we hear of accidents because someone wasn't experienced enough for the machine he or she was riding. Don't be that guy! Select an ATV that is properly sized for a beginning rider. We've talked about kid-sized ATVs before. Now let's take a look at five of the best ATVs for beginners, and we're talking about adults. These machines are full-sized and ready for years of trail-riding and adventuring.
What is a Beginner ATV?
We talk a lot on this website about the high-horsepower, large engine-displacement machines. They are the sexy picks that get the most press because we like horsepower and going fast. But you have to keep in mind – we're experts. We've been doing this for many, many years and most of us have raced at some point in time, too. We can handle those machines. A beginner should look for a machine with a smaller engine size with power output that is easily handled. Many of the machines on this list have simple controls, or controls that allow for a learning curve. We also included machines that will last, and will make the owner happy for a long period of time, meaning that while your skills grow, you can continue to use the machine for many years and still have tons of enjoyment and use from it.
Can-Am Outlander 450 DPS
The Can-AM Outlander 450 makes this list by being a simple, easy to use machine with a lot of function and value. It is powered by a 38-horsepower 427cc single-cylinder, liquid-cooled Rotax engine. The Rotax motors are incredibly dependable and easy to work on, and the 450 offers enough power to do light utility work, while not being too powerful for beginners. The CVT transmission is simple to use and Can-Am's Tri-Mode power steering makes handling easy and predictable. At 678lbs dry, the machine is heavy, but can still be controlled by even the smallest adult. The Outlander 450 DPS starts off with an MSRP of just $6,899.
Check out some Can-Am Outlander 450 Accessories
Textron Off-Road Alterra 500
Textron's Alterra 500 is what the company considers a mid-size utility ATV. The overall frame size is slightly smaller and more compact that the bigger machines the company offers, helping to make it one of the best ATVs for beginners. It has a 443cc single-cylinder, liquid-cooled four stroke motor with a simple CVT drive transmission. And like most of the machines on this list, it uses a single brake lever that brakes all four wheels. It has four-wheel drive and electric start. This model doesn't have power steering, but that also keeps the price down. The Alterra 500 has an MSRP of just $4,999. With value like that, it's little doubt the Alterra 500 is among the best ATVs for beginners.
Have a look at some Alterra 500 accessories
Honda TRX250X
This Honda is very different from the other machines on the list. It doesn't have racks, or any real utility purpose. It's a sport-class machine built for trail riding and putting a great big smile on your face, easily making it one of the best ATVs for beginners. It has a simple 229cc air-cooled single cylinder motor and a manual clutch and transmission. That means you have to pull in the clutch lever on the left side and manually shift through the gears with your left foot. This may seem like a lot of work, but it really helps the beginning rider learn control. It gets more fun as the skill set grows, too. Honda's SportClutch system also helps keep you from stalling the engine, a nice feature as you learn the ropes. The Honda also has electric start and has been in production for many years. Even better is the price. The TRX250X has an MSRP of just $4,849!
Shop for Honda TRX250X accessories
Kawasaki Brute Force 300
The Brute Force line from Kawasaki is widely known for being powerful. That can be intimidating to some. Have no fear, however, as the Brute Force 300 is aimed right at the beginning ATV rider. It has a 271cc Liquid-cooled engine and a silky-smooth CVT automatic transmission. Departing from the pack, Kawasaki sets its ATVs up with independent front and rear brakes. While this means the rider has to be on his or her toes, that's not a bad thing. The two-wheel drive Kawasaki is also very stable, which promotes confidence in the beginning rider and helps to build a skillset that lasts for years. The Kawi has an MSRP of $4,299, making it a great bargain for an ATV for beginners.
Shop for Kawasaki Brute Force 300 tires
Polaris Sportsman 450 EPS
We'd be remiss if we didn't include a Sportsman model from Polaris. The Sportsman 450 is a really great machine, too. It has a 499cc Single-cylinder, liquid-cooled motor that process 33 horsepower. The Sportsman has a simple control setup, with a digital display, automatic CVT transmission and a single all-wheel brake. It also has Polaris' On-Demand all-wheel drive and a lot of utility function, too. These are bigger machines and have a full-size frame that matches the rest of the Sportsman line, making them a great choice for the larger beginning rider. The power delivery is very smooth, too, making it easy to get the feel for. The power steering model has an MSRP of $6,899.
Find some Polaris Sportsman 450 protection products here
We are committed to finding, researching, and recommending the best products. We earn commissions from purchases you make using the retail links in our product reviews. Learn more about how this works.
Published July 20th, 2018 12:39 PM
Top Brands
Popular Articles