167 Views
May 27th, 2021 3:43 PM
Share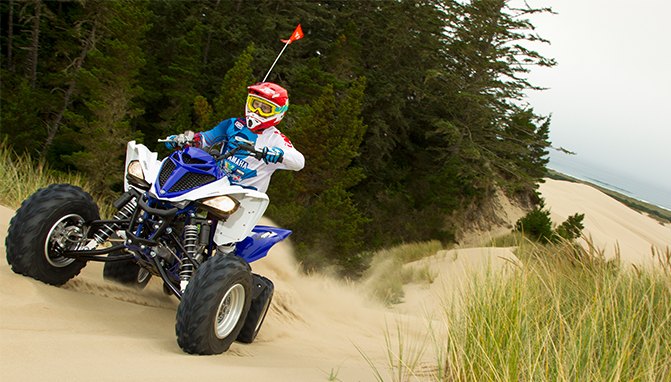 When safety matters, these ATV flags get the job done
If it's been a minute since you've shopped for a new ATV flag, you might be floored to see just how many options are on the market today.
An ATV flag is an essential bit of safety equipment in some circumstances. For a lone person on a small vehicle, visibility will always be a concern. Flying a flag that extends well above the overall height of ATV plus rider helps others spot you sooner when you're on the other side of a hill or obscured by trees and rocks. What's more, most state-run ORV parks require that you mount an ATV flag before you enter – and it's a good thing, too, because you'll probably be sharing the space with full-size off-road rigs. You may be strong, but you and your ATV are still no match for 4,000 pounds of lifted Jeep Wrangler.
So, an ATV safety flag is a necessity if you ever plan on riding on public dunes, but with such a dizzying number of options available, how do you choose the best ATV flag for the money? We've done the busywork for you. Here, we've rounded up the best ATV flag options on the market today, including essential accessories like mounts and poles, so you can get what you need quickly, install it, and get back to riding.
1. Editors Choice: Fly Racing Straight Mount Safety Flag
This Fly Racing Straight Mount Safety Flag is a solid, affordable option to help boost your visibility on the dunes or trails. Its main selling point is its long, 8-foot fiberglass pole, which gives it just enough height to meet most parks' flag heigh requirements. The pole splits into two sections for easier storage and transportation, and owner reviews are generally very positive – although some have noted that the orange pennant flag itself may be of limited use, as many states require a rectangular safety flag for public dune access. The pole is 5/16" in diameter, making it plenty strong and ensuring that it will fit many of the most popular ATV flag mount designs.
2. ATV Safety Flags and Mounts 6-Foot Solid Orange Safety Flag
Good enough to meet the ATV safety flag requirements of most sand dune ORV parks, this ATV flag from ATV Safety Flags and Mounts is a tremendous option. It features a rectangular orange flag measuring 18 by 12 inches, and a white two-piece plastic pole that stands a full 6 feet in length. Some parks require that safety flags be flown at a height of at least 10 feet off the ground, so with a 6-foot pole mounted in the proper location you should be within regulation. The owner reviews are overwhelmingly positive, and while this ATV whip flag is supplied with a traditional bolt mount, it should also fit most off-the-shelf ATV flag mount options on the market.
3. Country Ent. Safety Flag
Are you looking for something a bit more all-in-one? Check out this ATV safety flag from Country Ent. It ships with an orange pennant-style ATV safety flag, a stainless-steel pole that extends to 62 inches in length, and a spring-loaded base and mounting bracket. Bear in mind: that 62-inch length won't be enough to meet the requirements of all ORV parks, but depending on how high off the ground your bumper sits, it will be sufficient for some. Being made of stainless, the pole won't ever snap or succumb to rust, so you can count on years of reliable service, and the kit includes basically everything you should need to equip the necessary high-visibility flag on your ATV.
4. ATV Safety Flags and Mounts Red Pennant Replacement
Need to replace the tattered, torn safety pennant on your ATV flag pole? We've got the perfect solution for you. Measuring 18 by 8 inches, this replacement pennant is made from waterproof 400 denier ripstop fabric, capable of withstanding some heavy use in all sorts of conditions, and it's adaptable to most ATV flag pole options on the market, with compatibility with both 1/4" and 5/16" poles. It's just a fact that ATV safety flags wear and fade over time, but with affordable replacement pennants like this one on the market, you can switch out your flag without having to replace your entire setup.
5. Tusk Quick-Release Flag Pole Holder
On the hunt for a good, high-quality flag pole holder that can take anything you throw at it? This Tusk Quick-Release unit is perfect. Manufactured from 6061 aluminum with an attractive painted finish and laser-etched Tusk logo, this quick-release holder is available for either 1/4" or 5/16" flag poles, and it makes mounting and dismounting the flag pole as quick and easy as a twist of the wrist. It's one of the most convenient, easy-to-use ATV flag mount products we've ever come across, and with a price tag that isn't about to bust any wallets, it's a great value, too.
6. Kemimoto Aluminum Whip Light Mount
If you're struggling with where to mount your safety flag, this ATV flag mount might help. Aimed more at UTVs with their factory tubular roll cages, this mount is perfect for anyone with a tubular bumper installed on their ride: stable, high-quality, and capable of fitting tubing from 1.5" to 2" in diameter. It makes drill-free ATV flag mounting a cinch, and it even has a 360-degree adjustable mount angle so you can get your flag pole positioned just how you want it. It's a bit on the pricey side, but with precise CNC manufacturing, aluminum construction, and an attractive black painted finish, you really get what you pay for from this ATV flag mount solution.
Additional Content
We are committed to finding, researching, and recommending the best products. We earn commissions from purchases you make using the retail links in our product reviews. Learn more about how this works.
How Do You Attach an ATV Flag?
There is no one right way to attach an ATV flag to your ride, but some methods work better than others. Keep in mind: if you're heading to the sand dunes, where a safety flag is a legal requirement, there are specific rules about where on the vehicle the flag must be mounted. On ATVs, this is usually the rear bumper, but check the regulations of your park to be sure. Where things get a bit tricky is that some ATV flag products – for instance, the Fly Racing Straight Mount Safety Flag listed above – ship with included mounting hardware, while others do not. Either way, beyond the mounting hardware, you will also need some sort of mounting bracket for affixing the ATV flag mount to the bumper. That's really the first question you need to answer: how to best secure the mounting bracket to the bumper. Alternatively, if your ATV has a tubular rear bumper element, like a rear brush guard, you may just be able to use a whip light/flag mount made for tubular UTV roll cages, like the kemimoto mount above. That spares you having to drill and/or fasten a mounting bracket directly onto your bodywork. After the bracket is secured, installing the flag is simply a matter of finding a suitable ATV flag mount, removing the fastener from the bottom, sitting it within the proper hole in the bracket, and tightening up the fastener. Depending on exactly which ATV flag you're using, the flag pole will likely screw onto the mount, or sit securely within it. For convenience, in the future, you can simply uninstall the mount with the flag pole after you leave the park, leaving the bracket in place for a quick and easy setup next time.
Do I Need To Install An ATV Flag?
When riding in public, we never think it's a bad idea to have an ATV flag installed. It makes your vehicle easier to spot if, say, you're on the far side of a hill from another rider. This is especially true anywhere you might be sharing space with full-size trucks or SUVs – like the sand dunes. In fact, it's legally required in most or all public parks with sand dunes that you wear an ATV safety flag on your vehicle, usually affixed to the rear bumper and extending at least a certain height above the ground – typically either 8 or 10 feet. Dunes are generally the only sort of terrain where safety flags are required and enforced, but it's never a bad idea to check the regulations of your local park before you go and remember they're required equipment on the dunes because they work. If the cost of installing a flag "unnecessarily" is the mild inconvenience of having to transport it and secure it to your ATV flag mount before you enter, that's a small price to pay for a bit of extra visibility.
Published May 27th, 2021 3:43 PM
Top Brands
Popular Articles