172 Views
2010 Polaris Ranger 400 Review
June 17th, 2015 4:47 PM
Share
We're committed to finding, researching, and recommending the best products. We earn commissions from purchases you make using links in our articles. Learn more here
Who knew work could be this much fun?
Over the past few months we have had the opportunity to put over 30 hours on the 2010 Polaris Ranger 400. Available for the very reasonable price of $7,999, the 400 is Polaris's entry level utility UTV that offers a lot more sporting performance then one might expect.
The first thing that caught our attention was the Ranger's sporty appearance. The second thing was that it is a bit of a sleeper with the 400's engine actually displacing 455cc. It's not often that a manufacturer gives you over 50cc more then you pay for.
The water cooled engine features a four valve single overhead cam design. Air and fuel are fed to the engine by a 34mm Mikuni carburetor. Polaris claims the engine puts out 29hp and can push the machine to 40mph, a sufficient speed for its intended use.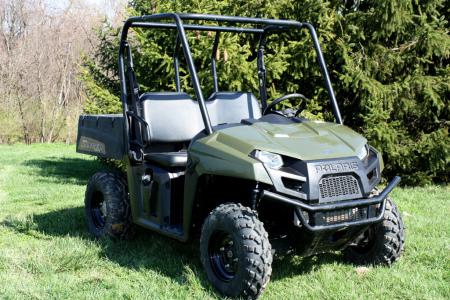 2010 Polaris Ranger 400
The transmission features high and low ranges plus neutral, reverse, and park. The drive system is controlled by a toggle switch on the dash and features all-wheel Drive, two-wheel drive and Polaris' VersaTrac Turf mode. When in all-wheel drive, the Ranger 400 actually operates in two-wheel drive until the rear wheels begin to slip. Then all four wheels are engaged offering true four wheel drive. This is designed to offer more traction when necessary while allowing lighter steering a majority of the time. Two wheel drive is pretty self explanatory, but with the Versa Trac engaged, the rear differential unlocks allowing you to make tight turns without ripping up your grass – a great feature for those operating on well manicured land.
Polaris has a well-earned reputation when it comes to plush suspension and the Ranger 400 certainly lives up to it.
Polaris gave the Ranger 400 a generous amount of wheel travel. Its non-adjustable front McPherson Struts deliver eight inches of travel and the preload adjustable dual A-arm rear suspension features nine inches of cushion – more than any of its in-class competitors and more in line with what we would expect to find on a sport UTV.
The 400 is slowed by hydraulic disc brakes front and rear, but we were slightly disappointed by the lack of an engine braking system.
For utility purposes the Ranger is well equipped. The standard receiver hitch can tow up to 1,250lbs and its hydraulically assisted cargo bed is rated at 500lbs. Additional storage is available from the in-dash glove box and small open area on the left side of the steering wheel. You'll even find cup holders on either side for the driver and passenger for work or play on hot days.
Cup holders aside, the interior of the machine is pretty basic with a bench seat built for two. We are happy to report that the roll cage looks stout and is a Certified Roll-Over Protective Structure (ROPS). Instrumentation is very limited – no fancy digital displays here. If you want to check the fuel level the gauge located on the gas cap. Frankly, we'd rather our money be spent on the machine's long suspension travel and oversize engine rather then a bunch of pricy frills, so we think Polaris made the right choice for an entry-level UTV.
Trail Test
With 455cc of power on tap the Ranger 400 offers plenty of speed for tail riding.
After thoroughly testing the unit in every conceivable environment, we came away very surprised and impressed with the little Ranger. We expected a mundane work horse with super stiff suspension. Man, were we wrong!
The Ranger's 455cc engine got us moving faster then we expected. The power comes on low in the RPMs and pulls hardest through the midrange before falling off on top. While it doesn't feel exceptionally responsive over 30mph it does respond well to doses of throttle at lower speeds, which makes it fun in tight spaces. There wasn't a hill we attempted that couldn't be conquered in low range and we did challenge the machine. Topping out around 40mph, it might not be thrilling in the desert, but the powerplant feels plenty capable in the woods.
We felt the AWD system provided predictable traction on slippery hillsides and the Versa Trac limited slip 2WD setting worked as advertised without ripping up the lawn.
Polaris has always been known for long travel and plush action on its utility ATV suspension and that has carried over to its UTVs. The Ranger 400's suspension action is plush yet does a good job of resisting bottoming. We cruised trails, crawled over creek rocks, and even jumped it a few times. The Ranger took it all in stride and provided a far better ride then we'd expected. We only bottomed it hard once in a very small creek crossing that we hit way harder then we should have and although the ride was a bit bouncy through a small motocross whoop section, who rides their utility UTV on the motocross track anyway? Workers and recreational riders will equally appreciate the Ranger's suspension.
The Ranger 400 was right at home crawling through a rocky creek.
Handling also proved to be quite good. We did notice a small amount front end push when attacking corners, but overall steering is pretty predictable. It seems to take a bit more turning of the wheel to change direction then we are accustomed to on other side-by-sides; however, we felt feedback to the steering wheel was reduced so it was a good trade-off.
Going up or down hills and off-camber trails, the Ranger 400 felt well planted and stable.
Stability through turns and on side hills was also good, which added to the unit's confidence-inspiring sporty feeling. Going straight up or down hills the Ranger felt planted no matter how steep the incline.
The first time we took the machine down a long steep hill we stopped to look for the Active Decent Control found on some of Polaris' higher end models. The ADC system helps regulate speed on descents – a big benefit on a side-by-side. As much as we liked it on the Sportsman 850 XP ATV we reviewed last year, we were a bit surprised that it wasn't added to the Ranger 400. Fortunately, the brakes work well and offer good feel.
Ergonomics and controls are a mixture of good and acceptable. Along with the light steering feedback we also like the feel of the throttle pedal. Some models have pedal action so light that it is difficult to regulate throttle control at lower speeds.The Ranger 400's gas pedal was firm enough without being too stiff. About the only thing that felt out of place was the bench seat. Separate bucket seats would add to the machines sporty feeling and we can't see why that would detract from its utility duties. However, it would probably add a few dollars to the MSRP, which Polaris was trying to keep under $8,000.
We'd like to see separate bucket seats, but it will be tough to do at this price point.
Compared to its competitors, the Ranger 400 offers a lot of performance for the dollar – giving up digital frills for more utility and comfort. We had a lot more fun and were more impressed with this machine then we expected to be.
We can imagine using this thing for any number of reasons including working, hunting, fishing, camping, and even just trail riding for kicks. Tell your wife how affordable it is and about all the work you'll get done with it and she just might give you her blessing. But between us, the Polaris Ranger 400 offers a lot more fun that you think you're paying for. Published May 12th, 2010 9:24 AM
Top Brands
Popular Articles