46 Views
2009 Polaris Ranger HD Review
June 17th, 2015 4:48 PM
Share
We're committed to finding, researching, and recommending the best products. We earn commissions from purchases you make using links in our articles. Learn more here
A handsome and versatile rider-friendly UTV
As Ryan Wiles gave us the tour of Iron City Polaris, we noticed a newer Polaris Ranger fitted out with a cab, street tires, a horn and rearview mirror. Seems that some of the Polaris Rangers sold through the Phoenix-based Polaris dealership portion of parent Arizona Production Machinery Supply Arizona spends as much time on the public roadways as they do exploring the nearby Sonoran desert.
While we were intrigued with the street concept, we were actually borrowing a brand new 2009 Ranger HD for an excursion into the desert. As Ryan explained the "street package" that Iron City Polaris offers we checked out the desert-ready silver Ranger HD. It was one of the few on hand as Wiles explained that the dealership sells far more Ranger XP and RZRs than the more industrial-strength HD versions. We would nod an ignorant "Uh huh" in agreement.
When we returned the nearly US$13,000 Ranger HD, we wouldn't be as content to agree that the regular Rangers should be more in demand than our HD test vehicle. With the chance to test out the fully featured Ranger HD, we came to the conclusion that it was easily worth the two grand upcharge over a basic 700cc Ranger.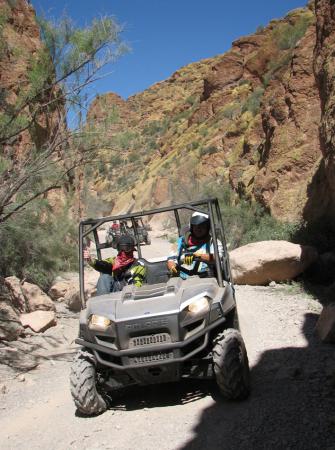 Our Arizona test course included taking the Ranger HD through a picturesque box canyon.
More Than HD
We guess that Polaris inflicted the HD with its nomenclature to give it a more "heavy-duty" character. While we may agree in part, we found our test vehicle to be quite a refined vehicle and certainly not an "HD" in the way a Ford F250 is to its F150 sibling. There is a major commercial grade step up from one Ford pickup to the other. We didn't sense that from the Ranger models. If anything, the HD ownership actually benefits from the upgrades.
Putting 1,500 pounds in the bed is no problem for these self-leveling Nivomat shocks.
First of all, the Ranger HD comes with variable-assist power steering as standard equipment. Granted the regular Ranger enjoys a pretty light feel, but if you add a plow expect a tougher tug on the steering wheel. The HD steering is extremely light and when we ran the 4-wheeled utility vehicle over some nasty sharp-edged rocks on our way up a mountain trail, there was zero kick back. Even in all-wheel drive mode the steering was steady and precisely monitored with little more than a finger needed to maneuver the UTV around the bumpiest off-camber corners.
Secondly, the HD's self-leveling Nivomat shocks provide as good a ride in the desert as the better-selling Ranger XP even with its 1.5-inch greater rear suspension travel. The Nivomat shocks are self-leveling and reset themselves to maximize the independent rear suspension's 7.5-inches of overall travel. You can count on ample comfort even if you loaded up the Ranger HD's plastic bed with a week's worth of desert camping gear. But, as we were day-tripping and needed only to store a couple of coolers with lunch, snacks and extra water, the dual A-arm rear suspension soaked up the varying desert terrain with great ease.
Power To Tow
The author's cousin aboard what was once state of the art 1986 Honda technology. Times have changed for the better!
Admittedly we are spoiled, as we know just how good the new Polaris 850 XP ATV motor is. All the while we were banging about the Arizona desert south of Apache Junction, we couldn't help but daydream about having the more powerful twin in our 700cc Ranger HD test vehicle. But that wasn't a reality and we dealt with the standard 638cc, 40-horsepower Polaris twin's power. Top speed is a claimed 50 miles per hour, although we kept pace with our group at a steady 35 to 40 mph. The group included a 700cc Yamaha Rhino and 4-wheelers ranging from newer Can-Am and Arctic Cat ATVs to a vintage 1986 Honda Fourtrax, ridden by this writer's cousin.
As we trailed the cousin, we went "ouch" as much as he did. As the Polaris UTV nimbly tip-toed over the stone-based washouts, we watched the vintage Honda's solid rear axle bounce as its low-pressure tires tried to absorb the trail, consistently failing and serving up literal "Whoop-Ass" to its rider. When we traded rides with our cousin so we could experience what had been state of the art ATV technology in 1986, we found we wanted back in the Polaris more than he wanted back on old Big Red! Ouch, ouch, ouch. It was good to have that old ATV along as it provided a true sense of just how far off-road vehicles have come sine the mid-1980s.
The Polaris comes with electronic fuel injection, which comes in handy when climbing from the desert floor to the overviews of the nearby Superstition Mountains. The Polaris all-wheel drive kicks in as needed, adding considerable competence to newbie desert riders. And just in case that newbie panics a bit on a too tight downhill curve, he can relax knowing the Ranger HD come with 4-wheel hydraulic disc braking.
Ergonomics Work
The Ranger HD cockpit shares a similarity with the XP models. It looks like a bench, but acts like twin buckets and is far more comfortable than you would think at first glance. We actually find ourselves preferring Polaris' somewhat bland if not mundane bench-style seating to the sexier bucket seats used by most competitors. You can seat three quite comfortably, but two up front would be the favored seating arrangement.
The HD comes with an easy to engage hand-activated parking brake, full roll cage with embedded headrests and generous storage. The HD is rated to tow upwards of 2,000 pounds and carry 1,500 pounds of gear.
Take away its power steering, load-leveling shocks and taller 26-inch tires and you have a base Ranger, sort of. What you can do with the HD is add some of the niftiest toys — we mean attachments! — a grown man can imagine. There's a BOSS plow that can be operated with the flick of a dash-mounted joystick; a grappling arm and more.
The Ranger HD is ready to handle the coolest toys in the industry.
Polaris upgraded the entire Ranger line for 2009 so that means the HD gained a new cab design with greater legroom and new angled-back seating ergonomics. The tilt steering combines with the unit's power steering for pickup truck like convenience. You'll note that the front steel bumper is swept upward to deflect branches and the headlights are now recessed for greater protection from rocks, especially useful when traveling convoy-like in a group. There are even dedicated tie-down points for trailering.
As we first noted, the Ranger HD may cost more than its base Ranger counterpart, but decked in a rich silver with black trim and stylish wheels, this heavy-duty Polaris could be equally comfy pulling up to a golf course clubhouse or the working end of a horse barn.
The 2009 Polaris Ranger HD comes resplendent in silver with chrome-styled wheels.
When we finally had to return the 2009 Polaris Ranger HD to Ryan Wiles at Iron City Polaris, he asked how we liked the HD. If our smiles weren't enough, we gave him an enthusiastic "We really liked it!" And we do.
Perhaps Polaris should reconsider that HD nomenclature and come up with something more befitting this nifty all-purpose UTV. Is All-Star taken?
Editors Note: We have to give a shout out to Ryan Wiles and Arizona Production Machinery Supply of 5635 W Van Buren in Phoenix AZ for not only helping us out with the 2009 Polaris Ranger HD but also providing a trailer to cart it around on. We really enjoyed working with this dealership and greatly appreciated the assistance we got, right down to a full gas tank!
Related Reading
2009 Polaris Rangers: First Look
2009 Polaris Sportsman Big Boss 6×6 800 EFI Review
2008 Polaris Ranger Crew Review Published June 25th, 2009 2:38 PM
Top Brands
Popular Articles