3 Views
2009 Polaris Ranger RZR and Outlaw Preview
June 17th, 2015 4:35 PM
Share
We're committed to finding, researching, and recommending the best products. We earn commissions from purchases you make using links in our articles. Learn more here
Polaris beefs up its sports lineup
Polaris has made major changes to its 2009 ATV and Ranger lineup. ATV.com has already looked at the brand new Sportsman XP lineup and the new Ranger HD and redesigned Ranger XP. Now it's time to explore Polaris' 2009 sports-oriented quads – the Outlaw line and an offshoot of last year's much-talked about Ranger RZR.
The Ranger RZR set the side-by-side industry on its ear in 2008. Not only was it the fastest stock vehicle in its class, but it was also trail capable, thanks to its 50-inch width. It was hands down the sportiest side-by-side ever released by a major manufacturer and Polaris had trouble keeping up with the demand.
The aftermarket, as expected, sunk its teeth into the RZR almost immediately, finding ways to make it faster, tougher and more stable. Many consumers spent thousands of dollars to upgrade the RZR, changing it from a trail-oriented machine to a desert racer, dune blaster and everything else imaginable.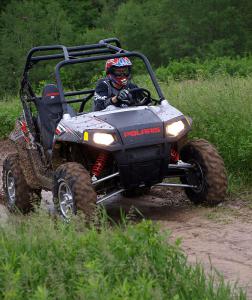 Polaris took notice and decided to provide its customers with a pre-customized RZR. The result is the new Ranger RZR S.
The RZR S comes equipped with a 760cc, fuel injected high-output engine and a top speed of 63 mph – a big leap over the 55 mph the original RZR offered, which was already considerably quicker than everything else. With Polaris' increased focus on racing, this powerful side-by-side makes a lot of sense.
To improve the handling and stability at higher speeds and rougher terrain, Polaris increased the width by 20% to 60 inches. With 12 inches of long-travel suspension and 12.5 inches of ground clearance, the RZR S, at least for the time being, is unrivaled among the major manufacturers. It also comes standard with Chrome-Moly upper front A-arms and adjustable Fox performance shocks with podium reservoirs.
So how does the RZR S perform? We've only had limited seat time so far, but we came away pretty impressed. Right away you could feel the difference between this machine and the original RZR. We never really had a chance to open it right up and test it out at top speed, but the handling was spectacular.
You'll have no trouble finding ways to use some the 12 inches of travel.
If you've ever driven the RZR, you'd know that you've got to be careful when making turns at higher speeds. With the RZR S, you've got a whole new level of confidence. The 26-inch Maxxis Big-Horn tires hug the ground and the wider stance allows you to be a lot more aggressive. It's ridiculously easier to power slide around the corners and not once did we feel like the RZR S was the least bit tippy. We'll be spending some more time with it in the coming months and a full review is in the works.
When the RZR S hits showroom floors its sticker will read $13,999. That's $3,200 more than the RZR, which might be shocking at first glance, but to build up a RZR with aftermarket parts and have it be anywhere near as good as the RZR S would cost a lot more than that.
At 60 inches wide, the RZR S offers a very stable platform.
Sales of the RZR S aren't likely to be as brisk as the original RZR, but this race-ready machine is sure to be the object of desire for people who like to ride aggressively and plan to spend their time off-trail.
As for the original Ranger RZR ($10,799), Polaris basically left it alone, but did make a few minor changes, including the addition of a heel pocket. The idea of the heel pocket is to allow more controlled operation of the gas pedal.
The ability to legally ride on most trails is unique to the RZR.
We were mostly riding the RZR around tighter trails, so this feature did come in handy. For people who use the RZR for working or hunting, it's a nice feature to have as we found it made for a smoother ride at slower speeds.
Polaris also reduced the exhaust noise slightly, improved transmission shifting by making it a little smoother and added some under seat storage.
The Nuclear Sunset edition is especially nice to look at.
For trail riding, the standard RZR is still an impressive vehicle and about as much fun as you can handle. Despite its sports-oriented design, it still has plenty of utility with a cargo bed rated for 300 pounds and 1,500 pounds of towing capacity.
The Ranger RZR also comes in two limited edition models, the RZR LE Nuclear Sunset ($11,399) and the RZR LE Sunset Red ($11,399). The Nuclear Sunset edition, in our opinion, is the most striking, but both models feature custom paint on the hood, dash and glove box, as well as silver pained suspension springs and rear A-arms. They also come with custom cut and sew stitched seats and 12-inch, 8-spoke cast aluminum rims with Maxxis radial tires.
"Our Ranger RZR line up for 2009 appeals to the various types of recreational riders," says Matt Homan, GM of the Polaris side-by-side division. "The Ranger RZR offers the only trail capable 50-inch width, perfect for trail riders, hunters and sport riders.
"The new Ranger RZR S has a top speed of 63 mph, 60-inch width, long travel suspension and premium performance features on a stock model making it the ultimate, sport side-by-side."
Polaris' Outlaw lineup had a major overhaul in 2008, adding the Outlaw 525 S ($7,399) and Outlaw 450 MXR ($7,399) to the existing Outlaw 525 IRS ($7,699). The idea of offering three sport quads was to have an Outlaw for every sport enthusiast's riding style, whether it be motocross, cross-country trails or sand.
The entire Outlaw family shed some weight and got a new look for 2009.
While no new vehicles have been added in 2009, some significant changes were made, including a new look. All three Outlaws now feature a single headlight, lowered center of gravity, conventional steering and a six-pound weight reduction.
Aluminum heel pockets now come standard on all three Outlaws.
Also new for 2009 are aluminum heel pockets and front bumper, adjustable front brake levers and a steering post that can accept thicker bar mounts to make customization simpler. Polaris also moved the foot peg one-inch forward on the Outlaw 525 IRS and Outlaw 525 S for better weight balance and added 10-inch rear wheels on the Outlaw 525 IRS.
Powering the Outlaw 525 IRS and Outlaw 525 S is a 510cc, 4-valve KTM engine (OHC with roller rocker lever) with an 11:1 compression ratio and a 39 mm Keihin FCRMX carburetor. While the Outlaw 525 S features a straight axle suspension, the Outlaw 525 IRS features an independent rear suspension system for rougher trails. Both models come with 10-inch rims with Maxxis RAZR Radial tires.
A 449cc KTM engine provides the oomph for the Outlaw 450 MXR. This motocross quad comes equipped with Fox Piggyback Shox and Maxxix RAZR MX tires. Lucas Cooney
I have been working exclusively in digital media since 1997. I started out with TSN.ca, spending nearly nine years creating and editing content on Canada's leading sports website. I left to join VerticalScope, Inc., one of the world's largest online publishers, to start a number of powersports publications. While at VerticalScope, I've helped create and oversee content for a wide variety of different publications, including ATV.com, Off-Road.com, ArcheryTalk.com, Tractor.com, RVGuide.com, and many more.
More by Lucas Cooney
Published September 5th, 2008 1:23 PM
Top Brands
Popular Articles