86 Views
2009 Polaris Outlaw 525 IRS Review
June 17th, 2015 4:34 PM
Share
We're committed to finding, researching, and recommending the best products. We earn commissions from purchases you make using links in our articles. Learn more here
A do-anything, go-anywhere ATV
Sport-specific ATVs have evolved a great deal over the past decade. While these race-inspired machines are at their best on motocross tracks and sand dunes, they don't possess the versatility that many consumers are looking for. Enter the Polaris Outlaw 525 IRS.
Clearly, what sets the Outlaw 525 IRS apart from other sport quads is its independent rear suspension. Polaris is one of the major innovators of independent rear suspension systems for utility ATVs, so it only makes sense this is the company that brought IRS technology to a sport quad.
So, does IRS make this Outlaw as rugged and easy to ride as a utility quad while being as fast and flickable as a 450cc racer? Not quite. While no ATV can be all things to all people, Polaris' creation is a unique blend of both worlds.
First Glance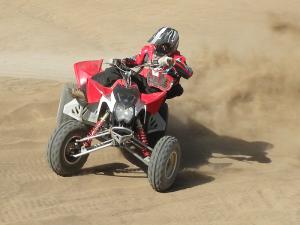 The Outlaw 525 IRS is an aggressive looking sport quad with some utility attributes.
Nobody is going to mistake the Outlaw 525 IRS for a Sportsman any time soon. Appearance wise, it looks nothing like a utility quad. In fact, it looks pretty much identical to the other Outlaws, outside of the IRS.
Unlike other manufacturers who generally shy away from graphics on their sport quads, Polaris chose to be unique with its plastic by adding its 'Old West' themed Outlaw graphics. Even if you don't care for this look, you've got to give Polaris credit for trying to stand out a little.
Polaris made some changes for its Outlaw lineup in 2009 to help keep pace with the Japanese manufacturers, including adding aluminum heel pockets and front bumper. Also, the old double headlights have been replaced with a single.
Handling
If you're considering buying the Outlaw 525 IRS, the two main questions you should ask are what does the IRS give and what does it take away?
What IRS gives you is versatility. It can go anywhere a typical sport quad can go, but it's also a very good rough trail machine. The Outlaw is made for gnarly, rutted-out trails. Eleven inches of ground clearance is comparable to a utility quad and more than twice as much as a typical 450cc sport ATV. All that ground clearance means that small to midsize rocks and stumps can be run over without fear scraping across the bottom of your ride.
The Outlaw shines on rocky and off-camber trails.
While you can't exactly treat the Outlaw like a utility quad, you can do some light rock crawling and tackle terrain that just wouldn't be passable with a straight axle ATV. It's also fun to be able to do aggressive off-road riding while having to switch the gears on a manual transmission.
Of course, IRS does have its drawbacks. While you can take the Outlaw 525 IRS around the motocross track or for a spin in the dunes, you can't be as aggressive with it. The back end won't slide like a straight axle ATV does when turning sharply. With IRS, the rear wheels dig into the turn, especially in soft sand, so it's not as easy to flick around at high speeds.
It's easy to get the Outlaw airborne, but it's a little tougher to control than a straight axle ATV.
Whoops are also a little more difficult to handle. The Outlaw doesn't track as straight, so you've got to take the big whoops a little slower. This could be attributed to the extra weight of the IRS, which adds about 20 extra pounds over the Outlaw 525 S or 30 more pounds than the Outlaw 450 MXR.
A comfortable 10 inches of travel is available up front courtesy of Fox Podium shocks, as well as in the rear thanks to RydeFX shocks. It's not as plush as a good utility quad, but it's great for fast riding over bumpy terrain. Polaris didn't skimp on the rubber, as Maxxis RAZR-R tires (21 inches up front, 20 inches in the rear) wrapped around spun aluminum wheels provide good grip in the a variety of conditions.
Power
Not many companies know off-road engines like KTM and Polaris did itself a great service by adding the 510cc mill from the Austrian manufacturer. Based off a proven motorcycle racing platform, this race-bred liquid cooled, 4-stroke single is a beast.
The KTM 510cc engine is a powerhouse.
Top end grunt is pretty good but not awe inspiring, however, low to mid-range torque is sensational. Though this engine is carbureted, we had no issues with cold starts in the morning. Also, we took the Outlaw through some significant elevation changes (we were riding at over 6,000 feet) and the power delivery remained smooth.
Power is delivered through a chain drive, keeping with the Outlaw's sports quad roots. Of course, most ATVs equipped with IRS feature a shaft drive, but Polaris raised the chain up in the rear to keep it out of harm's way.
Ride Impressions
Looking to see exactly what the Outlaw 525 IRS was capable of, Polaris district sales manager Mike Carr suggested we head to Reno, Nev. and ride at Moon Rocks. With its mix of steep hills, rock crawling, wide open trails and high elevation it proved to be an ideal spot to put the Outlaw to the test.
Climbing down a rocky hill like this was a good test of the independent rear suspension.
We arrived first thing in the morning and it was still freezing, but the Outlaw fired up without too much prodding. Once we got started and the Outlaw warmed up, we wasted no time in testing out the KTM engine in a long stretch of open desert.
It's surprising how quickly the Outlaw takes off from a dead stop. You can really feel the quick and constant power increase in the first three gears. The difference between fourth and fifth gear was not nearly as noticeable, but when pinning the throttle in the higher gears we tend to concentrate more on what's in front of us. We didn't have a speedometer on hand, but it's safe to say the Outlaw 525 could keep up with the 450 race quads at the top end. Yamaha's Raptor 700 or Kawasaki's KFX 700, however, would likely have an advantage on the long straights.
Handling on the smooth sections was fine, but if that's the type of riding you're doing a straight-axle would be preferable. It was the bumpier sections where the Outlaw really showed its prowess. The IRS soaked up some significant bumps, while some fair sized rocks passed harmlessly underneath. We tackled some smaller rock crawling sections and the Outlaw was up to the task.
With the fantastic low-end torque it's a breeze to get the wheels up.
As for ergonomics, the Outlaw feels a little big for a sports quad. Taller and heavier riders might appreciate the extra size, but smaller and less experienced pilots might have a little trouble with the additional mass.
Bottom Line
If you use your ATV for one thing – be it motocross, dune riding, rock crawling or whatever – the Outlaw 525 IRS isn't for you. However, if you like to ride on a variety of terrain and mix things up then you should probably take a closer look.
ATV.com would like to thank Reno Cycles & Gear in Reno, Nev. for hooking us up with Polaris vehicles to ride. They're a Polaris dealer and have a huge showroom full of ATVs and motorcycles. Click here to find out more about them.
Related Reading
2009 Polaris Ranger RZR and Outlaw Preview
2009 Polaris Scrambler 500 4×4 Review



Three Polaris Outlaws finish Dakar
Polaris Outlaw wins Down Under Lucas Cooney
I have been working exclusively in digital media since 1997. I started out with TSN.ca, spending nearly nine years creating and editing content on Canada's leading sports website. I left to join VerticalScope, Inc., one of the world's largest online publishers, to start a number of powersports publications. While at VerticalScope, I've helped create and oversee content for a wide variety of different publications, including ATV.com, Off-Road.com, ArcheryTalk.com, Tractor.com, RVGuide.com, and many more.
More by Lucas Cooney
Published March 4th, 2009 2:40 PM
Top Brands
Popular Articles