54 Views
2010 Polaris ATV Lineup Preview
June 17th, 2015 4:18 PM
Share
We're committed to finding, researching, and recommending the best products. We earn commissions from purchases you make using links in our articles. Learn more here
Two-up ATVs get XP makeover
After introducing the high powered, fully featured Sportsman XP lineup last year, Polaris Industries, Inc. is focusing on the 2-up market in 2010 with a mix of high-end XP models and a new entry-level two-passenger ATV.
Also, in a move with the struggling economy clearly in mind, Polaris decided to give some of its older and lower displacement single-seaters a much-needed facelift. The Scrambler, Trail Blazer and Trail Boss have all been updated as Polaris aggressively targets entry-level consumers.
"Polaris focused on updating some key models in our ATV line up for 2010," says Matt Homan, vice president and general manager of Polaris' off-road division. "By coupling the award-winning Sportsman XP features with the best-selling line of 2-Ups and introducing the Sportsman 500 H.O. Touring, we have created the most-comfortable and most-versatile line of 2-Up ATVs focused on innovation and value. Redesigning the Trail Boss 330, Trailblazer 330 and Scrambler 500 4×4 gives entry-level ATV riders a selection of value ATVs with an updated look and improved ride."
Two for Touring
For those looking to ride with a passenger in comfort and style, Polaris has added the Sportsman XP features to its 2-up lineup in 2010 with the Sportsman 850 ($10,999)and 550 ($9,299) Touring.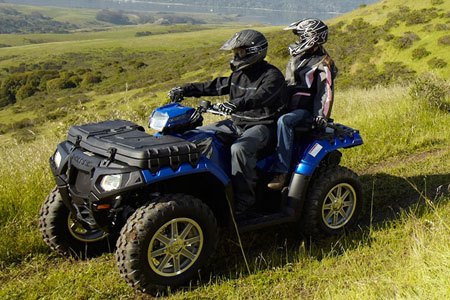 The Sportsman 850 Touring EPS will be in the mix for best overall 2-up ATV.
These XP features include engine upgrades such as an 850cc, twin EFI engine that churns out 70 horsepower and a 549cc single EFI engine delivering 42 horsepower. Polaris mounted the 850 and 550 engines vertically, which allows for a much narrower seat and wider floorboards. It really does make for a more comfortable ride.
It's the most comfortable passenger seat we've ever been on. Little touches like cup holders with a tension strap help set the 850 and 550 Touring apart.
The new Sportsman 850 and 550 Touring each coming standard with electronic power steering. We've used Polaris' power steering system before and it works just great on the 850 and 550 Touring models. You notice it most when riding at slower speeds as it really reduces steering effort. However, it's best feature is how much it reduces kickback. You hit a rock or rut at an odd angle and it doesn't feel like the handlebars are going to pull your shoulders out of their sockets.
Another great new feature is the large passenger with "comfort ride seat suspension." We spent some time in the passenger seat and we couldn't get over how comfortable it was. Instead of providing up-and-down movement, the seat makes use of an individual shock to go back at a slight angle when you hit bumps in the trail. Unless you slam into something really hard the passenger hardly feels a thing. Vibration-absorbing hand holds and footrests complete the package for the passenger.
One final feature of the new Touring models worth mentioning is the new cup holders. Why would we bring up cup holders? Well, Polaris decided it would develop a cup holder that was all but guaranteed to hold on to your drink. Each cup holders on the 850 and 550 Touring models includes a tension strap that will hold a water bottle in place no matter what kind of bumps you may hit in the trail. Though cup holders will hardly be the difference maker when it comes to purchasing a new ATV, if Polaris is putting that much thought into the little things it's a good bet the big things have been taken care of too.
The Touring units also contain many features from the Sportsman 800 Touring. These features include rolled independent rear suspension with 10 inches of travel, engine braking with active descent control (ADC) for four-wheel braking and better control on inclines, and true on-demand all-wheel drive.
Work and Play on the X2
Polaris has had a lot of success with its Sportsman X2, thanks to its fold-down passenger seat and cargo box and for 2010 the X2 gets an XP upgrade.
Though not as luxurious as the Touring models, the X2 is a great balance of work and play.
The 2010 550 X2 ($8,999) has been outfitted with a 42-horsepower, 550cc engine. This engine features a roller driven clutch for smooth, faster clutch response and a "Low" gear that can still reach speeds up to 39 mph. It's a true work/play platform for 2-up riders.
Anti-kickback steering is part of the new X2 package, which includes the industry's largest wheels and lower-profile tires. We spent a little time in the new X2 and though it's not as plush as the electronic power steering on the Touring models, steering effort at low speeds was fairly light.
For sensitive terrains, such as lawns, the Sportsman 550 X2 offers VersaTrac, a one-wheel, locking rear differential for a tighter turning radius and less damage to grass. Improved ergonomics include a narrow seat design with more knee room for easier rider maneuverability and larger floor boards with more mud protection.
The passenger seat is fine for short rides, but after sinking into the plush Touring seat it just doesn't compare. What it lacks in passenger comfort, though, the X2 more than makes up for in versatility.
A Value-Conscious 2-Up
To complete the 2-Up line up, Polaris is offering the Sportsman 500 H.O. Touring ($7,399) with the original styling for the value-conscious consumer.
The 500 H.O. Touring still has the older styling, but it allows for touring on more of a budget.
The Sportsman 500 H.O. Touring comes with the original Sportsman Touring chassis and body style, and features a 500cc high-output, carbureted engine, engine braking system, True On-Demand All-Wheel Drive, and a rolled Independent Rear Suspension.
Entry-Level Fun
For 2010, the Trail Boss 330, Trail Blazer 330, and Scrambler 500 4×4 have been redesigned with updated styling, improved ergonomics, 25 percent more-powerful lighting, thicker disc brakes, new master cylinder, remote fuel gauge, and central front Hilliard (Scrambler 500 4×4 only).
The Trail Boss 330 offers plenty of fun and function for the price.
Styling is the most obvious change for 2010 as all three units took on a look that was more in line with the Polaris Outlaws.
The Trail Boss 330 ($4,299) is meant for the value-minded rider who wants an ATV with some utility capability that is still fun on the trails. It's been outfitted with Lock & Ride-capable steel racks and has a 15 percent increase in front and 22 percent increase in rear travel. The Trail Blazer 330 ($4,299) is basically the same ATV in a slightly sportier form.
Despite its smaller displacement, the Trail Blazer 330 is a solid introductory sport-oriented ATV.
The Scrambler 500 4×4 ($6,399) takes Polaris' entry-level segment up a notch with a powerful 500cc engine and on-demand true all wheel drive. Handling is very similar to the Trail Boss and Trail Blazer, but you get added utility with 4×4 and a lot more power. Getting the front wheels up on the Scrambler is no problem.
With the Scrambler 500 4×4 you get the power of a 500cc engine for a lower price than you'd expect.
Despite the updates, the Trail Boss, Trail Blazer and Scrambler are still basically 10-year-old platforms. We spent some time on all three and we had a blast whipping around on these sport/utility machines, but the ride is a lot rougher than what you'd find in the rest of the Polaris lineup. The reason they're still available is that they give new consumers a chance to get an ATV from a dependable company for hundres of dollars less than more modern units. ATV technology has come an awful long way in the last decade, but it doesn't mean you can't have a lot of fun on one of these budget-minded machines, especially if you're a beginner.
2010 Polaris ATV Lineup
Name
MSRP
Full Size
Sportsman 850 XP EPS
$9,999
Sportsman 850 XP
$8,799
Sportsman 800 Big Boss 6×6
$9,999
Sportsman 800
$7,499
Midsize
Sportsman 550 XP EPS
$8,499
Sportsman 550 XP
$7,299
Sportsman 500 H.O.
$5,999
Sportsman 400 H.O.
$5,699
Sportsman 300
$4,999
2-Up
Sportsman 850 Touring EPS
$10,999
Sportsman 550 Touring EPS
$9,299
Sportsman 550 X2
$8,999
Sportsman 500 H.O. Touring
$7,399
Entry Level
Scrambler 500 4×4
$6,399
Trail Blazer 330
$4,299
Trail Boss 330
$4,299
Phoenix 200
$3,299
Outlaw
Outlaw 525 IRS
$7,699
Outlaw 525 S
$7,399
Outlaw 450 MXR
$7,399
Youth
Ranger RZR 170
$3,999
Sportsman 90
$2,499
Outlaw 90
$2,499
Outlaw 50
$1,999
Related Reading
2010 Polaris Ranger Lineup Preview
2009 Polaris Sportsman XP 850 & 550 Review
2009 Polaris Outlaw 525 IRS Review
2009 Polaris Scrambler 500 4×4 Review
2009 Polaris Sportsman Big Boss 6×6 800 EFI Review Lucas Cooney
I have been working exclusively in digital media since 1997. I started out with TSN.ca, spending nearly nine years creating and editing content on Canada's leading sports website. I left to join VerticalScope, Inc., one of the world's largest online publishers, to start a number of powersports publications. While at VerticalScope, I've helped create and oversee content for a wide variety of different publications, including ATV.com, Off-Road.com, ArcheryTalk.com, Tractor.com, RVGuide.com, and many more.
More by Lucas Cooney
Published July 23rd, 2009 1:30 PM
Top Brands
Popular Articles