721 Views
June 14th, 2023 5:11 PM
Share
We're committed to finding, researching, and recommending the best products. We earn commissions from purchases you make using links in our articles. Learn more here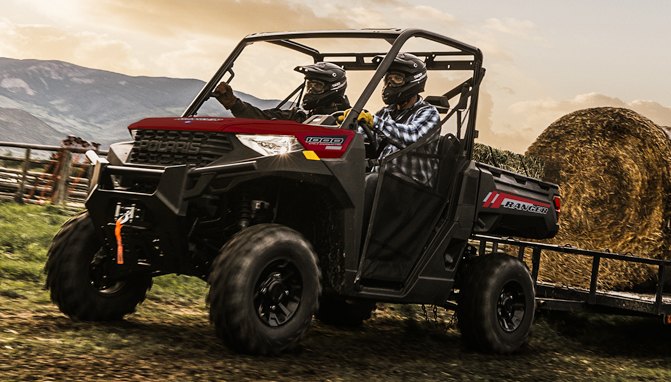 Find the best oil for your Ranger
If you're due for a Polaris Ranger oil change, you may be wondering if there are any better oil options out there than the (admittedly expensive) OEM Polaris oil. Good news: there just might be.
There's absolutely nothing wrong with Polaris's own PS-4 oil, mind you. It uses a high-quality full-synthetic base, with a concoction of detergents and friction modifiers specifically cleared for use with Polaris motors and wet clutches. And, if your Ranger is still in the warranty period, you may want to think twice about running any other oil; using non-Polaris fluids may make it a bit harder to file a warranty claim, if the need ever arises. But Polaris PS-4 oil is pricey, and there are far more cost-effective Polaris Ranger oil options out there, many from well-trusted brands with sterling reputations when it comes to the high-tech additives and overall quality of their motor oils.
We've done the research, scouring the internet and finding the best Polaris Ranger oil options available today, from a range of reputable brands.
1. Editor's Choice: OEM Polaris Ranger Oil Change Kit
Of course, you can't go wrong with OEM, and Polaris's own PS-4 Polaris Ranger oil change kit is a simple, all-inclusive package that can get your Ranger up and running again in no time. Several different versions of the kit are available, letting you choose between All-Season (5W-50) or Extreme Duty (10W-50) motor oils, with quantities suited to individual model lines based on their total oil capacity, but regardless of which one you opt for, you get a replacement oil filter and drain plug sealing washer with the Polaris Ranger oil change kit, meaning two fewer items you have to shop around for. You pay for that convenience with a larger price tag, but sometimes, your time is more valuable than your money.
2. Runner Up: Maxima Racing Quick Change SxS Polaris Oil Change Kit
If you can't get a factory oil change kit that provides everything you need to get the job done, why not get the next best thing. The Quick Change SxS Oil Change Kit from Maxima Racing is every bit as good as what you would get at your local Polaris dealer and had everything you need from the oil to the drain plug gasket. What's even better is that you're not getting some generic oil, but you're getting a product that has been making oil for the powersports industry for decades. Their SxS oil has been specifically formulated to provide maximum lubrication for every condition that SxS engines have to perform. Whether it's screaming wide open for miles on end or just running around the ranch, your engine will be safe.
3. Motul 7100 4T 10W-50 Synthetic 4-Stroke Motor Oil
High-tech and supremely affordable, Motul 5100 4T 10W-50 Synthetic Blend oil is an ideal replacement for the OEM Extreme Duty PS-4 Polaris Ranger oil, meeting API SL, SH, and SG certification requirements, and complying with the JASO MA standard, denoting its wet clutch compatibility. The oil feature's Ester technology for improved engine response and a proprietary extreme-pressure formula for superior gearbox protection on motorcycles and ATV/UTV models. If you're on a tight budget, there's also a synthetic blend, Motul 5100, that contains a mix of synthetic and conventional oil plus an additive package, but we recommend sticking with the full-synthetic stuff.
4. Mobil 1 Racing 4T 15W-50 Motorcycle Oil
We're not sure there's a bigger name in motor oil right now than Mobil 1. Apart from being the official motor oil of the NASCAR stock car racing series and serving as the OEM-recommended oil for numerous production cars, Mobil 1 continues to set new standards for other oil brands to live up to. The brand's 15W-50 Racing 4T Motorcycle Oil makes for a great Polaris Ranger oil, as it turns out. It has a bit higher viscosity than even Polaris's own PS-4 Extreme Duty oil at cold temperatures, so we wouldn't necessarily recommend it to those living in colder climates, but it offers superior protection at operating temp, and it's a fully synthetic oil that meets or exceeds API SL, SJ, SM, and SN standards, not to mention the JASO MA standard for wet clutch compatibility.
5. Castrol Power 1 10W-50 Synthetic Motorcycle Oil
As a leading motor oil brand, Castrol produces some of the highest quality, most advanced engine lubrication products on the market, and you can't go wrong with the brand's Power 1 10W-50 synthetic oil for motorcycles. Among its hallmark traits: great flow characteristics, outstanding sheer stability, and Castrol "Trizone" technology, which is proven to protect the three major zones in any motorcycle or powersports application: engine, clutch, and transmission. Engineered to exceed API SL and JASO MA2 standards, Castrol Power 1 10W-50 has the same weight range as Polaris's own PS-4 Extreme Duty Polaris Ranger oil, making it a suitable substitute.
6. Liqui Moly Motorbike 4T Synthetic 10W-50 Race Engine Oil
Liqui Moly's packaging proudly states that the oil is "Made in Germany," and while that isn't necessarily an automatic marker of quality, there's a reason German engineering is considered among the best in the world. Liqui Moly's 4T Synthetic 10W-50 Race Engine Oil has the same weight range as Polaris PS-4 Extreme Duty Polaris Ranger oil, so you know you're getting adequate flow and protection at the extreme ends of the temperature range, and it meets or exceeds API SL and JASO M2 standards, making it a suitable stand-in for Polaris-branded oil. Liqui Moly's product literature even touts its suitability for oil-bath clutches, and says it's an optimal oil for "high-stress, 4-stroke motor-bikes and racing machines."
7. Shell Rotella T6 Full Synthetic 5W-40 Diesel Engine Oil
We know; diesel engine oil in a gasoline engine? But numerous Ranger owners use Rotella T6 as their Polaris Ranger oil of choice, because it's formulated to hold up with superior high-temperature resistance and sheer stability, and to deliver outstanding engine wear performance. 5W-40 is about as light as you'd ever want to go in a twin-cylinder Polaris engine, but with its excellent performance in extreme temps, its durability, and its advanced additive package that includes enhanced deposit control, Rotella T6 is an attractive overall package, with countless oil spec certifications – including JASO MA/MA2 for wet clutch compatibility – to its name.
How Much Oil Does A Polaris Ranger Take?
Now that you (hopefully) have a better idea of what Polaris Ranger oil you'll be buying, the question remains: how much should you get for a single oil change? The answer depends on which model you have, as different Polaris Ranger models come equipped with different engines and often, as a consequence, different oil capacities.
Polaris Ranger 800 models, powered by a 760-cc twin-cylinder engine, have an oil capacity of 2 quarts, or roughly 1.9 liters. This includes the Ranger 800, 800 XP, 800 HD, and CREW 800 models. Ranger 900 models, with their 875-cc engines, and the 999-cc Ranger 1000 model line, both require a bit more oil: roughly 2.5 quarts, or about 2.4 liters.
Keep in mind: all of the above quantities are general guidelines, and the amount needed to refill your Polaris Ranger oil may differ. For that reason, it's always a good idea to consult your Ranger owner's manual for the exact recommended oil quantity.
What Kind Of Oil Should I Use In My Polaris Ranger?
Polaris itself sells two different oil weights under its PS-4 motor oil label: 5W-50 and 10W-50. Both oils are fully synthetic, the 5W-50 serving as Polaris's "all-season" general duty oil option, with a recommended ambient temperature range of -30 to 100 °F, and the 10W-50 serving as its "extreme-duty" option in temps from 0 to 130 °F. In general, it's never a bad idea to stick to oils of the same weights as those sold by Polaris, although in practice, it can be hard to find an exact match, limiting your choices when it comes to brand and additive packages. Numerous users claim success sticking with oils rated to at least 5W-40, but your mileage may vary.
But it's not just oil weight that counts; crucially, whatever Polaris Ranger oil you use must also be cleared for use with wet clutches, and that means meeting JASO MA standards. JASO MA is a classification standard applied to oils that both meet certain quality standards, and that have been verified to possess certain characteristics with regard to dynamic friction, static friction, and "stop time". JASO MA standards can be further split into MA1 and MA2, depending upon the oil's exact performance in friction testing, but either ought to be sufficient for the Polaris Ranger and most other ATV and UTV models.
Additional Resources
Recent Updates
06/14/2023: Updated product links, removed obsolete products (amsoil utv oil) added new product (maxima racing utv oil change kit) Aaron Brzozowski
Aaron is a freelance writer, videographer and car enthusiast based out of the Detroit area. He has a special affinity for the Porsche 944 series, and once owned a Volvo 240 sedan with a Weber carb in place of the factory EFI system. His work has appeared on AutoGuide, GM Authority, /Drive, and VW Vortex, among other sites.
More by Aaron Brzozowski
Published June 14th, 2023 5:11 PM
Top Brands
Popular Articles