1.2K Views
Best Motor Oil Options for ATVs and UTVs
May 25th, 2021 12:18 PM
Share
We're committed to finding, researching, and recommending the best products. We earn commissions from purchases you make using links in our articles. Learn more here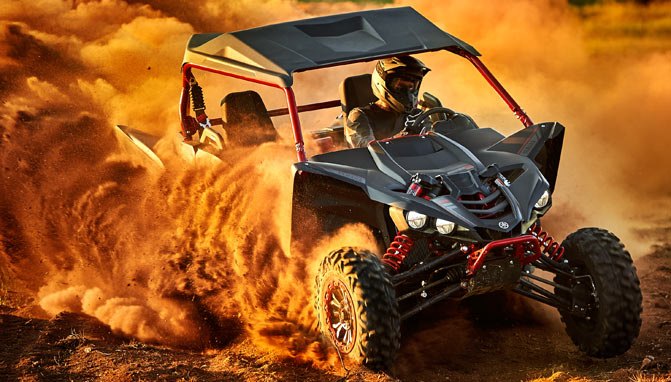 Don't just put anything into your off-road vehicle
Motor oil is just motor oil, right? Wrong! Your ATV or UTV requires motor oil just like any other motorized vehicle, but any oil just doesn't cut it. These machines run at higher RPM, work harder and run harder than your truck does, so specialized oils are definitely called for. What separates motor sports oil from common stuff off the shelf? It's all about what goes into the blend. Let's take a look at five of the best motor oil products for your off-road fun.
Table of Contents
1. Editor's Choice: Factory Brands
The manufacturer of your specific machine designed it to work with its brand of in-house oil. Every brand, including for example Polaris, Can-Am, Yamaha (under the Yamalube brand), and Honda under the Pro Honda brand produces oils specifically designed to work with their engines. While there are advantages to using other oils, these are the safe choices. You can rest easy knowing that this ATV oil and UTV oil will not do any harm to your engine.
Maxima has been in the game since 1979 and has been a leader in producing American-made lubricants ever since. It has a strong racing heritage, to boot. Many motocross fans from the 1980s will remember the name Ron Lechien. The former Kawasaki factory racer's dad founded the company and the family still owns and operates it. These oils have very high tolerances for heat and fluidity, making them great choices for those of us that like to keep the gas pedal closer to the floor than most would deem reasonable.
If you think about synthetic oils, the name that pops into most minds is AMSOIL. AMSOIL has been in the business of producing lubricants for over 40 years, and make a wide range of specific products for ATVs and UTVs. What makes them one of the best available is that these products are researched and blended specifically for our market.
An American success story, Lucas Oil started on the principle of producing a high-quality lubricant and bringing that product into the competitive marketplace. Lucas Oil did so in a big way by jumping into motorsports competition. What gets these oils on this list is the fact that the same technology that goes into the oil for top fuel drag racers also goes into the motor oil you can put in your machine to keep you on the trails. Simply put, this is some of the best ATV oil you'll find anywhere.
Bel-Ray offers ATV and UTV users a complete line of products from performance four-stroke specific motor oil and they offer guides specific to use to help guide you through getting the right products for your machine and style of riding. The company has been around since the 1960s, and making powersports oils since the 1970s. It has been producing American-made lubricant products that are able to withstand any condition conceivable, making them a great choice for replacing the ATV oil in your ride.
Why Should You Buy ATV Oil Instead of Regular Motor Oil?
While the cheap automotive motor oil at your local big box store might seem like it will work well enough, we would caution you against it. ATV and UTV engines don't see as many miles as your daily driver, but the engines in those machines get run extremely hard and rev very high. If you buy ATV oil, your machine gets the advantage of a product made specifically for it.
We know there are plenty of off-roaders who swear by using the same oil they use in their truck and it can certainly work if you are vigilant about changing it regularly. But ATV oil also has to lubricate your transmission (which gets a separate lubricant in your car/truck). ATV oil does not have the same type of friction modification as automotive oil, so it will do a better job of both protecting your transmission and providing improved transmission performance.
How Often Should I Change My ATV Oil?
Your ATV oil needs to be changed a lot more frequently when it comes to total miles traveled compared to your car or truck. But exactly how often you should change it depends on the type of use your four-wheeler gets. For example, if you have a Polaris Ranger Utility UTV, Polaris suggests changing the oil every 100 hours/six months/1000 miles (whichever comes first). ATVs and UTVs that see more sporty/hard-driving performance should be changed more frequently. About every 50 hours for a Sport UTV and as little as every 25 or 30 hours for a Sport ATV. Racers, for example, typically replace the oil after every race.
Recent Updates
March 11, 2021: Updated the product image for Maxima, updated the link for the Lucas Oil recommendation.
We are committed to finding, researching, and recommending the best products. We earn commissions from purchases you make using the retail links in our product reviews. Learn more about how this works. Derrek Sigler
Derrek's love for all things ATV started when he was a mere 11 years old, growing up on his family farm. His mom gave him and his sister a choice - get a horse, or a three-wheeler. The sister wanted the horse, and Derrek wanted the ATV. Luckily he won out, and was soon burning up the trails on a Yamaha Tri-Moto 200. By the time he was 14, he had saved enough of his own money by working on the farm and in his folks restaurant to buy a new 4-wheeler. That happened the day he and his mom were driving past the dealership and saw 1987 Banshee. His mom had no idea what he was buying, and he never looked back. He's been riding ever since, and been writing professionally for many years. He has ridden all over North America and been behind the controls of just about every machine out there. And yes, he still has his 1987 Yamaha Banshee.
More by Derrek Sigler
Published March 19th, 2020 9:10 AM
Top Brands
Popular Articles