308 Views
2011 Polaris Sportsman 500 H.O. Review
June 17th, 2015 4:07 PM
Share
We're committed to finding, researching, and recommending the best products. We earn commissions from purchases you make using links in our articles. Learn more here
Maybe the best value in the industry
So, you are considering purchasing a new 4×4 ATV, but maybe you haven't settled on which particular model catches your interest. Since financing is difficult to come by and people are being more frugal with their money, chances are the machine you choose will be based on a combination of its intended use and your budget.
Most of the manufacturers offer a few entry-level models with lower retail prices, usually accompanied by smaller displacement engines, less features, and smaller-sized chassis. If you are a smaller rider in need of a compact ATV, the smaller chassis may not be an issue; however, if you want a more capable full-sized machine, your options are pretty limited. You know the saying "You get what you pay for." Well, in our opinion, there is one particular machine on the market for which that saying doesn't hold water – the 2011 Polaris Sportsman 500 H.O.
Not to be confused with Polaris's Sportsman XP machines, the Sportsman 500 is part of the Polaris Value Line of 4×4 ATVs, along with the Sportsman 400 and Sportsman 800. Built in the USA, the Value Line is based on Polaris' previous generation of machines, offering proven designs at prices that rival machines being produced in China and Taiwan.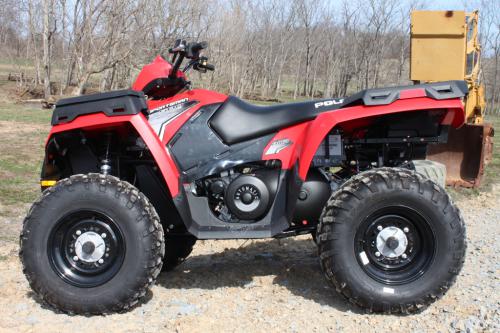 2011 Polaris Sportsman 500 H.O.
Technically Speaking
The Sportsman 500 is powered by a 498cc single cylinder engine.
In case you weren't aware, the Polaris Sportsman 500 is the best selling fully automatic 4×4 ATV of all time. For 2011, it received a number of updates. Polaris began by refining the frame and increasing its rigidity. The radiator mounting point was raised three inches for improved mud protection and the winch was lowered for an improved winching angle.
Powering the machine is a 498cc water-cooled, two-valve, single overhead cam, four-stroke engine. A carburetor feeds the engine, which saves hundreds of dollars compared to fuel injection. Electric starting brings the 500's engine to life via an automotive turnkey style switch.
This year all of the Value Line Sportsman models receive the same fully automatic CVT style Polaris Viable Transmission used in the X2. This was done for greater commonality, reducing manufacturing costs. The transmission features high and low ranges, plus neutral, reverse, and park. The drive system features Polaris' selectable two-wheel drive / all-wheel setup. In all-wheel drive, the rear wheels take care of the drive duties until they begin to slip. At that point, power is equally transferred to both front wheels providing true four-wheel drive, until you let off the gas. If there is available traction, the system will once again deliver power to just the rear wheels, providing lighter steering most of the time and more traction when necessary. Power is transferred to all four wheels through shaft drive.
Front MacPherson struts have long been a hallmark of Polaris ATVs.
Front McPherson struts and rear dual A-arms handle suspension duties. This Sportsman was the first machine on the market with IRS and its suspension travel numbers are impressive even by today's standards, with 8.2 inches up front and 9.5 in the rear. Long suspension travel aids in yielding an impressive 11.25 inches of ground clearance.
Dual hydraulic disc brakes up front and a single hydraulic disc brake in the rear slow the Sportsman. Single lever braking, mounted on the left side of the handlebars, applies braking force at both ends. The rear brake can be operated independently with the right side mounted foot lever.
The most notable of the machine's changes is its new, more modern styling, which looks very similar to the XP models. The front end, which protrudes less, improves the rider's sightline. Mounted in the front of the machine is a set of new 50-watt low beam headlights. A 50-watt high beam headlight is located in the handlebar-mounted pod, along with the combination digital and analog display. Stamped steel wheels are common in this price range, but the high-quality, 25-inch Carlisle tires help make up for it.
The Sportsman 500 comes standard with a water resistant storage box.
A new Lock and Ride storage box offers 5.3 gallons of water resistant capacity in addition to the machine's rear storage box. Polaris' Lock and Ride system allows you to easily switch between various accessories that mount to the rack area. Rack capacity is rated at 90 pounds up front and 180 pounds in the rear. The rear hitch receiver can tow up to 1,225 pounds.
A wheelbase of 50.5 inches is pretty typical of a full-size machine. Its 48- inch width is a bit wider than most, and a seat height of 33.75 inches is a bit lower than some. Polaris is not known for building light 4x4s, and the 500 is pretty hefty for its displacement at 695 pounds dry – or about 725 pounds with fuel and all the other necessary fluids.
The Test
At this point, we have put several months of use on our 2011 Sportsman. We used it over the winter to plow snow, took it on several trail rides, and have used it to haul tools for trail building. Pull the handlebar-mounted choke lever, turn the key, and the Sportsman roars to life – taking a bit longer to warm up and settle down compared to fuel-injected models.
Despite its older carbeurated engine, the Sportsman 500 makes for a quick and powerful trail companion.
Although it's not fuel-injected, the carburetor-fed engine ran crisp and clean once warmed up. The 500's power output is strong and smooth throughout the usable RPM range. It's fast enough for spirited trail riding, providing plenty of torque for steep climbs. Due to its weight, the Sportsman is faster than it feels. We did a lot of plowing with the machine over the winter and the 500 never felt underpowered in low range.
The transmission's high range worked well for most trail situations. It did a good job backshifting when necessary, but we noticed a bit of lag when you hit the gas. Low range seemed better suited for extremely technical situations. Once you get past the challenging obstacle, you will want to shift back into high, as low range is best geared for crawling along or doing hard work. Shifting between the ranges is smooth enough; although the shifter is a bit dated looking and makes it difficult to judge which range you are in without looking at the handlebar-mounted display.
There is something to be said for four-wheel drive systems with locking differentials which lock all four wheels in full-time. We haven't found ourselves in a situation yet where it would have made the difference between being stuck or getting out. We like the easier steering and extra traction when necessary, provided by the Polaris system.
Getting a deal doesn't mean you have to sacrifice comfort. Everything about the Sportsman is plush, starting with its suspension. Cruising along the trail, the suspension isolates you from everything with equal prowess. Small rocks, roots, and bumps simply don't exist on the Polaris. Water bars, small logs, and square edge holes transmit virtually no shock to the rider. When the Sportsman traverses a rough section, you can really see the shocks working as the wheels move up and down following the terrain while the chassis remains mostly unaffected. Despite its phenomenal level of plushness, the Sportsman surprises you when you hit a jump, g-out, or drop off harder than expected, as it is just as adept at dealing with big hits as it is small ones.
This is clearly not what Polaris built the Sportsman 500 to do, but it's plush suspension handles big drops very well.
Although the front struts aren't preload adjustable, the Sportsman remained pretty level with only a small amount of front-end sag under the weight of Cycle Country's 60-inch Bear Force Plow. The shocks did a good job of keeping the machine level while pushing large snow piles as well.
Though the Sportsman 500 feels stable and secure on steep descents, we do miss an engine braking system.
On Steep climbs and descents, the sportsman felt planted and secure. Despite its large-scale size and high ground clearance, the wide Sportsman is pretty trustworthy on side hills. Its stability is good in corners as well. Aggressive cornering will result in minor body-roll; however, its width and a bit of front-end push keep you from getting into trouble unexpectedly. Steering is pretty light considering its weight, and it goes where it's pointed as long as you don't get too carried away with your corner exit speed.
Hydraulic disc brakes offer decent stopping power, but its single lever brake requires a bit more pressure than some and lacks feel. It is nice having the separate rear brake pedal for steep descents where you don't want much, or any, front braking force. We wish we could engage the rear brake without removing our foot from the peg, though. Now, why can't Polaris add a separate front brake in case you have to back down a steel hill? The brakes work well despite feeling outdated, and it's a good thing. The one feature that the Sportsman is missing that some of its less impressive competitors possess is an engine braking system. We miss it, but for the money, we can live without it.
We dig the tire selection on the 500. The Carlisle treads hooked up well in all conditions from dry, hard pack to sloppy mud. Even in two-wheel drive, the Carlisles did a good job of sticking to slippery creek banks. The tires felt predictable traversing rough terrain and provided all-around good performance.
Comfort greets you in the cockpit. The relationship between the bars, seat, and footpegs is pretty comfortable for an average-size rider. Since its engine wasn't rotated 90 degrees like the XP models, the 500 is a bit wider between your legs. The grips are nice and the seat is plush as long as you don't hang off the sides too much in the corners, as the padding is a bit thin on the sides. The floorboards offer plenty of room and splash protection is superb on this machine.
We appreciated the generous on-board storage provided by the front Lock and Ride front box and rear trunk. The composite rear rack looks smooth in appearance, but both it and the front cargo box are harder to secure items to, compared to standard tubular steel racks. Fortunately, Polaris has lots of Lock and Ride attachments to make securing a load to the top of the machine easier.
It would be awfully difficult to find another ATV that offers such good performance for just $5,999.
We liked the combo analog and digital display. The analog speedometer is easy to reference at a glance. The headlights do a good job of illuminating the trail at night, although we wish we could run the low and high beams together to illuminate the terrain in front of us in addition to where we are going.
The Bottom Line
Polaris must have been ahead of its time back in 1996, as the 2011 Sportsman 500 remains a respectable performer, even by today's standards. It's a capable trail machine with good work capabilities that provides one of the plushest rides on the market. When the Sportsman 500 hit the market back in 1995 as a 1996 model, it retailed for $6449. For 2011, Polaris is selling a refined and restyled version of that same machine for even less! At $5,999, what you get for the money makes the Polaris pretty untouchable by the competition.
2011 Polaris Ranger RZR XP Specs
Engine Type:
4-Stroke Single Cylinder
Displacement:
498cc
Fuel System:
Carbureted
Cooling:
Liquid
Transmission:
Automatic PVT P/R/N/L/H; Shaft
Drive System:
On-Demand True AWD/2WD
Front Suspension:
MacPherson Strut With 8.2″ (20.8 cm) Travel
Rear Suspension:
Dual A-Arm, IRS 9.5″ (24.1 cm) Travel
Front/Rear Brakes:
Single Lever 4-Wheel Hydraulic Disc with Hydraulic Rear Foot Brake
Front Tires:
25 x 8-12; 489
Rear Tires:
25 x 11-12; 489
Wheels:
Stamped Steel
Wheelbase:
50.5 in.
Dry Weight:
696 lb
Overall Size (L/W/H):
83 in. x 48 in. x 48 in.
Ground Clearance:
11.25 in.
Fuel Capacity:
4.1 gal.
Front/Rear Rack Capacity:
90 lb/180 lb
Hitch Towing Rating:
1,225 lb
Unbraked Trailer Towing Capacity:
1,786 lb
Hitch/Type:
Standard/1.25″ Receiver
Cargo System:
Lock & Ride
Lighting:
Dual 50w Low Beam Bumper Lights, Single 50w High Beam Pod Light; Dual Brakelights/Taillights
Instrumentation:
Digital Gauge, Analog Speedometer, Odometer, Tachometer, Tripmeter, Gear Indicator, Fuel Gauge, AWD Indicator, Hi-Temp/Low-Batt Lights, DC Outlet
MSRP:
$5,999
Related Reading
2011 Polaris Sportsman 400 H.O. Review
2011 Polaris Sportsman X2 550 Review
2011 Polaris Sportsman Touring 850 EPS
2009 Polaris Sportsman 800 EFI Touring Review
2009 Polaris Sportsman 850 XP EPS Review
2009 Polaris Sportsman XP 850 & 550 Review
2008 Polaris Sportsman 500 EFI X2 Review
2008 Polaris Sportsman 800 EFI Review
2008 Polaris Sportsman 500 EFI Review Published May 25th, 2011 12:13 PM
Top Brands
Popular Articles