1 View
Segway Introduces New Six-Passenger Utility UTV
August 24th, 2023 3:22 PM
Share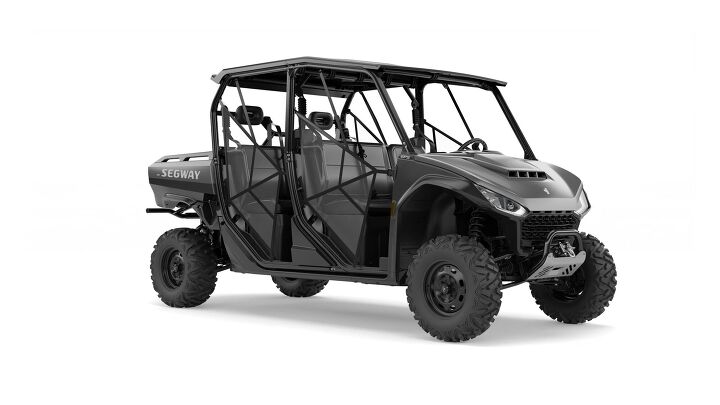 Segway continues to release new UTVs aimed at taking on the class leaders with the newest model - the UT10. This model is an all-new, gas-powered machine with seating for up to six and a host of features Segway feels can compete with the best in the industry. We will have to wait to get our hands on one to say for sure how it stacks up, but judging by these stats, it sounds impressive.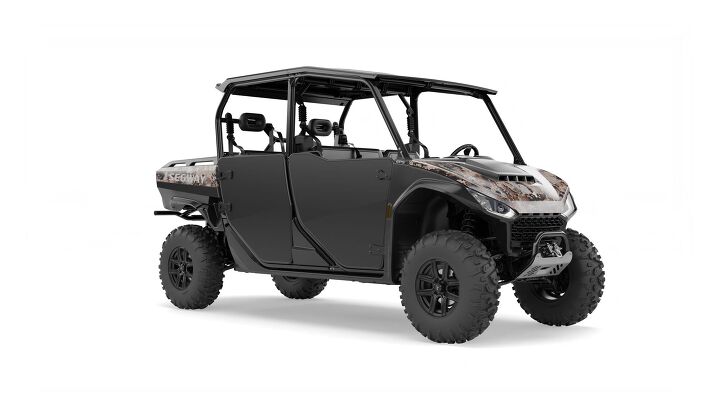 The UT10 Crew platform was built from the ground up to deliver safety, comfort, and technology features to enhance your user experience for work and play. It is powered by a 1000cc parallel-twin DOHC 4-Stroke engine, with 105 horsepower and 70 lb-ft of torque. The UT10 comes quipped with four-wheel hydraulic disc brakes, a 1,000-pound bed capacity, and a 2,500-pound towing capacity. It comes in two trim packages - the S (Standard) and the P (Premium).
"The UT10 Crew signifies the next evolution in utility offroad vehicles by bringing unconventional technology solutions to the powersports market," said Gabriel Cruz, Marketing Director at Segway Powersports. "Our goal is to exceed customer expectations by pushing the boundaries of performance, comfort, and safety while offering uncompromised tech solutions and reliability."
"The launch of the Utility Crew is nothing short of impressive from our engineering, manufacturing, operations, and marketing teams," said Shane Wilson, Corporate Strategic Vice President at Segway Powersports. "Our goal is to exceed customer expectations, and we have done nothing short of that. Based on dealer and consumer feedback, we have taken a product from concept to production in less than ten months, which is impressive. When you get a chance to visit one of our dealerships to decide which utility SxS vehicle to purchase next, we challenge you to test drive a Segway as we are confident that with the performance and technology built into our vehicles, the buying decision will be easy."
Jason Walling, newly appointed Vice President of Sales and Marketing for Segway Powersports, said, "With an MSRP of $16,999, the UT10 Crew's features and build quality will undoubtedly disrupt the market. It's smooth, powerful, and generously equipped with more features than one could expect at this price point."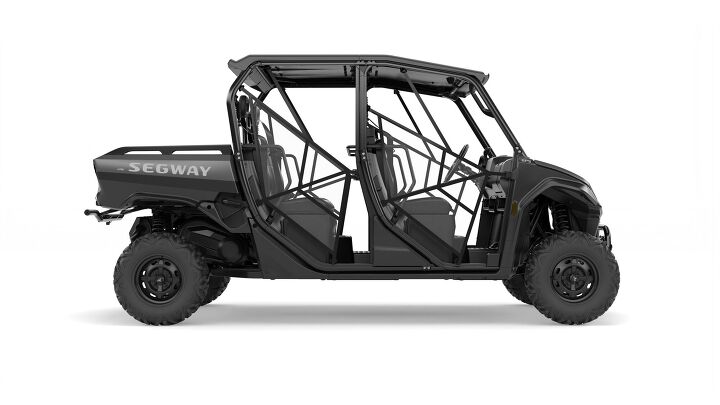 UT10 P Crew Specs
● MSRP: $16,999
● Colors: Bold Black, Innovative Gray, Tensive Red, and Truetimber® Prairie Camo
● 105 Horsepower Fuel-Injected 1000cc Parallel-Twin Cylinder DOHC 4-Stroke Engine
● 4-Wheel Hydraulic Disc Brakes
● Dual A-Arm Front Suspension with 10 inches of Wheel Travel
● Dual A-Arm Independent Rear Suspension (IRS) with 11 inches of Wheel Travel
● Front and Rear Locking Differentials
● 8 Ply Rated 30x10-14 Front and Rear Tires
● 14-inch Aluminum Wheels
● 10.4-inch Smart Touchscreen with Smart Moving App
● LED Digital Dash with In-Dash USB Charge Ports
● Reverse Camera
● Steel Doors
● Removable Front and Rear Dry Storage
● Rear Seat Storage Compartments
● 4,500-pound Winch
● 2,500-pound Towing Capacity
● 1,500 Payload Capacity
● 1,000-pound Cargo Bed Capacity
● 12 Gallon Fuel Capacity
● Six (6)-person Capacity
● 1-Year Consumer Warranty, 90-Day Commercial Warranty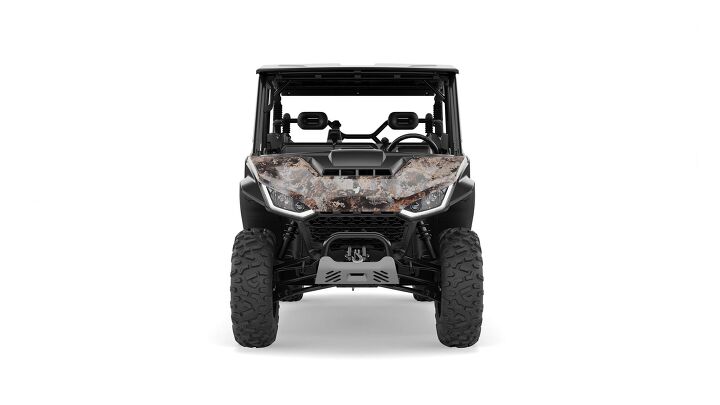 Published August 24th, 2023 3:22 PM
Top Brands
Popular Articles