201 Views
Best Cheap ATV Tires That Won't Let You Down
May 25th, 2021 12:13 PM
Share
We're committed to finding, researching, and recommending the best products. We earn commissions from purchases you make using links in our articles. Learn more here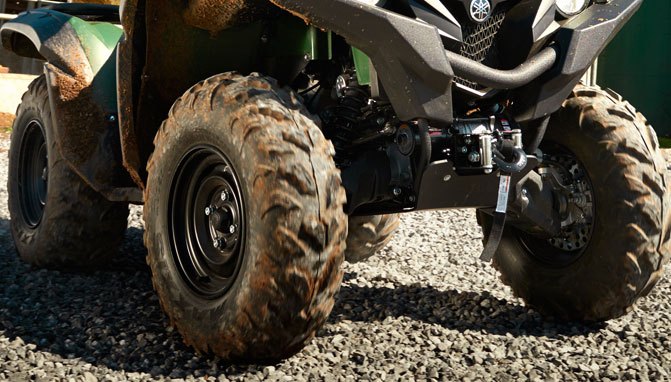 Worn out ATV tires are no good, but new ones can be pretty pricey. To help find some new rubber for your ride, we've found five good but cheap ATV tires.
There are plenty of reasons to want new tires on your ATV. The stock ones may have worn out, or been trashed by riding on harsher terrain. The biggest reason to want to swap out the tires is performance. Sometimes you just want new meats on the rims to gain an edge in traction. The problem is one we're all too familiar with – cost. Tires cost money. Don't worry though. There is a wide selection of high-quality cheap ATV tires available to get your machine back on the trail.
While there are a host of discount tire brands out there, finding cheap ATV tires for sale that won't let you down can be pretty tricky. Fortunately, if you know where to look and what to look for, you can save a bundle. This is where we come in. We looked around for cheap ATV tires for sale that offer good performance and durability. Some of them are brands you know, while others may be new to you.
Either way, here are the best cheap ATV tires for sale right now that you can count on.
Table of Contents
1. Editor's Choice: GBC Dirt Devil
The Dirt Devil is a directional ATV tire that works well for varied terrain; everything from light mud to hard-pack dirt. They have dimpled lugs with decent sideway tread for additional traction. They come in a 6-ply design for durability, too, so they can handle some tough terrain. These tires are GBC's best-selling rubber, too. These are some seriously good, but cheap ATV tires.
ATV riders have known for years about the versatile Kenda Bear Claw. When it comes to finding a cheap ATV tire that can handle a wide variety of terrain, the Bear Claw is awfully tough to beat. Bear Claw tires have a directional, angled treads that are designed to "claw" through mud, snow, and hard pack terrain. Throw in rugged 6-ply construction and you've got a tire that has no trouble hanging with others that cost a whole lot more.
STI Tires are some of our favorites because they are really good tires that offer great traction and features, but are often much cheaper than other brands. The Outbacks have been around for a little while and have nice deep lugs for traction in various terrain types. They are a little better in mud than many others in this price range, making them a great choice for the ATV rider looking for cheap ATV mud tires.
It's pretty cool when a major tire brand can make the list for good but cheap ATV tires, so you might be a little surprised to see a tire from ITP on this list. But with a price tag that competes with the budget brands, the Mud Lite AT tires were a no-brainer for this list. The biggest claim to fame for these 6-ply tires is that they are the lightest mud-rated tire on the market. This means you'll get all the traction benefits without the added rolling mass that can bog down your ATV. This makes them the perfect good but affordable ATV mud tires for your ride, especially if you have a smaller-engine machine.
One of the ways you can save money is by going with a house brand tire. In this case, the house is Chaparral Racing and its Ocelot brand. The tires are a multi-directional, deep lug tire with a 6-ply construction and shoulder lugs for additional traction and control in mud and ruts. The best part of these types of tires is that they keep the costs down and are extremely similar to other, more mainstream brands, making them an excellent, cheap alternative when you need new tires.
Another house-branded tire comes from Tusk, at Rocky Mountain ATV. It doesn't take a genius to see the lineage of these good but cheap ATV tires. They have a tread pattern that is very similar to a very popular, but much higher-priced tire. They boast a 6-ply rating and like everything we've seen from the Tusk brand, are a great lower-cost alternative.
Recent Updates
March 31, 2021: Updated links and added the Kenda Bear Claw recommendation.
We are committed to finding, researching, and recommending the best products. We earn commissions from purchases you make using the retail links in our product reviews. Learn more about how this works.
What makes a good but cheap ATV tire?
When you're looking for a new set of tires for your ATV that won't break the bank, you need to first know what you want the tire to do. Look at the tread patterns to see if it will fit your application, such as mud riding, or rocky terrain. Cheap ATV tires tend to have less layers of rubber and they skip the cool features like Kevlar bands. Look for a tire with as many plies of rubber as you can get, as this will be more puncture resistant. Always check reviews from other users, too. It can save you lots of headaches.
Where can I buy good but cheap ATV tires?
Looking for something other that the five tires listed above? The best way to find the best deal on cheap ATV tires is to shop around. Fortunately, there are a number of online retailers you can browse to find cheap ATV tires for sale. It's also a good idea to check out your local ATV dealership, as they occasionally have very good sales and can mount the tires onto your wheels for your. Derrek Sigler
Derrek's love for all things ATV started when he was a mere 11 years old, growing up on his family farm. His mom gave him and his sister a choice - get a horse, or a three-wheeler. The sister wanted the horse, and Derrek wanted the ATV. Luckily he won out, and was soon burning up the trails on a Yamaha Tri-Moto 200. By the time he was 14, he had saved enough of his own money by working on the farm and in his folks restaurant to buy a new 4-wheeler. That happened the day he and his mom were driving past the dealership and saw 1987 Banshee. His mom had no idea what he was buying, and he never looked back. He's been riding ever since, and been writing professionally for many years. He has ridden all over North America and been behind the controls of just about every machine out there. And yes, he still has his 1987 Yamaha Banshee.
More by Derrek Sigler
Published January 28th, 2020 1:30 PM
Top Brands
Popular Articles