156 Views
2021 Polaris Sportsman 450 H.O. vs. 2021 Honda Rancher 4×4: By the Numbers
August 12th, 2020 3:22 PM
Share
We're committed to finding, researching, and recommending the best products. We earn commissions from purchases you make using links in our articles. Learn more here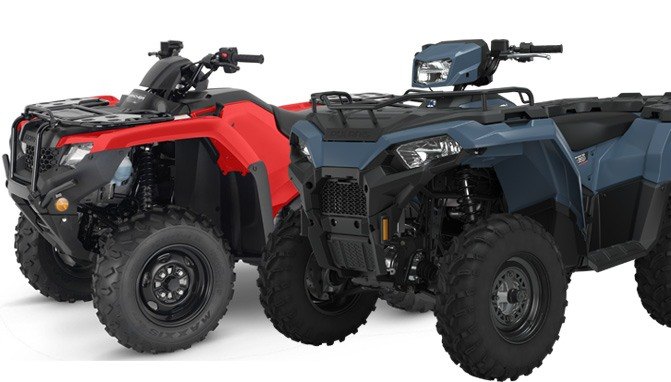 How does the new Sportsman 450 H.O. stack up?
The brand new 2021 Polaris Sportsman 450 H.O. was just introduced and we wanted to see how it compared on paper to the Honda Rancher 4×4.
It's an open secret we like off-road rigs with big power and gonzo suspension setups. Given a choice between a mid-range machine and one with an outsized engine, we'll grab the keys to the latter every single time … fuel bills be damned.
But we also recognize the need for entry-level workhorses whose role it is to simply get the job done without any fuss. They're the roots from which all other ATVs spring, really; without these OG pillars of off-road we very likely wouldn't have the psychotic high-power quads we so enjoy.
So pour one out for those who work. Here are two options for the 2021 model year.
Powertrains
2021 Polaris Sportmsan 450 H.O.
Let's kick things off with the new 2021 Polaris Sportsman 450 H.O. Yes, it's branded and marketed as a 450 but actually bears an engine displacement of 499cc. It's a 4-stroke fuel injected unit making just better than 30 horsepower out of its single cylinder. Single-touch on-demand all-wheel drive sends traction to all four corners at the flick of a switch. You're in command of a variable automatic transmission, a common unit shared with many other Polaris rigs.
But not with the Honda Rancher 4×4. Honda chooses to stick a five-speed manual with an automatic clutch in its entry-level workhorse. This is a gearbox that will either feel comfortably familiar or decidedly retro depending on your age and experience. Honda installs a 420cc single-cylinder four-stroke, liquid cooled and good for about 27 ponies.
Suspension
Honda Rancher 4×4
Underpinning the 2021 Polaris Sportsman 450 H.O. are sealed MacPherson struts up front with 8.2 inches of wheel travel. Dual A-arms reside out back and can flex a bit further, traveling 9.5 inches. Power steering is not standard on the 450, meaning one has to shell out an extra $900 for the Sportsman 450 EPS if they don't want to end up with arms like Popeye.
Honda has a completely different suspension setup, deploying an independent double wishbone ahead of the rider and swingarm with single shock behind them. Anecdotally, this gives a better ride quality than some other configurations, but does so at the expense of wheel travel; both the front and rear can flex just 6.69 inches on the Rancher 4×4. Like the Polaris, power steering doesn't appear until the next rung EPS model, a $700 walk.
Size & Weight
2021 Polaris Sportsman 570 and 450 H.O. Unveiled: Everything You Need To Know
Overall length of the Sportsman 450 checks in at 83 inches, with height and width at 47 and 48 inches respectively. This slightly over-square stance makes it stable, aided by a decent 50.5-inch wheelbase. Ground clearance is 11.5 inches and can be partially credited to the 25-inch tires mounted on 8-inch (front) and 10-inch (rear) diameter steel wheels. Polaris says the whole thing weighs 700 lbs dry.
As for the Honda, it is roughly the same length (to within 0.2 inch) and virtually identical in width. Its wheelbase is also similar, at 50 inches even. Where the Rancher differs from the Sportsman in is height, measuring almost two inches shorter at 46.2 inches. As you'd expect, this has an impact on ground clearance – just 7.2 inches separates the Rancher from terra firma. The payoff here is weight, advertised at 615 lbs wet (full of fuel), so getting it unstuck when you're riding solo shouldn't be too much of a big deal.
Payload & Towing
2021 Polaris Sportmsan 450 H.O. with loaded rear rack
Front and rear rack capacity on Sportsman 450 is rated at 90 lbs and 180 lbs respectively, meaning one can go ahead and sling their big game on the Polaris without worry. Total payload rating is just shy of 500 pounds. As for towing, that hitch is good for 1350 lbs. Some quick math reveals that if a person loads up the front and rear racks plus figures a 10% tongue weight, the rider can't weigh any more than a slender 95 pounds. You didn't need to put anything on that front rack anyway, right?
Honda is a bit less liberal with its capacity ratings, claiming a 66-pound front rack capacity and 133-pound rear rack capacity for the Rancher 4×4. Towing is a bit less as well, good for 848 lbs. There's a 3.9-gallon fuel tank including a 1.3-gallon reserve. An official figure for total payload capacity is difficult to come by, but it's fair to say one should approach a fully laden Rancher with as much caution as a fully laden Sportsman.
Styling
Honda Rancher 4×4 Front
Always a subjective measure, Polaris does a great job of straddling the line between too-plain and in-yer-face. The 2021 Polaris Sportsman 450 is available in a brace of colors for 2021, either Zenith Blue or Sageberry Green. Who said ATVs needed to have boring paint names?
Honda goes one further, literally, by offering three color schemes on the Rancher 4×4. The drab Olive will disappear from view on the hunting trails faster than the optional Phantom Camo in your author's opinion. For what it's worth, we'd stick with traditional Honda red.
Pricing
Expect to pay $6,399 for a 2021 Polaris Sportsman 450 H.O. compared to $6,499 for the Honda Rancher 4×4. With just $100 separating these two, the choice comes down to if one prefers ground clearance and outright payload over a unique powertrain and suspension. Those among us who skip arm day at the gym and need to pop for power steering will pay $7,299 and $7,199 for the Sportsman 450 and Rancher 4×4 with that feature, respectively.
Become an ATV.com insider. Get the latest news first by subscribing to our newsletter here. Published August 12th, 2020 3:22 PM
Top Brands
Popular Articles