177 Views
May 19th, 2022 7:46 PM
Share
We're committed to finding, researching, and recommending the best products. We earn commissions from purchases you make using links in our articles. Learn more here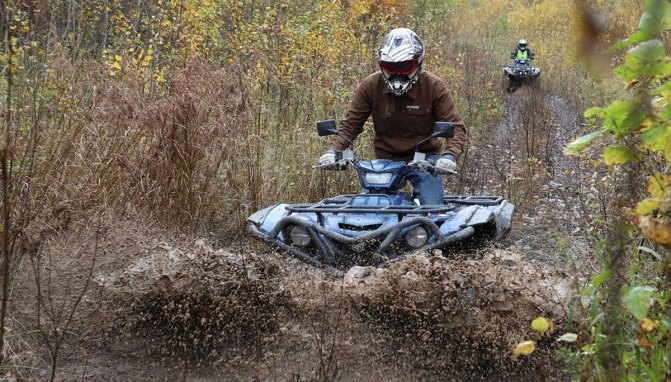 Get a grip and improve your riding experience.
One of the most consequential small ATV accessory purchases you'll ever make, and choosing the best ATV grips can elevate your riding experience more than you might realize.
Think about it: the handlebars are how you interface with your ATV's steering, brakes, and in some cases, the clutch and throttle. Maintaining a solid grip that won't be shook by a hard landing or a brush with a fallen tree branch is essential, as is hand comfort. The last thing you want on a long ride is for your hands to cramp up, or to freeze in colder riding temperatures.
Thankfully, if your ATV grips just aren't cutting it anymore, or they've gotten chewed up and ruined from years of hard riding, a new set can be had for cheap – in some cases, dirt cheap. And if you have issues with circulation and your hands just can't keep warm in colder temperatures, there's even a plethora of heated ATV grips on the market, with hidden powered heating elements that keep your mitts toasty in spite of the cold.
If you've decided it's high time that you got a new pair of ATV hand grips for your ride, there's good news: we've put together this list of the best ATV grips available today, with a range of different good-looking, well-priced options that your hands are sure to love.
1. Editors Choice: Pro Taper Pillow Top Grips
Our editorial staff has had the opportunity to ride all kinds of machines and test more grips than you can imagine, and one brand/style of grips that is a hands down favorite are the Pillow Top grips from Pro Taper. The Vibrasonix pillow top design helps to eliminate vibration felt through the bars and provides comfortable grip that isn't too hard or soft. The compound that is used in these grips also provides ample control of the handlebars whether you're riding in dry or wet weather conditions, and is extremely durable against ripping. They install easily with your favorite grip glue, but if you'd rather use safety wire to keep them in place, the grips have special channels to accommodate. Available for both twist throttle and thumb throttle controls (with and without flange), you can't go wrong with these best ATV grips.
2. Best Traditional Style Grip: Scott Sports Black Radial Full Waffle ATV Grips
One of the world's foremost brands in road and mountain bikes, skis, and powersports accessories, Scott Sports doesn't mess around. But not everything in the Scott catalogue costs an arm and a leg, and these Scott Sports "Full Waffle" ATV grips show that you don't need to be rich to have Scott quality at your fingertips – literally. These ATV handlebar grips have been designed with thumb throttle controls in mind, with no flange to block throttle access, and they're made from a cushy, comfortable single-density material that absorbs shocks and provides plenty of grip with a "full-waffle" molded design. Designed for 7/8" handlebars, they even have integrated safety wire channels, for a bit of extra ATV grip security.
3. Easiest To Install: ODI ATV Lock-On Grips
When it comes to changing ATV grips, many consider it to be a tedious task. You've got to cut the grips off of the handlebars, clean off the remaining glue residue, and then start the messy process all over again. To add insult to injury, you've got to give your grip glue time to dry, or risk having them slide off while you ride. That is why we list the ODI Lock-On ATV Grips as the easiest to install. Sure you need to do the same prep work in removing the old grip and the glue, but the installation of these tacky grips is simple and instant.
Once your handlebars are prepped, all you need to do is slide the new ODI Lock-On Grips, tighten the clamps with the supplied allen wrench and. you're done! It really is that simple. No need to worry about waiting for grip glue to dry, or if you use safety wire to secure your grips into place, no worry about impaling your fingers with sharp wire. What's even better about these grips, other than the easy installation, is the fact that they offer great rider comfort and control. The large raised tread pattern provides excellent shock absorption at the same time providing superb grip qualities.
4. Polaris OEM ATV Handlebar Grips
Your Polaris ATV has been good to you. Why jeopardize a good thing by introducing a whole bunch of aftermarket parts? These Polaris OEM ATV handlebar grips will technically fit most any ATV with 7/8" handlebars and thumb throttle control, but they're made especially for Polaris ATVs, and they're as thoughtfully designed and well-engineered as any OEM Polaris part. Featuring tall, longitudinal ridges for grip and comfort, these ATV hand grips deliver a safe, secure level of control, and they look factory correct on any modern Polaris ATV because, well, they are. Sure, they're not the most flashy or technical of ATV handlebar grips, but it's a proven design handpicked by the geniuses at Polaris. Who are we to argue?
5. Polaris ATV Hand Warmers
Great ATV handlebar grips aren't the only trick up Polaris's sleeve. The trusted powersports manufacturer also produces these hand grip warmers for ATV, with a pair of wafer-thin resistive heating elements that install inside the grips, on the outer surface of the handlebars, and work to keep your mitts warm all winter long. A three-position switch gives you selectable on-demand access to low-heat, high-heat, and no-heat levels, and just a couple of wires and some basic splicing is all that's required for installation, after you manage to mount the switch somewhere. Technically, according to Polaris, these hand warmers are only for use on certain Polaris ATV models, but we won't tell anyone if you try to install them on something else.
6. Heat Demon ATV Clamp-On Heated Grip Kit
Say, speaking of heated ATV grips, there are plenty of great, universal ATV handlebar grips with built-in heating elements – like these ones from Heat Demon. Designed for standard 7/8" handlebars, these very attractive heated ATV grips feature an uncommon clamp-on design that makes installation easier than your average ATV grips, and they feature a proven, effective grip texture for a secure hold. More importantly, each grip channels up to 20 amps of heating current at 14 volts, for a total of 40 hot, toasty amps, with a round rocker switch providing easy access to low, high, and off functions. For the money, these ATV hand grips are an absolute steal, and one that just might save your digits come winter.
7. Oxford Heaterz Premium Heated Handlebar Grips
Folks with twist throttle ATVs shouldn't feel shut out from the heated ATV grips market; for them, we recommend these premium Oxford Heaterz handlebar grips. They offer even more precise control over the heat level, with a five-level "intelligent" controller letting riders dial-in the heat from 30% all the way up to 100% - or down to 0%, if the weather's nice. A fine, intricate diamond grip pattern inspired by genuine race grips provides the utmost grip security, and the entire package has been engineered for optimal performance and reliability, with a welded, weatherproof controller, winter-grade wiring, and silicon cables that keep their flexibility even in the coldest of colds. In all, this is one of the best things you winter twist-throttle riders can do for your hands.
How Do You Remove ATV Handlebar Grips?
Removing a pair of ATV handlebar grips is about as simple as installation, although the process can sometimes be a chore if excess grip adhesive was used. There are a couple of different methods you choose between, depending on which you feel most comfortable with.
Method 1 involves using a screwdriver or similar long, slender prying tool to methodically lift every square inch of grip off the end of the handlebars. As you go, you can spray some contact cleaner underneath the grip to help gradually loosen every bit of old adhesive until the entire grip has released from the bar. Method 2 involves simply taking a box cutter or X-acto blade and cutting a straight line down the full length of the grip, before spraying some contact cleaner underneath a lifted edge to loosen the old adhesive and either pulling the grip off by hand, or inserting a screwdriver to lift it off as in Method 1.
Both methods run the risk of damaging the surface finish of your handlebars, but thankfully, that damage should be limited to an area that will be covered by your new grips anyway. Not only should that render the damage invisible during normal use, but it means that the damaged surface area should be pretty well protected from corrosion.
Whichever method you choose, after you have successfully removed the old ATV grips, use contact cleaner or something similar to remove any old, stuck-on adhesive so that you can start with the cleanest surface possible when you install your new grips.
What are the best ways to secure new grips to my handlebars?
Become an ATV insider. Get the latest news first by subscribing to our newsletter here.
We are committed to finding, researching, and recommending the best products. We earn commissions from purchases you make using the retail links in our product reviews. Learn more about how this works. Aaron Brzozowski
Aaron is a freelance writer, videographer and car enthusiast based out of the Detroit area. He has a special affinity for the Porsche 944 series, and once owned a Volvo 240 sedan with a Weber carb in place of the factory EFI system. His work has appeared on AutoGuide, GM Authority, /Drive, and VW Vortex, among other sites.
More by Aaron Brzozowski
Published June 17th, 2021 6:00 PM
Top Brands
Popular Articles