659 Views
Tusk Terrabite Tires – Everything You Need To Know
November 2nd, 2021 4:05 PM
Share
We're committed to finding, researching, and recommending the best products. We earn commissions from purchases you make using links in our articles. Learn more here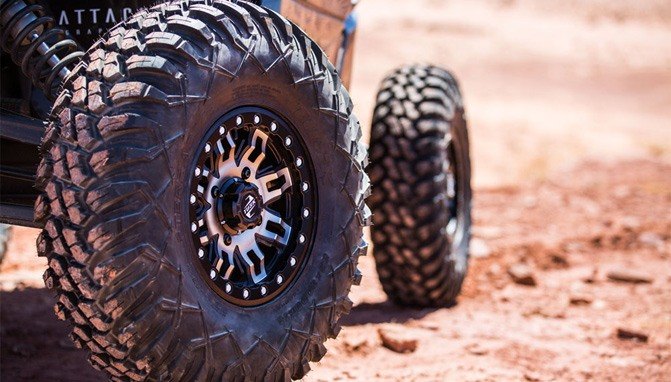 An affordable, versatile ATV and UTV tire
Tusk Terrabite tires have proven popular with their attractive entry price, beefy construction, and versatility as a replacement for stock tires on your ATV or UTV. In the latest chapter of our "Everything You Need To Know" series on tires, we decided to take a closer look at this tire's features, available sizes, possible alternatives, and see what real owners think about their purchase.
While there is definitely a place for terrain-specific tires (mud, rocks, sand, etc.), the majority of ATV and UTV owners are looking for all-purpose tires that they can take pretty much anywhere. This is exactly what the Tusk Terrabite was designed to do. According to the manufacturer, engineers built this tire to perform well on a variety of terrain from rocks, loose gravel, hard pack, desert sand, and wooded trails. Though not a mud tire by any means, the Terrabite's tread design is spread out, which helps with self cleaning should you find yourself dealing with some of the slick stuff.
Tusk says the Terrabite was modeled after an off-road truck-style tread design. It boasts aggressive tread lugs on the sidewall, which help protect the sidewall from rock bites and offers added grip for those times you are fighting through a deep rut.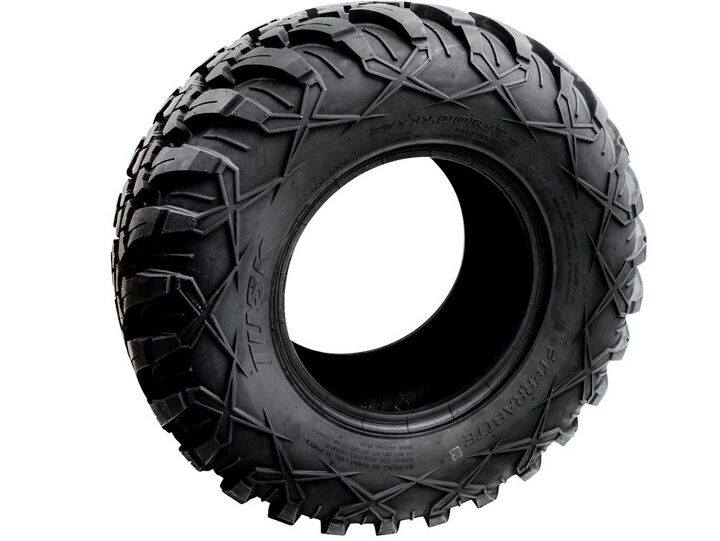 A rounded or crowned profile is another feature of the Terrabite. This is designed to help your ATV or UTV settle better and the manufacturer says this produces more consistent handling under hard acceleration or while cornering. Designers chose not to go with a more squared off design, as they felt that could lead to unpredictability in some situations.
A more rounded profile does mean that the contact patch is a bit smaller, but Tusk says the Terrabite provides plenty of tire-to-ground contact for solid grip and braking.
The Tusk Terrabite is also a DOT-rated tire and features radial construction. For added durability, the tire was built with 8-ply construction. That adds some weight, but it should mean the tire will hold up to the abuse that Sport UTV owners are likely to dish out. Finally, a high load rating means the Terrabite will work on larger, heavier machines.
Table of Contents
1. Tusk Terrabite Sizes and Pricing
The Terrabite very much looks the part of a high-end off-road tire, but it manages to do so at a very attractive price point. Prices range greatly depending on size, but we've seen the Terrabite sell for as little as $99 and up to about $170 for the larger 32-inch tires. That's great value for a versatile and durable 8-ply tire.
Initially offered in just three sizes, the Terrabite family has been expanded quite a bit and now offers a huge variety of options from 25 to 32 inches that fit on 12, 14 and 15-inch wheels - pretty much any size you'd need for a Utility ATV or any UTV.
Available Tusk Terrabite Sizes
2. Alternative #1 - Sedona Rip Saw
If the Terrabite isn't exactly what you are looking for, one option worth considering is the Sedona Rip Saw. While Sedona says the Rip Saw is an "extreme terrain aggressive radial" tire, we have found it to be an excellent performer pretty much everywhere we've used it. This is a 6-ply tire and it boasts a substantial tread depth of 1 1/8" that wraps onto the sidewall. This provides solid traction is the slick stuff and the treads are spaced out enough that they clear out the muck pretty well. But beyond mud, the Sedona Rip Saw has proven adept when we've tested them in sand, snow, rocks, and hard pack trails. In other words, it's a great all-around tire that does better than most all-terrains in the mud.
3. Alternative #2 - Maxxis Carnivore
Another worthy challenger is the Maxxis Carnivore. Like the Tusk Terrabite, this is another 8-ply radial tire, though the profile is quite a bit different. Where the Terrabite is rounded, the Carnivore is very square. This means a larger contact patch on the ground and more traction in some situations. But the Carnivore is not available in smaller sizes, so it won't work on Utility ATVs without some significant surgery.
4. Alternative #3 - Kanati Mongrel
A great alternative to the Tusk Terrabite is the Kanati Mongrel from Greenball Tires otherwise known as GBC. The Mongrel is a tough 10-ply radial tire that is designed after popular off-road light-truck tires and is available in sizes ranging from 23" to what used to be considered tall, 32" tire sizes. The Kanati Mongrel is DOT approved for on-road use (where UTVs are street legal), have an aggressive tread for maximum bite and a reinforced sidewall for maximum puncture resistance. From our experience it performs well in every terrain you want to tackle.
5. Tusk Terrabite User Reviews
When trying to figure out how a set of tires is going to work for you, a great place to look is user reviews. Fortunately, the there are no shortage of reviews available on the Terrabite and the vast majority of them are overwhelmingly positive.
Looking through 100 or so reviews revealed a few common takeaways. First is the overall value of the tire. More than one reviewers said these are the best bang for your buck tires available. The Terrabites come in quite a bit cheaper than their big brand competitors and buyers are appreciating that.
A number of owners were also pleased that these tires are DOT rated. While we don't recommend driving on paved surfaces, that is legal in a number of places and having a tire that is road legal is important to a lot of people. But beyond just being legal for on-road use, the Terrabites run quiet and smooth on the road. A lot of off-road tires are downright unpleasant to take on the road due to excessive noise and vibration. Not so with the Terrabite.
Another common takeaway from the reviews is how well the Tusk Terrabite holds up. One reviewer claimed he's gotten four times more life out of the Terrabite than he did with his stock tires. Another says he has 5000 miles on his so far with no signs of slowing down.
We had to do quite a bit of digging to find a negative reviews - literally two out of more than 100, which is impressive. One reviewer noted that the diameter was smaller than advertised - the 27-inch tires he ordered ended up being smaller than the 26-inch stock tires. Another complained of getting two flat tires in the first 100 miles of use, but we couldn't find any other reviewers who had a similar issue.
What are important factors to consider when buying new tires?
The obvious is the tire size that you want to run on your ATV or UTV, but beyond things like tire ply and overall weight of each tire should be strongly considered. The higher the number for tire ply will increase the tires puncture resistance but can also add to the weight and a harsher ride of the tire. The weight of the tire can affect your acceleration and increased wear on drive and suspension components as well. You want to find a happy medium of low weight and maximum performance and reliability for the tires you run.
How does the weight of the tire affect my ATV / UTV?
A heavier tire means more rotating mass, and unless you've got a modern high-horsepower ATV or UTV, you could be adding more stress to your engine. Even with the high HP motors, clutching modifications may be required to compensate for the additional weight that can affect your low end performance. As for your driveline, the weight of the tires puts more stress on things like differentials and the CV joints of your axles. Depending on how much larger you go, you may want to consider upgrading these components as well.
Additional Resources
Recent Updates
March 16, 2021: Added the Sedona Rip Saw as a possible alternative.
November 2, 2021: Added FAQ, updated product links, added third alternate tire (Kanati Mongrel), added additional resources
Become an ATV insider. Get the latest news first by subscribing to our newsletter here.
We are committed to finding, researching, and recommending the best products. We earn commissions from purchases you make using the retail links in our product reviews. Learn more about how this works. Lucas Cooney
I have been working exclusively in digital media since 1997. I started out with TSN.ca, spending nearly nine years creating and editing content on Canada's leading sports website. I left to join VerticalScope, Inc., one of the world's largest online publishers, to start a number of powersports publications. While at VerticalScope, I've helped create and oversee content for a wide variety of different publications, including ATV.com, Off-Road.com, ArcheryTalk.com, Tractor.com, RVGuide.com, and many more.
More by Lucas Cooney
Published June 24th, 2020 12:42 PM
Top Brands
Popular Articles