1 View
Best Rock Crawling Tires for ATVs and UTVs
March 30th, 2021 2:20 PM
Share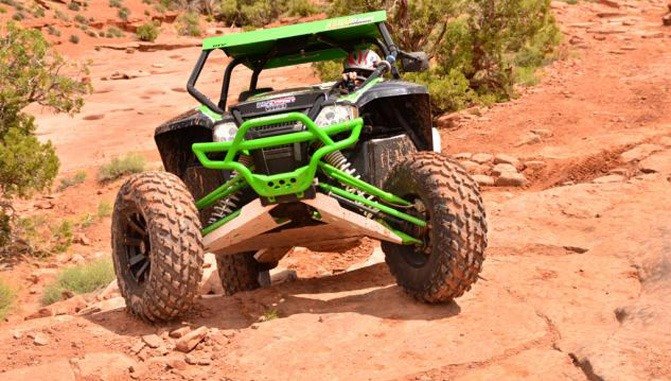 The right tires offer exceptional traction on challenging rock faces
Rock crawling tires are a special breed.
Sure, every tire out there has its own individual strengths and weaknesses; tires optimized for hard pack trails will never take the place of mud tires, and a simple turf tire will be absolutely useless in the sand. But finding traction over hard, slick rock faces, consistently, takes a particularly unique set of attributes. The best rock crawling tires for ATVs and UTVs tend toward aggressive tread blocks and plenty of biting edges to "grab" onto the rock. Mud-terrain tires can work well here well here, though if you take rock crawling seriously, then finding a set of tires made specifically for rock crawling is wise.
Of course, in order to be any good, any set of tires also has to be designed to hold up to the abuse they will undoubtedly face, including reinforced sidewalls to avoid punctures.
Thankfully, there's a whole world of all-terrain and mud-terrain tires out there with exactly those attributes, making them perfect rock crawling tires for your ATV or UTV. Here, we take a look at the best ones available on the market today.
Table of Contents
1. Editor's Choice: Maxxis Roxxzilla
No list of rock crawling tires would be complete without featuring the apex predator in the segment: the Maxxis Roxxzilla. The 8-ply radial Roxxzilla benefits from Maxxis's unequaled tire design know-how, with a high center void ratio and a double-layer shoulder to promote grip and ward off punctures, a multi-layer sidewall with fantastic sidewall traction, and a soft, compliant compound concocted specifically for rock crawling. If it's outright rock crawling performance you're after from your side-by-side, you'd be hard-pressed to find better than the Maxxis Roxxzilla.
2. : Pro Armor Crawler XG
One of very few special, purpose-built rock crawling tires on the market, the Pro Armor Crawler XG is our recommended option for those who have graduated beyond rock-capable mud-terrain or all-terrain tires. It offers very limited sizing, but if you can manage to find a set to fit your UTV, you'll be rewarded with some of the best rock crawling performance money can buy. The Crawler XG boasts 8-ply-rated bias construction, resulting in almost unparalleled levels of ruggedness and durability. It's a highly puncture-resistant tire, ready to be aired-down for optimal performance, and it features more biting edges per square-inch than any mud-terrain we've ever seen. More biting edges means more grip, making the Pro Armor Crawler XG an outstanding performer.
The STI Roctane XD is another tire designed to take on the rocks. These 8-ply, non-directional rock crawling tires are made with a heavier denier nylon cord for added toughness without sacrificing flexibility. Other features include reinforced lower sidewalls and extra wide tread belts to beef up shoulder protection and improve stability. There's also a reinforced rim guard to help protect your wheel lips from damage.
The STI Roctane XD is available in 10 different sizes with diameters ranging from 25 all the way up to 34 inches. Tread depth ranges from 0.8 to 1.0 inches, depending on tire size.
A cross-terrain tire with excellent rock crawling acumen, the Kenda Bearclaw EX is an outstanding option if you're just cutting your teeth on rocky terrain and you don't want to spend an arm and a leg on rock crawling tires. It's available in a wide range of different sizes covering some of the most popular ATV and UTV models, and its versatile design means you'll have no trouble getting to and from the rocks whether you're driving on hardpack, through mud – basically any terrain. It features plenty of biting edges at all different angles for grip, a tough 6-ply-rated carcass for durability, and even a built-in rim protector to save your wheels.
With its 10-ply radial construction, the GBC Terra Master from Greenball Tires is built to withstand pretty much anything you put in its way. The rugged carcass is just one of two truly stand-out features, the other being the asymmetrical tread design – an industry first, according to Greenball. That effectively gives you two tires in one, and with the "B" side with the more closely-spaced tread blocks pointing outward, a set of Terra Masters makes for some superb rock crawling tires. The non-directional design gives you plenty of biting edges in all different directions to prevent slippage, and the carcass provides exceptional core strength and load carrying ability.
The ITP Versa Cross may look ordinary enough, but its unassuming appearance hides some outstanding performance over all sorts of terrain – including rocks. It's available in limited sizes, but if you can fit a set to your UTV, they make for excellent rock crawling tires, with a truly tough tread rubber compound that's brilliant at holding up against cuts, chips, and wear, not to mention a super deep rim guard to protect your wheels against damage. It's an 8-ply-rated radial tire with reinforced steel belts, lending it extraordinary puncture resistance, and with a perfect balance of tread and void area, with a tread designed to bite in all directions, the performance is plenty solid, too.
What makes a good rock crawling tire?
Rock crawling, like mud riding, is highly specialized and having tires designed for the task makes a massive difference. The best rock crawling tires tend to have a plenty of tread and a wider/flatter footprint than most other ATV and UTV tires. Having the tread extend out to the sidewall for maximum contact with the rocks is also helpful.
And because you want as much grip as possible, the best rock crawling tires often have softer tread blocks. This is not ideal for regular trail riding, since they will wear out faster, but those softer blocks do a great job of sticking to slick rock faces. We also like to see tires with some robust rim guards to help protect your wheels from getting too banged up.
As we mentioned earlier, mud tires can perform reasonably well in the rocks, but mud tires tend to be a bit narrower and the treads are more spaced out to allow the mud to be cleared out. Because rock crawlers need maximum contact from their tires to the rock, the best rock crawling tires tend to see their treads (while still aggressive) sitting a bit closer together.
Recent Updates
March 30, 2021: Added the STI Roctane XD.
We are committed to finding, researching, and recommending the best products. We earn commissions from purchases you make using the retail links in our product reviews. Learn more about how this works.
Published October 23rd, 2020 9:51 AM
Top Brands
Popular Articles