318 Views
2008 Bad Boy Buggy Review
February 11th, 2016 5:15 PM
Share
We're committed to finding, researching, and recommending the best products. We earn commissions from purchases you make using links in our articles. Learn more here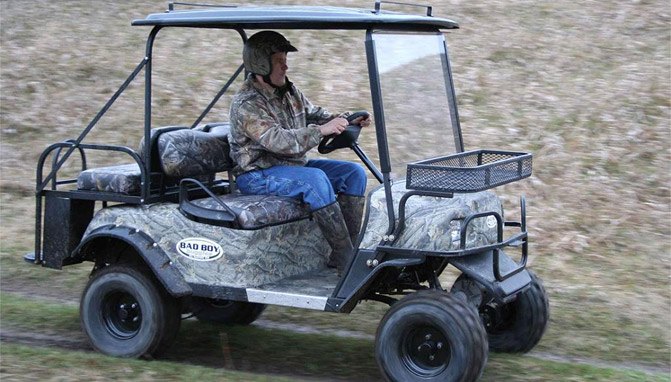 Whisper-quiet electric UTV designed for hunters
The Bad Boy Buggy is made by Bad Boy Enterprises, based in Natchez, Miss. Owners of Bad Boy Buggies are avid hunters who began offering a battery-powered electric UTV earlier this decade.
Based on a golf cart design, the Buggy is actually a lot more than that. With full-time four-wheel drive and two powerful drive motors, plus substantial storage area, the Bad Boy Buggy is a vehicle worth looking at by anyone who wants to enjoy off-road travel that leaves a minimal impact on the environment.
An Innovative Heritage
The Bad Boy arose from the need for a hunter to enter and exit a hunting area as silently as possible. Using a standard ATV to drive to an elevated deer stand or ground blind is guaranteed to alert every game animal within a ¼ mile or more to the hunter's presence, thus lowering the chances of success. However, with the Bad Boy Buggy, many hunters and nature enthusiasts report driving past deer as closely as 40 yards away without being detected. The Bad Boy Enterprises motto is 'They'll Never Hear You Coming' and the company's unique hunting rig lives up to the claim.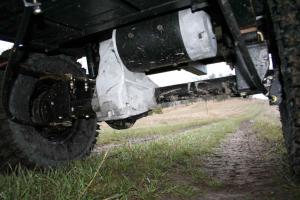 This beefy DC motor and rear differential is one of two that powers the Bad Boy Buggy.
Originally starting with an electric golf cart platform, the Bad Boy team began adding features that outdoorsmen want, such as Realtree camouflaged bodywork, aggressive-tread Carlisle tires, full-time four-wheel drive and lots of storage. Today's Bad Boy Buggy is a totally unique design. This machine does not engulf you in the sound and power of a riding experience. Instead, its low-key personality lets you experience nature in a way that no gas-powered ride can.
Green Technology
Two 15.5 Horsepower DC motors provide power for the Bad Boy Buggy, one motor each on both the front and rear axles. Each motor has its own controller, and the two controllers have a communication line between them to ensure that the motors work in sync. This system provides a nearly silent drivetrain.
Golfers will be familiar with the quiet operation of the Buggy, but compared to the gas engines found on most quads, the stealthy ride is a real eye-opener. Not that the Bad Boy Buggy is fast – its top speed is about 22 mph. But the combined 31 horsepower drivetrain does have a lot of low-end torque. It can easily carry a couple of riders on the bench seat at its top speed, and pull them through sloppy trail conditions if necessary.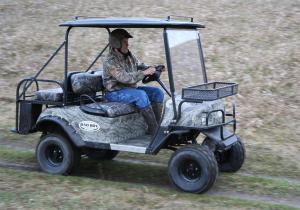 With an electronic accelerator pedal and rack and pinion steering, the Bad Boy Buggy is a breeze to drive.
There are eight six-volt lead-acid batteries serving as the energy-storage equivalent of a gas tank on the vehicle. The battery packs connect in series and provide 48 volts for the drive motors. A 48 volt battery charger is provided with each Buggy sold, and there is a convenient charging port located under the driver's side of the seat. The battery charger operates off of 120 volt AC power, so the vehicle needs to be operated near a 'home base' with line power available.
Regenerative (Regen) braking is a unique feature that the Bad Boy has because it is powered by 'separately excited' DC motors. Whenever the throttle pedal is released, the motor controllers make sure that the power in the motors is absorbed back into the batteries. This puts negative torque into the motors (picture 'engine-braking' on gas-powered engines) and slows the vehicle down. Regen braking works very well, in fact when riding at low speeds the brake pedal often does not need to be touched. In addition to the powerful regenerative binder action, there is a foot pedal to actuate mechanical drum brakes inside both rear tires.
Quiet Thunder
A leaf-spring, solid-axle suspension front and rear come standard on the Bad Boy. This is one area that could probably use an update, however the quad is not meant to be a trail terror so it is not a major problem.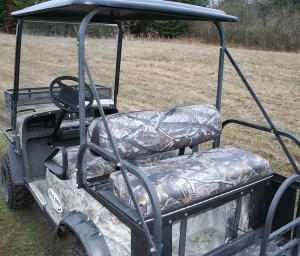 In this photo the cargo bed is folded up showing the passenger seat.
Able to pull well when the situation demands it, the Buggy's torque delivery is steady and impressive when climbing up steep hills or hauling loads and the Regen braking is equally impressive, making the return trip down hill safe and easy.
Generally traveling at a leisurely pace, the Bad Boy can be crawled at low speeds if desired. It will get you nearly anywhere you want to go, and give you a chance to enjoy the scenery along the way.
Riders hooked on the adrenaline rush of pure speed need not apply here, but driving the Bad Boy for sightseeing is a lot of fun. The low noise level makes conversation with a passenger possible in a normal tone of voice, or even a whisper. It would be a useful vehicle for land managers who want to visit the far reaches of their property without disturbing the critter population. Some hunting guides find the Buggy perfect for sneaking clients to and from a hunting hot spot.
Since gas prices factor into 'business' use of UTVs, such as professional guiding, not having to buy fuel is a real plus. The full-time, true four-wheel drive works well. The ground clearance is a very respectable 8.25" to the bottom of the differentials, and the tires can drop into a mud hole almost double that depth before the chassis will start to drag. At 1,650 Lbs. it is hefty, but the mass lies low which keeps the tires planted. Shifting one's weight while riding doesn't affect the handling much. You just stay put and steer, with a rack and pinion doing most of the work.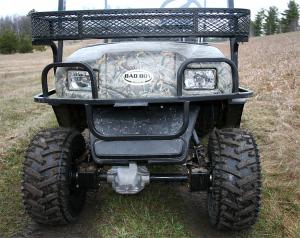 There are two 30-watt headlights and a storage basket on the front.
Driving range varies depending on the kind of terrain and how hard it is being driven, but 21-28 miles should be achievable on one charge. If the batteries are heavily discharged, it can take as long as eight hours to bring them back up again. Battery maintenance is the key to enjoying the low cost of ownership of the Bad Boy Buggy. If the batteries are topped off with distilled water and charged regularly, you'll come out way ahead financially versus filling up with today's expensive gasoline. However, if batteries aren't maintained all eight may need to be replaced, just as any other lead-acid batteries would.
One caveat about the weight: Although the Buggy will fit in a standard pickup box, it is highly recommended that a trailer be used to haul it instead. Sitting in a pickup, it will put substantial weight on top of the tailgate and this will stress the tail gate straps.
Features and Add-ons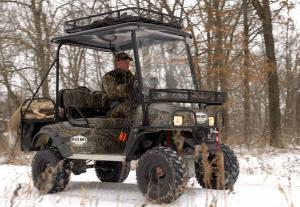 The Buggy's camouflage pattern, along with the silent operation, make it a good vehicle for hunters.
Twenty-two-inch Carlisle Stryker tires are standard on the Buggy and there are two 30-watt headlights in front. The vehicle payload rating is 1000 lbs including passengers and there are cargo baskets on the top (I removed them for parking in a garage) and in front. In the back, there is a flatbed that can also be folded up to carry passengers. Body plastic comes patterned with Realtree Hardwoods, Hunter Green, Red, or Black.
A Warn 2,500-pound winch sold by Bad Boy Enterprises can be installed on the front end, with other aftermarket winches available as well. A soft-sided camouflage cab enclosure is offered that can convert the Buggy into a hunting blind. Bad Boy sells aluminum rims as a classy replacement for the stock steel rims. A gun holder is available from Bad Boy Enterprises, as is a 'Hitch N Haul' that can be attached to the back end for carrying heavy loads or big game. And last, one of my favorite hunting accessories – the Power Loader – can also be bolted onto this machine.
Is Gas A Thing Of The Past?
Think what you will about global warming, but one thing is certain: alternative-power vehicles are growing in popularity. Further, the success of the Bad Boy Buggy is proof that there is a market for a non-gas-powered UTV.
Could their electric drive train be a harbinger of things to come in the off-road vehicle world? Time will tell, but rising fuel prices coupled with tighter pollution and noise restrictions may force a change away from the gas engine. If this happens, it will prove that the folks at Bad Boy Buggies were ahead of their time, and the gas-powered competition never heard them coming.
Visit www.badboybuggies.com/ or a dealer to find out more.
Related Reading:
PowerLoader UTV accessory Published May 23rd, 2008 11:04 AM
Top Brands
Popular Articles