1 View
2011 Polaris Ranger EV Review
June 17th, 2015 4:50 PM
Share
A whisper quiet and trail capable electric UTV
Wouldn't it be great if you could ride your side-by-side with other friends on their machines and carry on a conversation? We can dream – No? Wait, you can already do this! The 2011 Polaris Ranger EV runs virtually silent on the trails.
During our test ride of the all-electric Ranger in Minnesota we were shocked to be able to have a conversation with the passenger beside us or the guys in front of us without needing to yell. Who cares about the noise level, you ask? We're sure Hunters tracking in to their favourite deer spot would like to do so without being noticed by that big Buck.
This silent running is possible thanks to a couple of neat noise reduction design features and the unit's electric motor. This power plant is a Single 48-Volt high-efficiency AC (Alternating Current) induction motor. Wow, that was a mouthful. What does that translate into for those of us who're used to engine stats in cc's and cylinder displacement? It all means you've got 30HP to run you down the trails.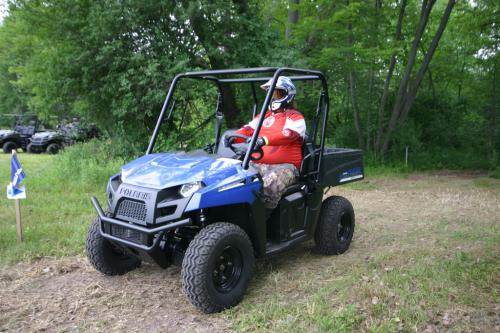 The 2011 Polaris Ranger EV is a trail capable, electric-powered UTV.
The second major noise reduction feature on the unit is the choice of tires. Traditionally Engineers have always selected larger more rugged tread patterns for off-road units but they had different thinking with the EV. You've never heard the tire or "road" noise from your gas side-by-side because the throaty growl of the motor drowned it out. On the EV you'll find a less-aggressive tire tread and an unusually high tire pressure of 20psi. Beyond the decision to reduce noise this tread also lowers rolling resistance and therefore improves efficiency.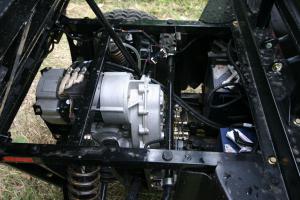 Powering the Ranger EV is a Single 48-Volt high-efficiency AC induction motor that produces 30 horsepower.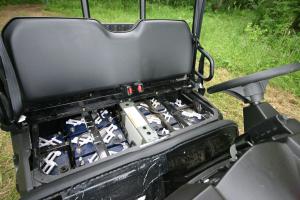 Eight 12V lead-acid batteries store all the power, which is enough for a range of up to 50 miles. It takes about eight hours to recharge the batteries on a standard 110V outlet.
The AC power output in this motor is the interesting part, however. This gearing allows the unit to run longer because it's a more efficient use of the electricity – thereby extending the Ranger EV's range.
Polaris says you can travel with your EV up to 50 miles on a single full charge, which would make it the longest range in its class. However, that 50-mile range assumes ideal circumstances. You can expect real-world range to be significantly lower. Recharging is as simple as plugging into a regular 110V AC wall outlet. A full charge should take about eight hours. Polaris employs eight 12V lead-acid batteries to store this energy – a benefit to consumers as these types of power packs are commonplace and not super expensive to replace.
One of the major drawbacks of using electricity is this limited range business. Unless you're operating within half the distance of a full charge's range you'll constantly be worrying about power. You can't exactly carry extra power with you – I don't think they make Jerry cans for that yet.
If you are operating within this range then it's no big deal. Some of the other factors which can affect the performance of the battery include driving style (aggressive acceleration), drive mode selected, terrain, the ambient temperature, battery age, tire pressures, and which installed accessories you have running. If you want to listen to your music on the trails you might cut your range down significantly. Don't worry about guessing though – Polaris has placed an easy-to-read Digital power meter on the dashboard of the EV.
Now, the most important part of this machine review (the part I'm sure you're all very interested in) – How did the Ranger EV do on the trails? Without getting into too much detail we can say that it handled itself well alongside the gas-job Rangers.
Alright, we'll give you some details. With the unit in High we set out on a short loop which took us through some gnarly wooded sections and up and down some fairly steep hills.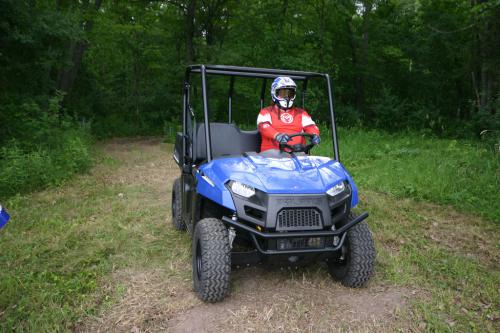 It won't break any speed records, but the Ranger EV can reach about 25 mph. That's plenty enough to have a little fun on the trails.
On the short road section to the trail entrance we got our first pleasant surprise. The Ranger EV hit a top speed of about 25 mph.
On the trails the unit was quite comfortable (which we were able to discuss at length without shouting) with excellent in-cab ergonomics and padded seats. Another thing lending to the ride comfort is the EV's sharing a chassis with the gas-powered Ranger 400 – Independent suspension for the win.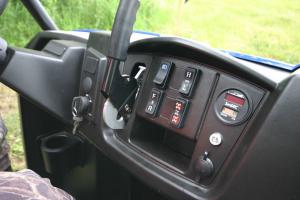 The dash of the Ranger EV looks quite a bit different than a standard Ranger
Front and rear suspension settings give you 8.0 in. of travel in the front and 9.0 in. in the rear to eat up the bumps in the trails. Through one particularly nasty section on the trails we had to navigate some rocks, a side-hill, and then a fallen log – the suspension kept up with whatever we could throw at it.
The log was easily climbed and passed over thanks to the unit's 10.0 in. of ground clearance. This was high enough to clear most obstacles on the trail we found.
Another point of strength on the trails comes again from the electric motors. Where a gas powered unit makes a certain amount of torque when running at a certain higher RPM its electric cousin provides 100% torque right from the get go. With no powerband to wind up you can get more punch faster – a huge benefit on the trails.
All that torque puts power to the ground using Polaris's On-demand true all-wheel drive system. This allows the driver to choose between True AWD, 2WD, and the VersaTrac Turf Mode. This unlocks the differential in a turn and allows the outside faster spinning wheel to free-roll and it doesn't cause the wheels to tear up the ground under the unit. This means you can operate your EV anywhere on your property without worrying about chewing up your manicured lawn.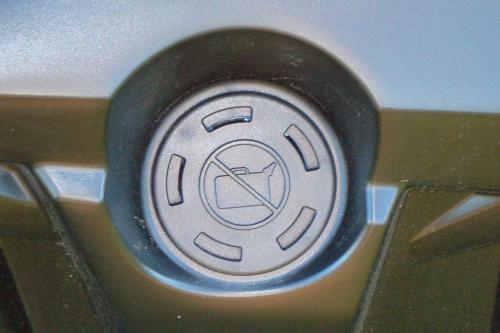 With gas prices reaching wallet-draining levels, it's nice to know you won't have to dump any into the Ranger EV.
Driving power to these wheels is a Polaris direct-drive transmission with low-noise gear. This set-up is quiet and efficient; extending the range of the unit while still providing ample power.
Beyond trail riding the engineers at Polaris made sure that the Ranger EV (just like it's gas-powered cousin the 400) is ready to work with some very impressive stats. On the rear of the unit you'll find a dumping cargo box which can be loaded with up with 500 lb. of whatever you dream up. This is enough capacity to move a load – whether it's groceries or rocks.
On the back end you'll find a standard 2" hitch receiver. With the ball in place Polaris says the EV will pull up to 1,250 lb. Cargo trailers, dragging materials on the ground, or even small boat trailers shouldn't be an issue for the EV with a number like that!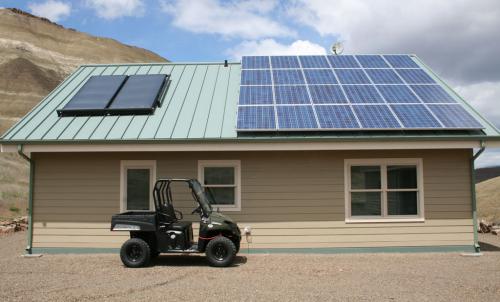 John Day Fossil Beds National Monument has won the National Park Service's Environmental Achievement Award for 2011 for its new park house that generates far more energy than it uses. Park staff hope to make the Painted Hills Unit carbon-neutral and energy self-sufficient in housing, administration and transportation. Polaris has recently loaned the park a Polaris EV LSV to help with the goal.
Something to note while working with EV; when you've got your unit loaded you will drain the batteries quicker. The longer you run loaded – the sooner you'll have to recharge.
One of the last sweet features about this mid-size unit is, just that, it's mid-size. With overall dimensions of 274 x 144 x 185 cm this machine will fit in a standard truck bed for transporting. No need to purchase a larger trailer, which is a definite bonus.
Overall this unit is excellent. If you're looking to hit the trails hard for eight to ten hours a day then this side-by-side is not for you, but if you want a quiet workhorse then check out the 2011 Ranger EV. This machine starts at $10,099 which is a whopping $1,900 more than the Ranger 400. You might just make that up in fuel costs, though.
2011 Polaris Ranger EV Specs
Engine Type:
Single 48-Volt, High-Efficiency, AC-Induction Motor
Horsepower:
30
Charging Time:
8 Hours on 110V Outlet
Transmission/Final Drive:
Direct Drive With Low-Noise Gears
Drive System:
On-Demand True AWD/2WD/ VersaTrac Turf Mode
Front Suspension:
MacPherson Strut 8″ (20.3 cm) Travel
Rear Suspension:
Dual A-Arm, IRS 9″ (22.9 cm) Travel
Front/Rear Brakes:
4-Wheel Hydraulic Disc with Dual-Bore Front Calipers
Front/Rear Tires:
25 x 9-12; Carlisle
Wheels:
Stamped Steel
Wheelbase:
72.0 in.
Dry Weight:
1,700 lbs
Overall Size (L/W/H):
108 in. x 56.5 in. x 73 in.
Ground Clearance:
10.0 in.
Bed Box Dimensions (L/W/H):
32 in. x 42 in. x 11.5 in.
Box Capacity:
500 lbs
Payload Capacity:
1,000 lbs
Hitch Towing Rating:
1,250 lbs
Hitch Type:
Standard/2″ Receiver
Cargo System:
Lock & Ride
Lighting:
50W Headlight, LED Tail
Instrumentation:
Digital Hour Meter, Mode Indicator, DC Outlet, Hi-Temp Light, Change Cycle Indicator, Battery Life Indicator
MSRP:
$10,999 ($11,399 Camo)
Related Reading
2010 Polaris Ranger Lineup Preview
2010 Polaris Ranger 400 Review
2009 Polaris Ranger HD Review
2008 Bad Boy Buggy Review
Electric ATVs: A Consumer's Guide
Published June 8th, 2011 9:27 AM