209 Views
Best UTV Lighting Options
March 21st, 2022 2:40 PM
Share
We're committed to finding, researching, and recommending the best products. We earn commissions from purchases you make using links in our articles. Learn more here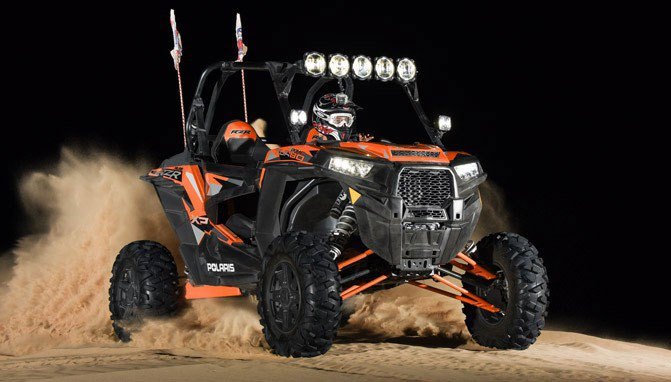 When seeing is more important that believing, add lights to your ride
Driving your UTV is a lot of fun, even if it's for work. Even farmers will tell you that it can be a good time rolling through a pasture after some cows. And eventually you're going to go for a drive after dark, either for fun or out of necessity. Going out after the sun goes down presents some new challenges, the biggest of which is you need good UTV lighting to be able to see.
Stock UTV lighting is pretty decent but, as with anything, it can be improved upon. Adding additional lighting is pretty common and thanks to advancements in technology, the price is getting much more affordable. An extremely popular route is LED lighting, and there are a plethora of options to suit every budget and style. When LED light bars first hit the scene, the prices were high, and soon cheaper started to materialize. However, with those lower priced options, there was a durability issue. That isn't nearly as common these days. Now there are light systems to fit every budget and need.
Maybe you need more light that your stock headlights offer for you specific use, such as hunters looking to help load things up after a long day in the field. Or perhaps you're all about going fast. They say the average UTV will outrun the headlights after 45mph. If you have a heavy right foot, then adding quality UTV lighting should be in your plans.
Table of contents
1. Editor's Choice: KC HiLites Gravity LED Pro6 6-Light LED Light Bar
Of course, if you're going to go all out, might as well start at the top. KC HiLiTES make some of the best and most iconic off-road lighting systems going. Its new Gravity lights will light up any trail or race course. With nearly 15,000 lumens of raw light, if you're serious about off-roading after dark, you need this setup. The KC set-up is not cheap, but when seeing everything in front of you is important, this is the way to go.
Promoted Product: XenonPro LED Headlights
Sometimes, the easy solution is among the best, and XenonPro's LED headlight conversion kits are easy. You can effectively boost your nighttime trail visibility significantly in about half-an-hour with these drop-in replacement LED bulbs, which take your UTV's factory lighting capabilities from so-so to excellent with up to 9000 lumens of pure illumination. XenonPro headlight conversion kits are available for countless UTV makes and models, with more than 40 of the most common OE bulb sizes available, each with OE-spec plugs and locking tabs. Most bulbs offer three different power levels – 25W, 35W, and 45W – with 7 different color options, so you can tailor your lights to your preferences. But most importantly, these XenonPro LED bulbs are built to endure the toughest, most rugged of riding conditions, with solid aluminum casings and built-in fans that contribute to a life expectancy of up to 45,000 hours. Toss in the affordable pricing, free 2-day shipping, and the convenience of not having to install a whole extra LED light bar or light pod on your ride, and you have a real solid UTV lighting option.
2. Best Single Row Light Bar: Rigid Industries Radiance Plus 40" White Back Light
Rigid has made a name for itself with extremely durable construction, high quality and options to fit every style and application you can come up with. You don't have to settle for just white lights either, as Rigid offers color variations that let you add some flair to your rig. A 40-inch bar would look great on the top of your UTV and go a long way toward lighting the trail ahead of you.
3. Best Dual Row LED Light Bar: Cyclops Dual Row 120W Side Mount LED Light Bar
Cyclops is widely known for making handheld lights and hunting gear. Last year i unveiled new LED light bars for UTVs and other vehicles and right away made an impact for a being a great light at a great price. For a light bar that puts out 9,000 lumens, it's a great affordable option for your UTV!
4. Best LED Cube/Pod Lights: PIAA QUAD Series Black 3" LED Cube Light Kit
Whether you don't want to have a large light bar on the roof of your UTV or you want to have lighting options for more than what is in front of you, these PIAA QUAD Series 3" LED Cube Lights are perfect. Available in both spot and flood light patterns, these lights are small enough that you can mount them anywhere on your roll cage that you want some light. This means you can light up what is to the side of your machine, and even behind you for maximum night time visibility.
5. Best Curved Light Bar Option: Tusk Curved LED Light Bar Kit
Tusk, the house brand for Rocky Mountain ATV, makes some great products. This curved light bar kit would not only look great on your ride, but also be great at lighting up the trail with 11,250 raw lumens of bright white light. Going with a curved bar over a straight one is not only aesthetic in value, but it helps spread the light over a broader area.
I want to get an LED light bar for my UTV but is there anything I should be purchasing with it?
If you're anything like us, you're not going to stop at one accessory so getting a good power distribution hub is a great idea. This allows you to run a single heavy gauge wire to the hub where you can then run a number of fused power leads for your multiple accessories. These power hubs also provide the flexibility to be mounted in more convenient locations for better access to fuses in the event one gets blown.
I just picked up a new light bar that came with a wiring harness but I don't like the switch it came with. Are there better options?
Absolutely! You can go with a traditional rocker switch that so many UTV owners seem to like, or pick up a gang switch panel. The advantage of a good gang switch panel is that it takes up much less room on your dash than using individual rocker switches, and the main control unit also acts as a power distribution hub all in one. In our opinion, it's a much more convenient wiring option with a cleaner look.
Additional Resources
Become an ATV insider. Get the latest news first by subscribing to our newsletter here.
We are committed to finding, researching, and recommending the best products. We earn commissions from purchases you make using the retail links in our product reviews. Learn more about how this works. Derrek Sigler
Derrek's love for all things ATV started when he was a mere 11 years old, growing up on his family farm. His mom gave him and his sister a choice - get a horse, or a three-wheeler. The sister wanted the horse, and Derrek wanted the ATV. Luckily he won out, and was soon burning up the trails on a Yamaha Tri-Moto 200. By the time he was 14, he had saved enough of his own money by working on the farm and in his folks restaurant to buy a new 4-wheeler. That happened the day he and his mom were driving past the dealership and saw 1987 Banshee. His mom had no idea what he was buying, and he never looked back. He's been riding ever since, and been writing professionally for many years. He has ridden all over North America and been behind the controls of just about every machine out there. And yes, he still has his 1987 Yamaha Banshee.
More by Derrek Sigler
Published March 21st, 2022 2:36 PM
Top Brands
Popular Articles