206 Views
2017 Kawasaki Mule SX Review
July 8th, 2016 12:39 PM
Share
We're committed to finding, researching, and recommending the best products. We earn commissions from purchases you make using links in our articles. Learn more here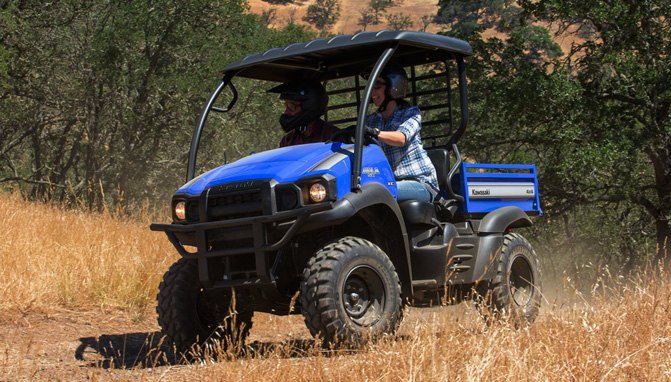 New addition to Mule family holds its own
When you think of a mule, what comes to mind? Do you think of an animal that is tough, rugged, and manages to get the job done under the toughest conditions? Before there were trucks, tractors and farm equipment, these hearty animals toiled away under the watchful eye of their owners, and muscled through whatever work or chores were asked of them.
Now that times have changed and technology has improved significantly, the expectations of our equipment have increased as well. We need something tough, rugged and reliable, but at an affordable price. So, to meet our needs, Kawasaki has introduced the Mule SX as the new kid on the block.
New for 2017, this machine replaces the Mule 610, and offers a more compact UTV without the size and speed of its predecessors. Kawasaki boasts that the "S" stands for small, while the "X" stands for extra strong, which makes perfect sense once you sit down in the driver's seat.
The Mule SX is available in six different iterations.
Just like the mule that worked with our ancestors through long days, filled with dirt, grime, sweat and sheer determination to get the job done, the Kawasaki Mule SX is there, too.
Kawasaki has been making Side-by-Side vehicles since 1988, with all units assembled in the United States from domestic and imported parts. Combine that with an industry-leading three-year warranty, affordable price point, and 66 different accessories to meet your work needs, and the Mule SX makes for an attractive option.
After hearing about this new addition to the family, I put the Mule to the test at Ancient Peaks Winery in Santa Margarita, Calif. With over 14,000 acres of farm, hills, bush and more, this was the perfect location to see exactly what this machine could handle. While the new Mule SX Series offers six different models, I quickly jumped on the Mule SX 4×4 XC.
Test #1 – Terrain Test
Heading up through the mountainous landscape, I was able to navigate some steep and rough terrain on the Mule SX. With a 401cc, two-cylinder, four-stroke engine, the machine held strong both on and off trail. The two-speed CVT transmission with a high-low, dual transfer case comes with all models and made for an easy ride. The OHV, air-cooled engine was fed by a clean air intake mounted at the top of the ROPS tube on the back rack to restrict dust particles. That, combined with improved suspension spring and dampener rates and 24-inch Duro tires made for easy handling and a smooth ride. Transitioning between two-wheel and four-wheel drive was simple with an easily accessible dash-mounted switch just to the right of the driver's position. Top speed of the Mule SX is restricted at 25 mph, which was enough for me as I took the Mule SX 4×4 XC through numerous tests throughout the day.
Test #2 – Crop Spraying
What better place to test out the sprayer system than on a fully functional 900 acre vineyard? I was in my glory amidst the grape vines, flipping switches allowing me to easily adjust the flow and direction of the spray. This system is sold separately, but fits easily in the cargo bed, which has a 400-pound capacity. New KQR Bed rails allow for easy tool-less installation of cargo bed accessories, including the spray system.
In addition to using the spray system, I also checked out the tilt feature on the cargo bed. The new tilt latch is easy to reach, and the textured steel floor of the cargo bed adds increased grip and improved resistance to scratching. It's perfect for unloading dirt, gravel or hay at the farm. The Mule can also tow up to 1,100 pounds, so the option of a small trailer, pull behind roller, mower or anything else really is there too.
My head was already spinning with all of the different uses I had for this Mule back home on my own 14-acre hobby farm. A machine like this can make life so much easier by finishing the job quicker.
Test #3 – Hunting
Kawasaki decked out the Mule SX XC Camo unit in Realtree Xtra Green Camo from top to bottom. It also comes with two LED headlights for high visibility out in the backwoods. Add-ons include a camouflage soft-cabin top featuring 600 denier water-resistant material, and zip-open windows and doors. Customize your package accessories like a KQR Flip-Up Windshield, under-seat storage box, gun boot mounts on the KWR bed rails, and a cargo storage box. The new Mule Pro hood opens easily to reveal a massive 16-gallon front storage compartment as well for packing some extras; maybe a Realtree blind, or let's save that space for bringing home the game you caught. Use the back cargo bed to prepare your catch; maybe a wild turkey? Then you can just toss it in the deep fryer hooked up to a propane tank back at the shop, and you're ready to rock. Either way, there's lots of space for whatever you need to do.
Test #4 – Plowing
There wasn't any snow during my test, so I had to envision plowing some of the white fluffy stuff using the fully enclosed hard cabin Mule SX featuring a padded roof headliner, sliding windows, forward hinged doors, and tilt-up glass windshield with wiper. The plow is hydraulic, and uses the Mule's winch system to move and clear moderate sized loads. Anybody living where winters are white, cold and long could make good use of this vehicle.
Test #5 – Recreation
We all like to work hard, but what fun is work if you can't play hard, too? I decided to take a break and refresh my fishing skills out on the ranch. With the cargo storage box doubling as a cooler filled with cold water, I kicked off my boots, rolled up my jeans and just chilled out for a bit on the tailgate while I cast a few lines out. There was nothing but me, my Mule, and nature surrounding me. That day, I didn't catch anything, but the chance to just relax for a bit was enough reward for me.
Conclusion
The Mule SX is small, yet strong, versatile and can adapt to most any task you need done. Don't let its size throw you off, this Mule can hold its own. At just 52.6 inches wide and two inches shorter than the outgoing Mule 610, it can fit easily into the back of a full-size pickup truck.
Mule SX Models
Mule SX – $7,299
Mule SX 4×4 – $8,099
Mule SX 4×4 SE – $8,299
Mule SX 4×4 XC – $8,399
Mule SX 4×4 XC Camo – $9,049
Mule SX 4×4 XC SE – $9,399
2017 Kawasaki Mule SX Specs
ENGINE
Engine Type
401cc, 4-stroke, 1-cylinder, OHV, Air-cooled
Bore And Stroke
82mm x 76mm
Maximum Torque
21.7 lb-ft @ 2400 rpm
Fuel System
Nikki 6C1026
Ignition
Magneto and transistor
Alternator
17 amp
DRIVE TRAIN
Transmission
Single-speed, automatic, reverse
Final Drive
Shaft-driven selectable 2-wheel drive, dual-mode rear differential
CHASSIS/SUSPENSION/BRAKES
Front Suspension
MacPherson strut/3.1 in
Rear Suspension
Unit swingarm/3.1 in
Front Brakes
Hydraulic drum L&R
Rear Brakes
Hydraulic drum L&R
Front Tires
24×9-10 Duro bias
Rear Tires
24×11-10 Duro bias
DIMENSIONS
Length
106.7 inches
Width
52.6 inches
Height
70.1 inches
Wheelbase
70.1 inches
Ground Clearance
6.1 inches
Curb Weight
967.6 pounds
Fuel Capacity
4.2 gallons
Turning Radius
10.8 feet
Cargo Bed Dimensions (L x W x H)
40.9 x 35.6 x 9.6 in
Cargo Bed Capacity
400 lbs
Load Capacity
926 lb
Seating Capacity
2
OTHER
Lighting
(2) 35 W halogen headlights, (2) LED (optional), 5.0/21 W tail/brake lights
Instruments
Fuel gauge, hour meter, oil temp light, parking brake light
Available Colors
Timberline Green, Dark Royal Red
MSRP
Mule SX, $7,299; Mule SX 4X4, $8,099; Mule SX 4X4 SE, $8,299; Mule SX 4X4 XC, $8,399; Mule SX 4X4 XC Camo, $9,049; Mule SX 4X4 XC SE, $9,399 Published June 16th, 2016 11:39 PM
Top Brands
Popular Articles