20 Views
2017 Kawasaki Mule Pro-DXT vs. Polaris Ranger Crew Diesel: By the Numbers
May 9th, 2017 4:31 PM
Share
We're committed to finding, researching, and recommending the best products. We earn commissions from purchases you make using links in our articles. Learn more here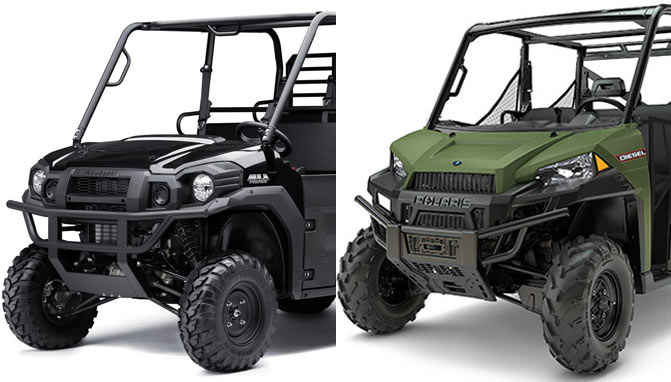 Comparing diesel-powered Utility side-by-sides
Around the farm or the job site, there are lots of uses for a hard-working, diesel-powered UTV to get the job done. They get good fuel mileage and getting a diesel means that you won't need to have two kinds of fuel on hand with all the other machinery. But what if you have a lot of farm hands or construction crew to haul around too? Let's take a look at a couple of diesel-powered heavy-weight, crew hauling UTVs. Here are the Kawasaki Mule Pro-DXT and the Polaris Ranger Crew Diesel by the numbers.
| | | |
| --- | --- | --- |
| | 2017 Kawasaki Mule Pro-DXT | 2017 Polaris Ranger Crew Diesel |
| Price | $14,199 | $14,999 |
| Engine | 4-stroke diesel, 3-cylinder, OHV, liquid-cooled | 3 cylinder, 1028cc, Tier 4 Compliant Kohler Diesel engine |
| Horsepower | 24 | 24 |
| Driveline/Differential | Belt converter, 2WD/4WD shaft | On-Demand True AWD/2WD/ VersaTrac Turf Mode |
| Transmission | CVT with high, low, neutral, reverse gears and engine braking | Automatic PVT H/L/N/R; Shaft |
| Wheelbase | 92.3 in | 113 in |
| Overall Dimensions (LxWxH) | 133.3 x 64 x 77.6 in | 148.5 x 61 x 76 in |
| Weight | 1,889.7 lbs (curb weight) | 1,690 lbs (dry weight) |
| Front Tires | 26×9-12 | 26 x 9-12; PXT |
| Rear Tires | 26×11-12 | 26 x 11-12; PXT |
| Ground Clearance | 10.2 in | 11.3 in |
| Fuel Capacity | 7.9 gal | 10.0 gal |
| Front Suspension | Double wishbone / 8.7 in. travel | Dual A-Arm / 10.0 in. travel |
| Rear Suspension | Double wishbone / 8.7 in. travel | Dual A-Arm, IRS / 10.0 in. travel |
| Front /Rear Brakes | Dual Disc | All Wheel Hydraulic Disc with Dual-Bore Calipers |
| Bed Capacity | 1,000 lbs (3 person), 350 lbs (6 person) | 1,000 lbs |
| Towing Capacity | 2,000 lbs | 2,000 lbs |
| Warranty | 3 years | 6 months |
Powerplants
The Mule runs on a Yanmar 993cc, three-cylinder diesel engine. As well, Kawasaki is running a Bosch in-line injection fuel pump system. It has a high compression ratio, as most diesels do with 23.5:1 and offers up 24 horsepower and 38 lb-ft of torque.
Polaris sources its diesel engines from nearby Kohler. Not a bad move as Kohler has a lot of experience making these types of engines for the ag and landscaping industries. It is a 1028cc three-cylinder, running on Polaris' own injection system for the fuel. Polaris claims the same 24 horsepower and 38 lb-ft of torque. That seems to be an industry standard for diesel UTVs.
Alternator-aitin'
One benefit to running a diesel is using it as a generator to power accessories and tools around the farm, etc. The Kawasaki Mule Pro-DXT claims alternator output to be 55 amps to power your accessories. The Polaris claims 110 amps of output to power accessories and tools on the jobsite.
Passengers and Cargo
These two heavyweights go about how they haul passengers in different ways. The DXT is set up with Kawasaki's Trans Cab system. This allows you to run the machine with a fully-dumping steel cargo bed that is large – 42.7 inches long. But this is in three-person mode. Swap the bed space for passenger space and the bed size drops to 22 inches long, though it is still dumpable. Capacity in the bed is 1000 lbs as a three person, and goes to 350 lbs in six-person configuration. The DXT will tow up to 2,000 lbs. The trade-off for the Trans Cab system is the machine is shorter at 133.3 inches long with a shorter 92.3-inch overall wheelbase.
The Ranger has a full-time back seat and a full-time dumping 36.5-inch composite cargo bed. The Polaris will also haul 1,000 lbs in the bed and tow an equally impressive 2,000 lbs. Having a full-time back seat means the Ranger is longer at 148.5 inches. This bumps out the wheelbase to 113 inches.
Pricing
The Kawaski Mule Pro-DXT features a retail price of $14,199 versus the Polaris' MSRP of $14,999. You can add power steering to the Mule for an extra $800 with the Mule PRO-DXT EPS for $14,999, and bump it up to $15,899 for the Mule PRO-DXT EPS LE, which adds LED lighting, a roof and color options.
It's also worth mentioning that the Mule Pro-DXT comes with the best warranty in the business with three years of coverage. The Ranger has a more industry-standard warranty of six months. Derrek Sigler
Derrek's love for all things ATV started when he was a mere 11 years old, growing up on his family farm. His mom gave him and his sister a choice - get a horse, or a three-wheeler. The sister wanted the horse, and Derrek wanted the ATV. Luckily he won out, and was soon burning up the trails on a Yamaha Tri-Moto 200. By the time he was 14, he had saved enough of his own money by working on the farm and in his folks restaurant to buy a new 4-wheeler. That happened the day he and his mom were driving past the dealership and saw 1987 Banshee. His mom had no idea what he was buying, and he never looked back. He's been riding ever since, and been writing professionally for many years. He has ridden all over North America and been behind the controls of just about every machine out there. And yes, he still has his 1987 Yamaha Banshee.
More by Derrek Sigler
Published April 28th, 2017 4:20 PM
Top Brands
Popular Articles