221 Views
Honda TRX250X Project: Shocks, Exhaust, Protection and More
March 9th, 2022 2:44 PM
Share
We're committed to finding, researching, and recommending the best products. We earn commissions from purchases you make using links in our articles. Learn more here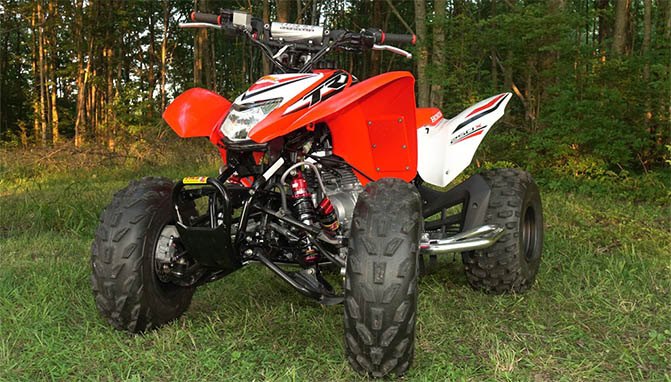 We make Honda's TRX 250X even better with some simple bolt on mods.
The Honda TRX250X, formerly known as the TRX250EX, is a nimble handling, peppy running, sporty looking machine that's great at getting new riders hooked on ATVing. Its reliability allows it to be handed down in families again and again, adding a lot to its value. One of the best things about it is that it's a machine that younger riders can afford to save up for and purchase. Brand new this ATV costs $5000, but you can find them used for much less.
Like any other sport, new riders tend to improve at the fastest rate in the beginning. In motor sports, even recreational ones, this often results in a desire for upgrades and performance parts. Based on our review of the 2016 250X and our time spent riding the machine since, we put together an upgraded version of this entry level Sport ATV, looking to improve it in every way while covering some absolute essentials.
Table of Contents
Beginning with the essentials, the Honda TRX250X has a rather glaring issue that should really be addressed if you plan on doing any serious trail riding; the lack of a chassis and engine skid plate. There's not even a plastic one. To add protection, we installed a full frame skid plate and rear differential guard from Ricochet Off-Road.
Made in the United States, both skid plates are constructed of 5/16" 5052 H32 aluminum and come complete with all the necessary mounting hardware. The frame skid attaches with chromoly steel clamps that are heat treated for strength and zinc plated for corrosion resistance. Both plates are tightened with zinc-plated, T-40, torx head bolts that are rounded to resist snagging on an obstacle. Their lock nuts are guaranteed not to rattle loose. Ricochet's skid plates can be ordered in a number of anodized colors, but we stuck with silver to keep them looking their best for the longest period of time.
Ricochet lists its chassis skid plates for all years of the Honda Recon utility ATV and 250EX sport ATV, but does not list it on their site for the later reintroduced and restyled TRX250X. Both the frame and differential skid plate bolted up perfectly, with the exception of having to remove a small amount of material off either side of the front of the frame skid plate where it wraps up behind the front bumper. Honda must have tweaked the front bumper a bit when the 250EX was turned into the 250X. Again, this is absolutely no fault of Ricochet's as they don't actually list these for the 250X. It took about 20 minutes with a drill and a cutting wheel to narrow up the front and shave off the edges – no big drama.
Out on the trail we were much more confident working our way through rocks and over logs without the fear of damaging our engine or continuously beating on the frame. The smooth surface of the Ricochet skid plate allows you to more easily glide over obstacles without getting hung up, and impacts to the underside of the machine are more evenly dispersed. If you want to spend a little money on your Honda, Ricochet's chassis skid plate is the best place to start. If you ride in rocks or plan on running smaller tires, then we'd recommend adding Ricochet's Differential guard as well. Like the other Ricochet skid plates we've tested over the years, they're holding up just fine to abuse.
Adding Nerf Bars adds a higher level of protection for the rider. It helps prevent you from running over your leg should your foot slip off the peg, and it helps prevent becoming entangled with other riders' wheels and tires. While we typically don't skimp on safety, the outrageous price of many Nerf Bars had us looking for a more affordable option. Tusk Comp Nerf Bars are available through Rocky Mountain ATV. For around $100, they are surprisingly good.
They're constructed of 1 3/8" aluminum tubing and are available in brushed silver, black, or red with a laser etched logo. All of the necessary mounting hardware comes in the box. The tabs offered plenty of room to make attaching the nets easy. They bolted up with no bending or tweaking required, something we can't say for some far more expensive Nerf Bars. A steel cross bar bolts to the frame with U-bolts; then either side slides over the center tube. The hardest part was drilling a hole through the ATV's footpegs, which is often required when mounting up Nerf Bars.
All bolted up, we were happy with how strong and rigid they felt considering how light they were. The nets aren't the thickest we've seen, but they're not so light that we found it concerning. We might spend a little more on some expensive boutique Nerf Bars if we were building a serious race quad, but Tusk's Comp Series Nerf Bars did a good job of adding some safety and style to this recreational build for what seems like a great deal.
3. Flexx Bars: Like Shocks For Your Arms
The stock Honda TRX250X is a little harsh over smaller bumps, and the pushrod engine emits a notable amount of vibration at lower RPMs. To dampen vibration and reduce the feel of bumps transferred to the rider, we installed a set of 15-degree sweep, Quad low band Flexx Handlebars from Fasst Company.
Flexx handlebars are made in the USA and are loved by many top ATV racers for their ability to improve comfort and reduce fatigue. Their hinged design used two elastomers on either side. One absorbs impacts while the other prevents a topping out sensation on the return stroke. Their action can be made firmer or softer depending on which elastomers you install and how much you tighten the preload screw. They come with red compression and rebound elastomers installed from the factory. We swapped out the compression elastomers for the next softest (yellow) one and ran minimum preload, helping the bars better deal with bumps that get past the shocks. If you're not sure what setup is best for you, Fasst Company is great when it comes to helping customers maximize the performance of their bars, even after they've taken your money.
[caption id="attachment_107065" align="alignnone" width="671"]
Flexx bars have long been an industry favorite when it comes to vibration damping and impact absorption.[/caption]
To adapt from 7/8" to our larger diameter 1 1/8" Flexx handlebars, the ergonomic experts at Rox Speed FX recommended we run a set of their two-inch, pivoting, handlebar risers. Unlike block style risers, Rox' pivoting risers allow you to move your handlebars forward or rearward, letting you adapt the cockpit to different sized riders. Rox bar risers are made in the USA of billet aluminum and feature a lifetime warranty. We have sets that move from ATV to ATV and haven't worn them out yet, plus their zinc-plated bolts are far more corrosion resistant than brands we've tried coming out of China.
We read in a forum about a rider using a Rox Speed FX 400EX dash panel to relocate their TRX250X' key switch, neutral and reverse lights and it worked.
Spider Grip's Slim Line SLT grips are a bit slimmer than our favorite Spider A3 grips, making them a little better for smaller hands. They feature Spider's dual-layer technology with a vibration damping inner core and a super tacky surface. A small inner flange helps protect the rider's hands from the throttle and switch cluster. Available in a bunch of colors, the red/black combo added a nice accent to our X's looks.
The bars are a bit wider than stock. All of our test riders were comfortable with their width, but you could remove an inch from either end for smaller riders. On the trail, the bars delivered exactly what we were looking for. The straighter bend and slightly wider bars put you in a more aggressive riding position, improving leverage and control. Helping make up for the stock entry level shocks, square edged bumps, bottomed shocks, and the occasional frame out are all far better dampened from the rider's hands. Clearly, the Flexx bars are great for racers and recreational riders alike. The combination of the Flexx bars and Spider grips notably dampened vibration levels at lower RPMs where they are most pronounced, all of which adds up to more time spent on the machine with less fatigue.
4. Stability and Suspension Upgrades
At 41.5" wide with incredibly light steering, minimal bump feedback, and limited horsepower, we decided to try wheel spacers to widen our Honda TRX250X. At the time we specked this build we didn't realize that American Star makes a +2" wider A-arm and tie-rod end set with longer brake lines for just under $500 for the TRX250X and EX. This is an ideal upgrade, if you're going with aftermarket shocks like us.
If you're on a budget and sticking with stock shocks, the DuraBlue's EZ Fit Urethane wheel spacers we are utilizing are a good solution. They're made in the USA of Durablue's exclusive urethane and titanium compound, making them 60% lighter than aluminum wheel spacers, helping keep unsprung and rotating mass to a minimum. The EZ Fit wheel spacers come complete with studs that thread onto your stock hubs' pressed-in studs. The wheel spacers slide over the longer studs; then your wheel bolts on like normal.
Durablue makes two different widths, +1.5" and +2.5". Adding wheel spacers will increase bump feedback and steering effort a bit. They also increase leverage on your rear axle, so we opted to go with the +1.5" wheel spacers all the way around for added stability while minimizing any unwanted side effects. Installation takes around 20 minutes. If you're building an ATV for cross-country racing, it is worth noting that Durablue is the only axle manufacturer we're aware of making an extended axle for the TRX250X, increasing strength while adding stability.
Compared to what we were paying for suspension back in the 1990s, Elka Suspension's Legacy shocks are a steal for $999 for front and rear shocks! They're based on Elka's previous generation technology at a much better price. They're the ideal replacement for worn out or less than ideal performing, old-school, non-rebuildable shocks that come on many older Sport ATVs and some newer ones.
[caption id="attachment_107073" align="alignnone" width="671"]
A complete set of Elka shocks for $1000 is a fantastic deal and a great way to improve your quad's handling.[/caption]
The kit Elka built for our TRX250X features remote reservoirs front and rear for added cooling. Elka's legacy series shocks feature spring preload, low-speed compression damping, and rebound damping on the rear shock. The ideal amount of adjustment for most recreational riding and even some beginner level racing. They're built for your weight, type of riding, chassis setup, tires, and more.
With our TRX250X now sitting around 44.5" wide, it is much more stable, allowing us to carry more speed into and out of turns; plus the quad stays more planted on side-hills. The wider rear end spreads the machine's weight out, allowing for more predictable and easier to execute power slides and boosting the ATV's fun factor. Our only complaint is a small but manageable increase in steering effort, leaving us happy we'd stuck with the +1.5" wheel spacers.
Carrying more speed through turns means you're hitting bumps harder and getting farther up in the air on jumps. Cruising the trail the Elka's delivered a firm ride that was far more forgiving of small to intermediate sized bumps than the stock shocks. We went two clicks from full soft on the front shocks compression, six clicks from full soft on the back, and left rebound damping alone. This made the suspension pleasantly fluid over roots while still offering plenty of bottoming resistance from a couple feet of air, where the stock shocks were previously quite harsh. Rear tire traction and tracking were also improved.
[caption id="attachment_107069" align="alignnone" width="671"]
With the addition of Elka Legacy shocks and Durablue wheel spacers, the TRX 250x soaks up the bumps and is far more stable allowing us to charge harder with confidence.[/caption]
Hitting some small whoops hard on the throttle, the ride was smooth, balanced, and predictable. Shocks are the single biggest improvement you can make for the Honda TRX250X and EX and for under a grand, it's the best deal going by far.
Out of the box, the Honda feels peppy. It pulls well off the low-end and up into the midrange before singing off pretty quickly on top. Looking to make the most of the little pushrod engine, we installed a performance Series Exhaust from HMF.
Constructed in the USA, HMF offers the Performance series in a full system only for the TRX250X. It's constructed of corrosion-resistant stainless steel with a 4" 6063-T6 aluminum silencer shell. The silencer features a 2 1/8" core with a special hole pattern claimed to help increase power evenly throughout the RPM range. The exhaust comes with a USFS approved spark arrestor along with HMF's quiet core insert. The Performance Series exhaust is said to increase sound output by 4-6db with the Quiet Core knocking sound output back down by 2-4db.
Looks are a matter of opinion and the Performance Series exhaust offers lots of options when it comes to appearance. The silencer can be ordered in brushed aluminum or different powder coat color options. There are two different end-cap styles also available in different colors. HMF's Blackout option coats the entire exhaust in an extreme temperature resistant, matte black ceramic finish. We made it all complicated and ordered our exhaust with the Blackout Ceramic option, complemented with a red silencer shell, which HMF will happily produce for the same price as the full Blackout Option. We think it looks trick and if you don't, you can order the exhaust to suit your taste.
After installing our exhaust, we started the machine, which ran like crap. A great sign that we were flowing more air. HMF recommends a 100 main jet to complement its exhaust. The HMF Jet Kit comes with a 100, 105, and 110 main jet. Wanting to ditch the airbox lid for even greater airflow, we installed the largest 110 to start, which proved to be a good choice .
Duncan Racing suggests running a 42 pilot with an aftermarket exhaust and no airbox lid. They also offer a number of internal motor mods for the 250X if you want to build something more radical for cross-country racing.
HMF is claiming a pretty modest gain of 10-15% on its TRX250X/250EX exhaust. Riding the machine, the difference in power feels pretty evident. There's a notable increase in throttle response. When you crack the gas, the engine feels a little more playful, responsive, and willing to build RPMs.
We noticed an occasional pop at low RPMs when rolling off the gas, a sign that the pilot jet, which controls fuel delivery at lower RPMs, could stand to be a little larger. The rest of the RPM range ran flawlessly with the airbox lid off. Low-end power feels as strong as stock with plenty of grunt to get you rolling or crawl up some pretty steep inclines. Midrange power seemed stronger than stock powering out of corners, but the best gains came in opening up the top-end. Racing down straight sections of trail, we found ourselves often bouncing off the rev limiter, upshifting a while after the stock X would have fallen off. The deep, throaty sound also adds to the fun Sport ATV experience without being annoyingly loud on longer rides. Of course, it won't turn your 250 into a 400, but the HMF Performance Series Exhaust definitely helps up the fun factor.
Conclusion
With a day's worth of installation time and a decent amount of money, we made our Honda TRX250X a tougher, faster, and better handling ATV with an increased fun factor and overall sport appeal. This combination of upgrades work well as a whole or you could pick and choose the upgrades that fit your needs best. This ATV is all about having fun, and we think our hopped up 250X delivers more of it!
Are there any con's to running wheel spacers vs. wider a-arms?
While wheel spacers are a quick and inexpensive way to get some added stability out of your ATV, it does change the leverage pressure put on your spindles and even your shocks. This can cause components like wheel bearings to wear prematurely and your shocks may blow through the stroke faster because they are not valved or sprung appropriately.
I see slip-on and complete exhaust systems for my ATV. What is the difference?
The slip-on exhaust systems are just that. They allow you to remove your stock muffler and slip-on the new aftermarket unit that allows for more exhaust flow, resulting in a performance increase. The complete systems are usually the same muffler that you'll get with a slip-on system with the addition of an aftermarket head pipe that can be designed for more flow by being a larger diameter or different diameters in the length of the pipe. Many exhaust companies will have different designs for different performance gains. Regardless of how you decide to go for an aftermarket exhaust, be sure to rejet your carburetor or risk doing significant damage to your engine.
I've been looking at different handlebars and get confused by the numerous options available. How do I know which is right?
The best way we've found is to head to your local dealership and see what they have on hand to see which feels best for you. There are two main things to take into consideration and that is the rise and sweep of the handlebars you choose. The height is obvious, but the sweep is how far the ends of the bar are swept back. This comes down to personal preference, so our best recommendation is to get them in your hands and try to get a feel for the difference.
Additional Resources
Recent Updates
3/7/2022: Updated product descriptions, updated product links, added FAQ, added additional resources
Become an ATV insider. Get the latest news first by subscribing to our newsletter here.
We are committed to finding, researching, and recommending the best products. We earn commissions from purchases you make using the retail links in our product reviews. Learn more about how this works. Published March 7th, 2022 4:42 PM
Top Brands
Popular Articles