778 Views
Best Implements and Attachments for Your ATV and UTV
May 25th, 2021 12:17 PM
Share
We're committed to finding, researching, and recommending the best products. We earn commissions from purchases you make using links in our articles. Learn more here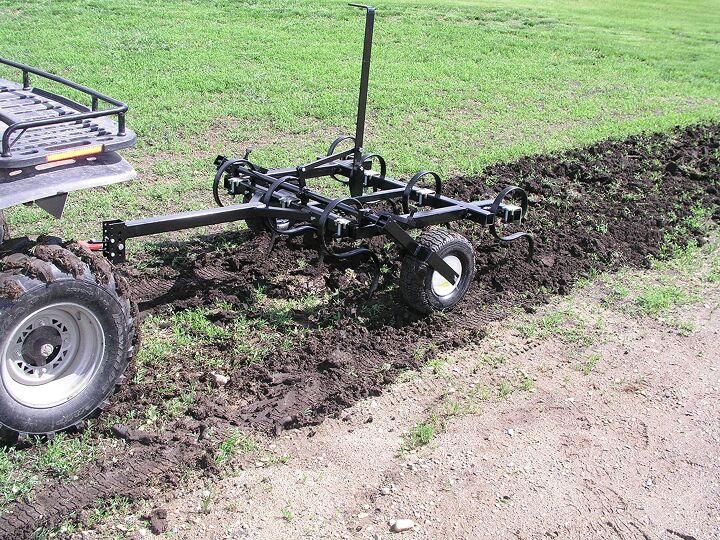 Put your ATV or UTV to work
While ATVs and UTVs are our favorite toys for outdoor fun, they can be incredible work vehicles if you've got the right implements and attachments. And we're not talking about lightweight jobs here. In fact, some of these implements can take over a lot of the work a small tractor would normally handle.
To help you on your way, we've put together a list of implements and attachments that are sure to help you get the job done.
1. Editor's Choice: Kolpin Three-Point Hitch
You might be wondering if ground engaging implements such as those carried on a tractor three-point hitch (3PH) can be used on an ATV or UTV? Kolpin makes that option a reality. Using a 2" receiver hitch, Kolpin adds a category-0 3PH that has a drawbar width of 20" and uses standard 5/8" pins. Lift is by a 12V powered electric actuator. Vertical lift range is 15" with a lift capacity of 250 lbs. The system also produces something your tractor 3PH does not: downforce. Up to 300 lbs. of such force is produced, making ground-engaging implements more effective without the penalty of added weight. The Kolpin 3PH features fully adjustable lower lift arms with the top link adjustable as well.
The lineup of attachments Kolpin offers is extensive and includes: a seven-disc plow, which is perfect for getting a field ready for seed; a box scraper handy for maintaining trails or a gravel drive; a combination chisel plow/scarifier useful for loosening material and clearing away roots; a sweeper broom for routine maintenance; a landscape rake for a variety of uses including clearing trails, grooming corrals and raking sand beaches; a cultivator set for breaking up hard-packed soil; and a poly dump cart when your ATV or UTV just can't carry enough.
2. Great Day Front End Loader
If you need more carrying capacity, or more specifically carrying and lifting capacity, a front end loader fits the bill. Though not exactly a bucket loader, Great Day makes a front-mounted Power Loader that uses an ATV or UTV mounted winch (2000 lb. capacity recommended) to raise and lower its aluminum cradle frame. It's great for carrying everything from wood, boxes, sacks of seed, to the fruits of your hunt. Weight capacity of the Power Loader is 350 lbs.
3. NorthStar Tow-Behind Boom Broadcast Sprayer
There is a huge selection of sprayers designed to work with ATVs and UTVs. Some smaller ones can sit on your ATV's rack, but if you've got a big job, we'd recommend the NorthStar Tow-Behind Boom Broadcast and Spot sprayer.
This is a 12V sprayer that has a 21-gallon capacity (a 41-, 61-, and 101-gallon versions are also available) and pumps out as much as 2.2 gallons per minute at up to 70 psi. It can also cover up to 12-foot segments in a single pass.
At the heart of this sprayer is a NorthStar NSQ Series pump, large tank lid (7.5 inches) that makes filling it a snap, bottom drain, 15-foot PVC hose for spot spraying duties, foldable boom arms, and removable axles and wheels.
4. Field Tuff Tow-Behind Cultivator
Another product most people would not normally associate with ATVs is this 48-inch cultivator. Whether you are looking to tend to your foot plot at your hunt camp or are working on a large garden, this cultivator can help.
Designed to be used with ATVs and UTVs, it comes with a pin-style hitch that lets you adjust the implement to the height of your vehicle. This unit allows you to cover a 48-inch path in one go and it features adjustable depth control, manual lever for raising and lowering, seven shanks with removable shovels, and 13-inch pneumatic tires. The entire thing is covered by a 12-month warranty.
5. Groundhog ATV Disc Plow
Another great tool for managing your food plot or small farm is this GroundHog MAX ATV/UTV disc plow. This unit works with the weight of the ATV and the rider to force the discs into the ground, providing up to 800 pounds of plowing downforce so you don't have to add any extra weight. The discs are assembled on a 3/4" steel axle, which is encased in a 1" steel pipe between each disc blade. Height is adjustable in one-inch increments and it comes fully assembled and ready to use. Total cutting width is 21" and the unit weighs only 46 pounds, so it's easy to move around.
Swisher makes a number of useful ATV and UTV implements. One worth looking into is this commercial plow system. It costs more than most ATV and UTV plows, but this one is overbuilt and ready to take on snow, dirt or gravel clearing duties. It is constructed of steel square tubing and uses a leaf spring design to bolster the front suspension. This particular plow is 62 inches wide with an 11-gauge rolled steel blade with five angle adjustments and 3/8" steel skid shoes. You will need a winch to operate this plow. You can find our favorites here.
7. Swisher ATV Dump Bucket
A great pairing for a plow blade is this ATV dump bucket from Swisher. This lets you carry everything from firewood, soil, and trash anywhere you need it to go. This is a 44-inch bucket made of 1/8" steel with a powder coat finish and features a quick-release dump engagement. Like the aforementioned plow, you will need a winch to operate this bucket. The good news is it can be attached or removed in seconds without having to use any tools.
8. Generac Pro Tow-Behind Field and Brush Mower
Your ATV or UTV can also be used to help clear brush if you pick up the Generac field and brush mower. This tow-behind ower Generac's own G-Force engine and is built around a solid-steel frame with thick powder coating for long life. Adjusting the height can be done without tools and the whole thing can be operated via a remote control. It doesn't have the widest cutting surface, but it's a perfect unit for getting into tight spaces and clearing it out.
Recent Updates
May 6, 2021: Added the tow-behind cultivator, disc plow, and brush mower to the list.
Additional Resources
We are committed to finding, researching, and recommending the best products. We earn commissions from purchases you make using the retail links in our product reviews. Learn more about how this works. Published September 28th, 2012 11:54 AM
Top Brands
Popular Articles