86 Views
Five Best Tracks for Your ATV or UTV
August 11th, 2021 6:18 PM
Share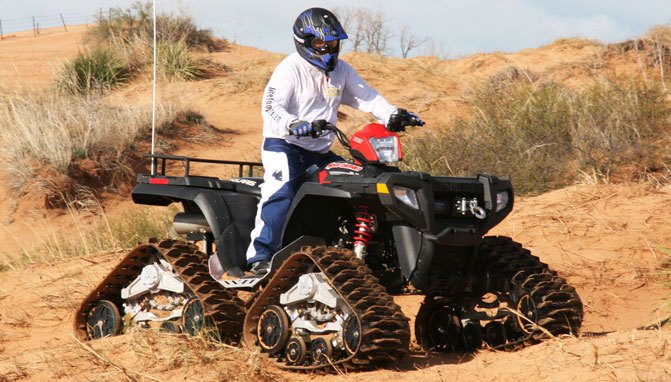 When the going gets too tough even for your trusted machine, don't give up hope. This is the time to look for the best tracks for your ATV or UTV.
Traction. We all need it. Sometimes we can't always find it. Sometimes snow, mud, rocks and more can get in the way of us finding the traction we need. If only there was a way to turn our ATVs and UTVs into tanks, so we could crawl our way out of any traction-robbing situation. Oh, wait, there is! Adding tracks to your machine is not only possible, it's fun too. Okay, the work part isn't much fun. It can be a beast to get them on the first time. But once they're on, you have opened the door to gobs of traction; and you can now take your machine places you've only dreamed of before.
How the best tracks work is a matter of surface area. If you think of the actual contact patch for your tire, it is really not much bigger than the palm of your hand at most. So all the weight of your machine is riding on that small contact patch. If you don't have traction the tire will spin, digging at it looks for more traction, but your machine sinks while the tire searches. Track systems have a massive contact patch, and therefore spread the weight of your machine over a much broader area. This helps make the track float over the surface versus digging in, and letting you have maximum traction.
Below are five of the best tracks you can find for your ATV or UTV.
Kimpex Commander WS4
Kimpex designed the Commander WS4 ATV and UTV tracks to provide solid traction year-round. A heavy-duty sprocket is used to keep it four-season compatible and reduce vibration. The track has three wheels in contact through the track to the ground. This helps with steering as well.
Camso R4S
Camso, formerly Camoplast, has been making tracks for decades. In fact, many of the tracks on snowmobiles are made by them. So it knows a thing or two about designing a track system that can take the use and abuse you're bound to put out. The new R4S ATV tracks are a lower-cost alternative that will get you on the trail for less.
Mattracks M3
While ATV track systems have been fairly cost prohibitive, leading some companies to offer economy models, there is still a market for a more robust track system. Mattracks, a leader in rubber track conversion systems for all types of vehicles, has the top dog in the M3 line. With models to fit machines ranging in weight from 2,500 pounds up to 4,500 pounds, and even the six-wheel drive machines, the M3 has internal suspension, deep 1-3/4-inch lugs and an extra-wide track system to give you more control and traction.
Can-Am Apache
One way to make sure the track system will fit your machine is to buy it directly from the manufacturer. Can-Am designed its own track system to fit its specific machines. The Apache ATV and UTV tracks offer great vibration reduction and excellent handling. Once set up, you can swap the tracks and your tires back and forth in about 20 minutes, too. Pretty cool stuff.
Polaris Prospector

Much like what Can-Am did, Polaris designed its own track system that works for its machines. The focus on the Prospector ATV tracks is on handling. There is no impact on capacity and pulling power of a Polaris machine equipped with the tracks either. The best part of the Polaris and Can-Am systems is that if you buy a new machine and have them installed at that time, your tracks are then covered under the warranty and you can add it to your financing. Not a bad way to go.
What do I look for when buying tracks for my ATV?
First things first, look for reviews online from people who have track kits installed on their ATV or UTV. With the high costs of track systems, you want to make sure that this expensive investment that you're making will last longer than a winter season. One of the other features you want in your ATV tracks is a wide footprint. The purpose of tracks is to give you superior traction in pillowy snow and if you have a narrow track system, that is going to defeat the point.
How do I add tracks to my machine.
Most track systems require an installation kit that consists of various bars, brackets and adapters that secure the tracks in place. Once those are installed, installing the track systems are as easy as changing your tires.
Become an ATV insider. Get the latest news first by subscribing to our newsletter here.
We are committed to finding, researching, and recommending the best products. We earn commissions from purchases you make using the retail links in our product reviews. Learn more about how this works.
Updated 8/11/2021: Updated some product descriptions and added FAQ and additional resources
Published January 2nd, 2020 2:24 PM
Top Brands
Popular Articles