204 Views
2005 Kubota RTV 900 Review
June 19th, 2015 2:24 PM
Share
We're committed to finding, researching, and recommending the best products. We earn commissions from purchases you make using links in our articles. Learn more here
The all-terrain vehicle market is big and getting bigger—attracting at least one new manufacturer a year. But when I saw that Kubota was building an ATV (the company calls it an RTV) I wondered if someone wasn't casting their bait into the wrong pool.Granted that utility versions of most ATVs have emerged as the dominant design (rather than the two-wheel drive sport type) but what does a tractor builder know about an ATV? Apparently, quite lot.
I recently had an RTV 900 out working on my property in northern Ontario and that experience left me with some definite impressions on the machine that Kubota figures is going to make inroads for them in this lucrative market.
First, though, I have to state the obvious. At 1,800 pounds and five feet wide, the RTV doesn't fit in the bed of your pickup. It's also too big for a conventional snowmobile trailer and with the side by side seating for three, it doesn't navigate normal ATV trails very well.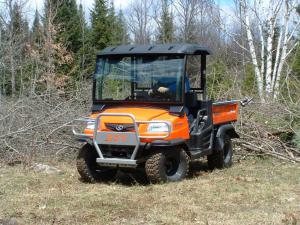 Now, that is not to say it can't be trailered, but it's most likely to arrive at its new owner's home on a trailer once and pretty much never leave it again.
This is not a small machine and it's not suited for swamp crossings, racing around sand pits or jumping anything. It is not that kind of ATV. What it is suited for is work, and lots of it.
Kobota offers the RTV900 in four configurations: General Purpose, Worksite, Turf and Recreational. Substantially, it's the same design throughout; the key difference is the tires. Designed to suit the various applications, the tires range from a smooth turf type to heavily patterned off-road ATV tires.
For an engine, Kubota offers its proven four-stroke diesel technology in the form of an 898cc three-cylinder diesel engine that is liquid cooled. In the RTV, this puts out up to 21 horsepower and buckets of torque. Getting that power to the ground is a VHT (variable hydro transmission). Unlike a belt drive this setup never freewheels. This also means that engine braking takes place till the moment the machine stops. In fact, this braking action is so effective you'll hardly ever use the brakes, though it does have them. The RTV uses front and rear enclosed wet-type disc brakes. Being fully enclosed, they are not affected by water or debris and their performance is consistent.
The transmission is three-forward speeds, neutral and reverse all accessible from the dash mounted shift lever. The forward speeds (Lo-Medium-Hi) can be selected according to speed requirements or torque. As with most diesels the torque is down low in the powerband and the gear selection just amplifies it.
Certainly not a speed demon, (top speed is about 40 kmh) the RTV nevertheless is outfitted with safety features such as retractable seatbelts. I found these most effective at keeping me from sliding out the side of the vehicle. The reason for this is that the RTV can easily cross some very rough terrain—much rougher than a first glance would suggest.
To get you over the rough stuff, the front end suspension is an independent MacPherson strut-type while the rear is a semi-independent DeDion axle with leaf springs and shock absorber. The low-point on the unit is the axle where you still get 8.5-inches of clearance. Vital underside components are tucked up high and any vulnerable arrears have guards and shields. A raised air intake will also get you through a minimum foot of water.
But the real eye-opener with this machine is the drive system. On the dashboard, a prominent lever allows the choice of 2WD or 4WD, while on the floor under your left heel (similar to what you'd find on a tractor) is a differential lock that can be held in place full-time by a hand activated lever or as needed by mashing it down with your heel. Add in the variable range transmission and you have a mini-work truck that climbs like a mountain goat. The steering is a power-assist setup so turning pin to pin is easy and the tight turning circle assists in weaving in and out of obstacles. I made a point of running it through deep mud, over loose rock piles, even up a set of stairs—with that diff-lock activated, it was impressive.
Kubota is aware that a sizable percentage of these RTVs will be working on various job sites so much of the safety equipment is already designed to meet industry standards. OSHA certified ROPS are standard on every vehicle. Depending on the application, a variety of equipment can be ordered with the RTV, but the two cup holders for operator convenience are standard. With the optional cab roof, windshield, doors, the unit can be completely enclosed (there is even an optional electric heater). Kubota will also add windshield wipers, work lights and strobe lights—accessories that cover most work applications from farming to mining.
The hydraulic lift box that came with my test vehicle is optional, but if you don't get it you'll notice that the dump box is balanced so it almost self-empties. With the powered lift box, though, comes a set of quick disconnects which will allow a variety of other hydraulically operated equipment to be run off the pump—a valuable bonus.
I picked up a load of stray rocks (that have been beating up my brush cutter) in one of my fields, and when dumping several hundred pounds of them found the lifts to be more than adequate for the job. This exercise illustrated another point—frequent in and out of the machine is easy. The only problem I found was my knee hitting the ignition key and inadvertently shutting down the machine.
The hydraulic disconnects I mentioned really fired my imagination; located at the rear of the RTV, under the box, they are easily accessible and I could just picture the range of add-on work possibilities. The obvious one, a snowplow, is just one of the accessories that Kubota sells but I suspect that the aftermarket will have dozens of potential uses for this power source and the location of the hookups lends itself to powering equipment that is being towed. Grappling hooks, log splitters, sprayers, lifting arms, brush cutters, chippers—the list is as long as the imagination of the owner. This benefit alone is worth the price of the dump box option.
The fuel capacity on the RTV is 28 liters of diesel. According to the hour meter, I worked it for just over eight hours and there were still several liters of fuel in the tank. (Unfortunately, my fuel gauge stuck, so I don't have an accurate measurement.) The company says it estimates average consumption to be three liters a running hour; five liters with the engine running full throttle.
The latest innovation on the RTV is the addition of a Hard Woods Camouflage pattern. This along with ATV-style tires makes the RTV more interesting to the hunting and fishing crowd. With its off-road abilities coupled to its carrying and towing capacity I can see it making inroads in this market as well. Still, with all its other attributes the bonus is that once you haul the buck home you can easily put it back to whatever work you do.
Specifications for the 2005 Kubota RTV900
Length: 117.7"
Width: 59.8"
Height: 79.3"
Wheelbase: 77.4"
Ground clearance at the axle: 8.5"
Turning diameter: 24' 6"
Towing capacity: 1300lb
Payload: 1630 lb
Weight: 1808lb
Cargo box is rated for 1,102 lb and holds 16 cu. Ft.
Bed height: 31"
Sound level – max of 87 db.
Tires are available in Knobby, HD Work site,
Turf type, or aggressive tread ATV
Basically all are 25"x10"x12"
MSRP for the test unit was C$18,215. Published May 24th, 2005 11:21 AM
Top Brands
Popular Articles