154 Views
2017 Honda Pioneer 700-4 Deluxe Long Term Review
December 15th, 2017 4:03 PM
Share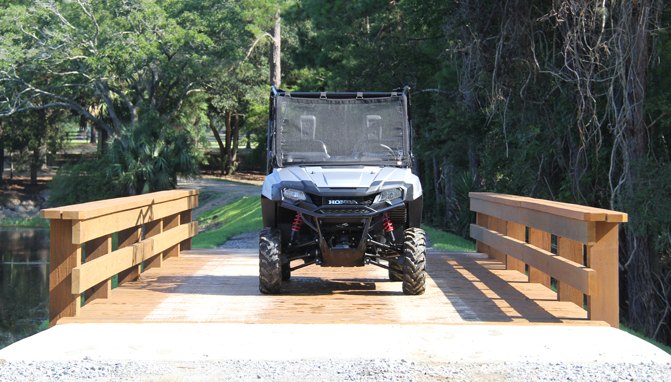 The Honda Pioneer 700-4 is a competent workhorse and a capable trail machine, offering a level of versatility that is hard to beat.
Capable AND convenient
When it comes to purposeful, economical Side-by-Sides that operate well in both a sport and utility capacity, it's hard to beat the Honda Pioneer 700-4. A far cry from its predecessor the exclusively utilitarian BIG RED, the Pioneer platform offers plenty of grunt for the working man while being able to scratch the itch of a weekend warrior at the same time.
The 675cc powerplant is capable of toting a driver and crew around for a full day of work or play. It's quiet, creates next to no vibration and offers the reliability you would expect from Honda. Over the course of our long term review we put our Pioneer 700-4 to the test at a variety of different trail riding destinations in the southeast with great amusement. It's quick enough to keep you on your toes when dodging in and out of trees and powerful enough that we climbed every hill that we attempted without issue.
Selectable 2WD and 4WD gives the driver the option of fine tuning the handling of the machine and controlling the amount of traction available for different situations. The inclusion of paddle shifters assures us that this Pioneer has at least some level of performance competence in it's DNA and was never intended to be categorized as solely a utility machine. A simple dash-mounted toggle switch allows the driver to swap between full automatic mode and manual mode when looking to have a little more control over the vehicle's performance.
Paddle shifters literally put control right in the drivers hands.
When trail riding, we definitely preferred the manual mode as the Honda Pioneer 700-4 had a tendency to shift a tad early for our liking when in automatic mode. Having control over when the transmission would shift allowed us to reach a higher RPM and squeeze a little bit more performance out of the engine. Like driving a manual automobile, it takes a little time to know at what RPM the engine is ready to shift, particularly when downshifting, but after a while it just becomes second nature.
Whether hauling or towing, the Honda Pioneer 700-4 can move you and your load without issue thanks to its 1,000-pound bed capacity and 1,500-pound towing capacity. From hauling rocks and debris to cleaning up downed trees after a storm and everything in between, the Pioneer took on everything we could throw at it. When pulling farm equipment or a loaded trailer, the engine is slightly slower to respond from a dead stop, but it's not sluggish by any means. It's compact size compared to a pickup allowed us to easily maneuver it inside a barn when loading up hay bales, but it doesn't feel "small" from the cockpit by any means.
At 59.7 inches wide with a wheelbase of 77.8 inches, the Pioneer 700-4 drives like a two-seat Side-by-Side with the added bonus of carrying two extra passengers thanks to its QuickFlip seats that pop up out of the bed. This is probably our favorite feature of the Pioneer 700-4 and one that is completely unique to the Pioneer. Adults might feel a little cramped after spending a significant amount of time in the rear passenger seats, but kids will be quite comfortable.
The QuickFlip seats tuck away nicely into the bed when not in use.
With just 10.7 inches of ground clearance it's unlikely that you'll be doing any rock crawling in the Honda Pioneer 700-4, but should you stumble upon a rough section of ground that leaves you fighting for traction, the selectable four-wheel differential lock keeps all four wheels spinning smoothly in unison. We played around on a few rocky sections just to see how well it worked and were pleasantly surprised. A few extra inches of ground clearance or some taller tires and this would actually be an able-bodied rock crawler.
Don't let it's utilitarian look deceive you, the Honda Pioneer 700-4 is quite at home on the trails.
Speaking of tires, we were incredibly impressed with the durability of the stock HP-007 tires from OTR. We tackled some incredibly rocky terrain that had us checking for flats multiple times while on different trails and we were honestly surprised that we never saw a single puncture. The aggressive tread pattern bites hard, especially in wet conditions, but be cautious when driving across grass as these tires will definitely leave their mark.
As far as fit and finish, the Honda Pioneer 700-4 is quite roomy. There's plenty of room in the cab between the dash and the bench seat so you certainly won't feel cramped and climbing in and out is a breeze. The hard-shell half doors open and close smoothly and on wet days, do a great job of keeping mud and water out of the cab. If you plan to use the machine in a hilly area, the engine braking works exceptionally well. During one particular test, we found that we could descend some sizable hills without ever stepping on the brake. The factory-included side nets are great if you find yourself in a thick, brushy environment, but if you're constantly in and out of the cab, we suggest rolling them up and fastening them out of the way.
Our Deluxe model came with the added bonus of electronic power steering (EPS), which takes the effort out of turning the vehicle, no matter how tight the circumstance. The Pioneer 700-4 is incredibly maneuverable whether you're on a trail littered with switchbacks or pulling a trailer around your property. While riding at the very hilly Brushy Mountain Motorsports Park, we encountered several tight turns on the trails and only once or twice did we have to make a multi-point turn.
They say you don't know what you've got until it's gone, but we would also agree, you don't know how helpful something can be until you have it at your disposal. While we have the privilege of spending a significant amount of time behind the wheel of various UTVs, having one at our complete disposal for several months proved to be incredibly convenient. From handling the tasks you might expect around a ranch to toting waste away in a subdivision. Having access to such a versatile machine is handy for a ton of different reasons.
Who says you can't put a UTV to work in a subdivision?
At $13,499, the 2017 Honda Pioneer 700-4 Deluxe offers a lot of bang for your buck. When compared to other models capable of hauling four occupants, the savings really start to stack up. If you're pinching pennies and willing to sacrifice a few niceties like the paddle shifters and EPS, then a base model Pioneer 700-4 is available for $12,099, but for less than $1,500 we feel that both of these options really enhance the user experience of this capable UTV. Seth Fargher
Growing up in Oregon, most of Seth's involvement in the powersports world was limited to what he saw in magazines and videos. Following a brief stint in the corporate world, Seth took a flying leap (literally) and moved to California to pursue a career in freestyle motocross. Though short lived, the opportunity immersed him in the industry and is now a well-established off-road writer.
More by Seth Fargher
Published December 15th, 2017 4:03 PM
Top Brands
Popular Articles