671 Views
Best ATV Snow Tires For Winter Riding
November 19th, 2021 2:19 PM
Share
We're committed to finding, researching, and recommending the best products. We earn commissions from purchases you make using links in our articles. Learn more here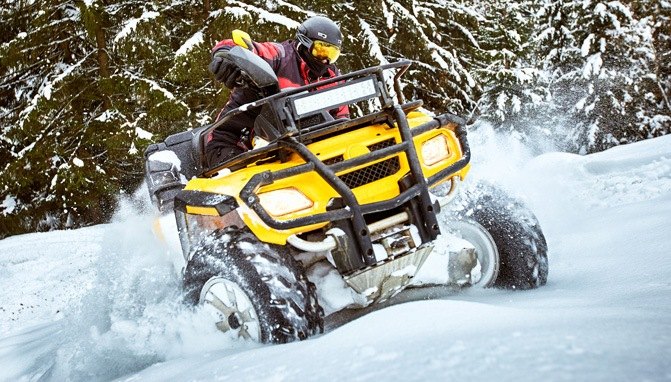 Find the traction your ATV needs this winter
If you've ever tried riding your ATV in the winter months only to have trouble getting decent traction in the snow, it might be time to start shopping for the best ATV snow tires you can find.
The warmer months are made for riding; there's no disputing that. But just because there's a bit of snow on the ground, that doesn't mean you have to pack it up for the year. In fact, riding in the snow is some of the most fun you can legally have on four wheels, testing your skills everything from soupy slush to hard, compacted snow and ice, to light, fluffy powder. The best ATV snow tires deliver competent performance in all of the above, with soft, compliant carcasses that maximize their contact patch for good "flotation" so you don't sink in.
Dedicated ATV snow tires do exist, but options are limited, so you are mostly left with a range of all-terrain and mud-terrain tires with just some of the hallmarks of a proper snow tire. But don't worry; many of those tires are still excellent for winter riding, delivering solid traction and good handling no matter what Jack Frost throws at them.
Here, we've rounded up some of the best ATV snow tires you can get today, from versatile, winter-compatible all-terrain designs to true, dedicated snow tires. Stick to any of these and you should have no trouble making the most of those nasty winter months.
Lead photo by trek6500/Shutterstock.com
Table of Contents
1. Editor's Choice: System 3 Off-Road SS360 Snow/Sand Tires
When looking for great features in ATV snow tires, you want to look for traits like a lightweight two-ply carcass and low rolling resistance. A tire that has an interlocking tread pattern that delivers great handling, cornering traction and solid traction under acceleration. One that performs great in the snow and is also as capable in the sand. That is what you get with the System 3 Off-Road SS360 Snow Tires. The 2-ply carcass provides excellent floatation to keep you on top of the fluff, whether it be snow or sand, and its light weight construction prevents power loss for small bore ATV and UTV machines. The benefit is that these UTV snow tires are also available in larger diameters that are suitable for todays high horsepower models.
2. Runner Up: Maxxis 4-Snow
One of the few dedicated snow tire designs on the market, the Maxxis 4-Snow is perhaps the most popular ATV snow tire out there, and for good reason. It has the same lightweight 2-ply rating as Kenda's Snow Mad, for unparalleled flotation, and it has an asymmetrical, reversible tread, effectively rendering two different tires for the price of one. Mount it one way, and you have maximum "scooping" action for snow, with a full 19/32" tread depth supplying copious traction; turn it the other way around, and you get maximum contact area for riding on ice. Couple that with an extra-soft compound that remains compliant even in frigid temperatures, and it's easy to see how the Maxxis 4-Snow earns its status as one of the best ATV snow tires around.
3. Best All-Season Tire: Kanati Terra Master
Many times the best ATV snow tire is a good mud tire, and the Terra Master from Kanati is one of the best. A unique feature of this tire is that you have a two-sided tread pattern that can be optimized for traction in soft to intermediate terrain or intermediate to hard terrain. This makes for a good tire that you can rely on year round. The 10-ply radial construction ensures that you won't be left on the side of the trail with a punctured tire and the deep wide spaced lugs provide excellent tire bite and cleaning abilities so they don't get packed in with snow.
The Sedona Coyote looks a lot like an all-terrain truck tire, and that design helps lend it some truly solid snow performance. One of its hallmarks is its siped tread lugs, which allow the blocks to spread under load and expel water out from underneath the tire – pretty helpful when you find yourself cruising on the ice. The tread lugs feature jagged shapes with lots of biting edges, arranged in rows that allow the Sedona Coyote to effectively "shovel" its way through the snow, while the integrated tread lugs provide still more traction in the truly deep stuff. They may be all-terrains, but they're still some of the best ATV snow tires you can get.
The truth is, many of ITP's best-known designs tout some snow-riding acumen, including the Mud Lite, Mayhem, and Blackwater Evolution. But for our money, we're going with the ITP Terra Cross R/T - among the best ATV snow tires by virtue of its high-traction, 23/32"- to 27/32"-deep interlocking tread and broad footprint, which gives it excellent flotation. Wrap-around shoulder lugs provide extra traction in deep snow, and while the Terra Cross R/T's hard rubber compound isn't the most ideal for colder temps, the large void areas between tread lugs make up for it, giving the tire extraordinary self-cleaning for an all-terrain design.
The Carlisle AT489 is not explicitly a snow tire, but look around and you'll still find plenty of ATV owners running them in the winter months. In fact, they remain some of the best-selling ATV tires in America precisely because of their tremendous versatility. That makes them among the best ATV snow tires for riders who don't want to bother with alternate setups for the winter and the rest of the year. They're relatively light weight for good flotation, with bias-ply construction and ply ratings from 4 to 6, depending on the exact model, which makes them uncommonly pliable, as well. Plus, with a tread depth of 19/32", you've got plenty enough tread to dig your way through everything from mild slush to deep powder.
What are key features to look for in a good ATV snow tire?
Just like a good mud tire, you want your tires to have a good tread pattern that allows for excellent bite in the snow but also has good self cleaning characteristics. If you have tires with a very condensed tread pattern, it's not hard for snow to pack in all of the voids and turn that tire into an icy slick. The wide patterns allow snow and mud to be flung out while you drive down the trail.
Is it better to go with a taller tire when riding my ATV/UTV in the snow?
It won't hurt to go with a larger diameter tire when riding in the snow. The advantage is that you'll have increased ground clearance so you're not dragging as much of the chassis of your ATV/UTV on the snow as it gets packed under the machine. The downfall is that larger tires sometimes require modifications to your machine to allow for the tire clearance (lift kit) and the increased weight can rob power.
Additional Resources
Recent Updates
11/19/2021: Ranked products, updated product descriptions, replaced discontinued products, added System 3 Off-Road SS360 and Kanati Terra Master, added faq and additional resources.
We are committed to finding, researching, and recommending the best products. We earn commissions from purchases you make using the retail links in our product reviews. Learn more about how this works. Aaron Brzozowski
Aaron is a freelance writer, videographer and car enthusiast based out of the Detroit area. He has a special affinity for the Porsche 944 series, and once owned a Volvo 240 sedan with a Weber carb in place of the factory EFI system. His work has appeared on AutoGuide, GM Authority, /Drive, and VW Vortex, among other sites.
More by Aaron Brzozowski
Published November 10th, 2020 10:57 AM
Top Brands
Popular Articles