200 Views
Best Cold Weather Riding Gloves To Fight The Frost
February 22nd, 2022 6:02 PM
Share
We're committed to finding, researching, and recommending the best products. We earn commissions from purchases you make using links in our articles. Learn more here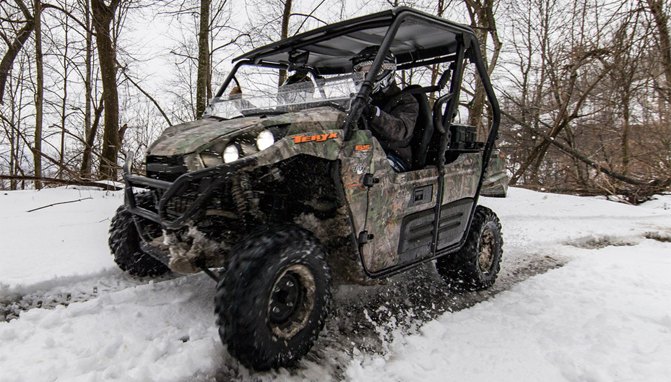 Fight off frozen fingers with these favorite cold weather riding gloves
If you're tired of frost-bitten fingers when you ride, our list of best cold weather riding gloves is just what you need. From insulated gloves to battery powered liners, our staff hand picked their favorite cold weather gloves just for you.
As I write this, I'm sitting in northern Utah getting ready to go test drive a new UTV up in the snow-covered mountains. This isn't my first rodeo, so I'm fully prepared for some cold. One thing that often gets overlooked in riding gear, especially for cold weather, is the type of gloves you wear. We all like to wear riding-specific gloves for the protection and grip they provide. The drawback can be ventilation.
Most riding gloves are motocross-based, so the things that keep them comfortable for the track often don't do squat for keeping your hands warm when the mercury drops. Here are some of the best cold weather riding gloves that will let you have an enjoyable ride in the snow and cold, while still having adequate protection from things along the trail.
1. Editor's Choice: Klim Inversion GTX Winter Waterproof Gloves
When it comes to cold weather riding gear, Klim is one of the leading gear manufactures you can turn to for premium products. Their Inversion GTX Winter Waterproof Gloves are some of the best cold weather riding gloves that you can get for those chilly rides. The Inversion GTX gloves were designed to keep your hands comfortable in the coldest of conditions with a waterproof construction while still providing great mobility and grip. This is accomplished by using Gore-Tex bonded grip technology, nylon Spandex palms with Ax Suede water resistant overlays, and a moisture wicking liner. While they're likely the most expensive glove that you'll find on this list, we're confident in saying that you get what you pay for.
2. Runner Up: Fly Racing Boundary Cold Weather Riding Gloves
The best cold weather riding gloves don't always have to be waterproof, so the Boundary gloves from Fly Racing are a solid choice deserving a place on our list. The Boundary gloves are constructed with a windproof membrane to protect your digits from frosty temps and the fully wrapped finger tips ensure that the gloves will last for many rides to come. Genuine goat skin leather palms ensure good mobility and grip, while the finger and knuckle protection also provides great flexibility and protection. All these features add up to a glove that provides great cold weather, but not waterproof protection.
3. Best Lightweight Cold Weather Glove: 100% Brisker Gloves
These cold-weather riding gloves from 100% look like a simple, lightly-insulated riding glove. They are that, but with a few added features that make them pretty slick. The back of the glove is lightly-insulated softshell fabric. The inside of the glove is lined with moisture-wicking material to keep you dry. The coolest feature is the tech-thread fingers that let you operate your smartphone without having to take the glove off. This is great if you're using your phone to navigate, or you need to stop trailside to call home.
4. Mechanix Wear Insulated Gloves
While not necessarily a riding glove, the Mechanix Wear Original Insulated glove has to be included on our list of best cold weather riding gloves. Mechanix Wear is known for producing quality gloves for every situation you can put your hands through and their Original Insulated can hang with some of the best riding gloves on the market. The Original Insulated glove features a fleece liner in the entire glove, a SoftShell water and wind-resistant outer shell, and Thermoplastic Rubber closure to provide a secure comfortable fit. The synthetic leather palm is infused with touchscreen technology so you can use your smartphone without removing your gloves for even more convenience.
5. FOX Legion Thermo Gloves
As one of the oldest and most trusted brands of ATV and MX riding gear, you can count on FOX to be on our list of best cold weather riding gloves. The Legion Thermo glove features an insulated, closed-cell foam on the top-of-hand for great impact and chill prevention, PU-lined finger gussets and a neoprene cuff for a secure fit. Available in 4-different sizes, these feature packed gloves are sure to keep your fingers happy in the cold as your wallet with a price under $30.
6. Sun Will Day Wolf Heated Glove Liner
While not necessarily what we'd call a riding glove, the Sun Will Day Wolf Heated glove liner still earns a spot on our best cold weather riding glove list because they can work in unison with most gloves on our list for even more comfort and cold weather protection. These heated glove liners run off of 2-rechargeable UL/CE Certified Li-Ion batteries, feature 3-different heat settings and are capable of providing steady hand warmth for up to 7-hours on a full charge and low power setting. Still weary about heated gloves? Give them a try with confidence since Sun Will offers a 100% money back guarantee.
Are all cold weather gloves the same?
As with almost anything, all cold weather riding gloves are not created equal. People who ride ATVs or even dirtbikes, require decent amount of movement to use the throttle, brake and clutch systems, so a glove made with thinner materials is preferred. This is why companies use special wind and waterproof materials to try and keep your hands warm and dry. While the more bulky gloves, like those you see people skiing with, may keep your hand warmer, you won't have the mobility or even grip that you would with the riding purpose glove.
Can I just use a heated liner without a glove?
You can, but remember that you're using an electronic device that will likely be more susceptible to the elements and not use some of the materials that actual riding gloves utilize for their durability. Many people use their heated liners under their gloves while riding, but take the gloves off and keep the liners on when stopped for comfort.
Additional Resources
Recent Updates
1/24/2022: Ranked product, updated product descriptions, updated product links, removed obsolete products, added new products (klim and fly racing gloves) added additional resources,
Become an ATV insider. Get the latest news first by subscribing to our newsletter here.
We are committed to finding, researching, and recommending the best products. We earn commissions from purchases you make using the retail links in our product reviews. Learn more about how this works. Derrek Sigler
Derrek's love for all things ATV started when he was a mere 11 years old, growing up on his family farm. His mom gave him and his sister a choice - get a horse, or a three-wheeler. The sister wanted the horse, and Derrek wanted the ATV. Luckily he won out, and was soon burning up the trails on a Yamaha Tri-Moto 200. By the time he was 14, he had saved enough of his own money by working on the farm and in his folks restaurant to buy a new 4-wheeler. That happened the day he and his mom were driving past the dealership and saw 1987 Banshee. His mom had no idea what he was buying, and he never looked back. He's been riding ever since, and been writing professionally for many years. He has ridden all over North America and been behind the controls of just about every machine out there. And yes, he still has his 1987 Yamaha Banshee.
More by Derrek Sigler
Published February 10th, 2021 2:33 PM
Top Brands
Popular Articles