1 View
Dealer Expo Spotlight: Kolpin PowerPod
February 16th, 2010 4:18 PM
Share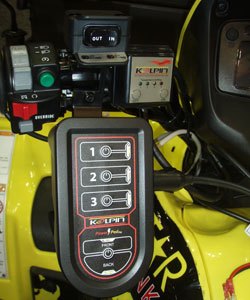 If you're the type who has a lot of electronic accessories attached to his ATV, Kolpin's new PowerPod is for you.
The PowerPod allows you to connect multiple electrical accessories to our ATV or UTV instantly and without having to do any makeshift wiring. You can install aftermarket accessories like a winch, extra lights, plow, or even a cell phone charger without wiring each accessory and mounting multiple switches. All you have to do is install the PowerPod harness just once to your battery and then plug and play with multiple accessories to the external ports.
The PowerPod allows you to select the front or rear accessories and control all on/off from one central location. You can control up to five 12v circuits – two are toggle switch controlled for up/down and provide up to 50 Amps of support for high power accessories. The standard version includes two additional external 12v circuits, while the Pro version has three additional 12v circuits.
Visit http://www.Kolpin.com for more information.
Published February 14th, 2010 12:49 AM