251 Views
November 5th, 2021 5:41 PM
Share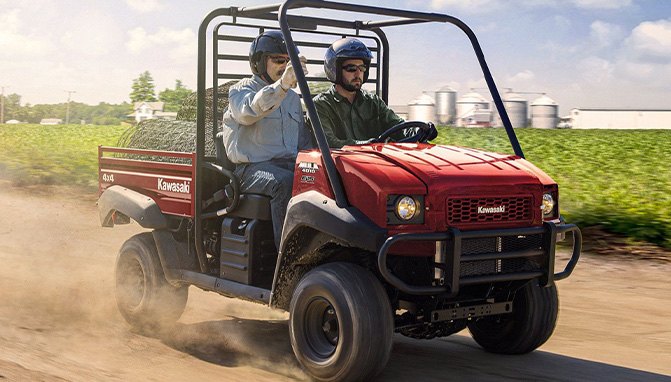 Find some new rubber for your Mule
Choosing a set of Kawasaki Mule tires – or rubber for any side-by-side, really – can lead customers down a rabbit hole full of tread patterns and sizing options. For this buyers guide, we're opting to stick with factory Mule tire sizes but note that the size can vary with different Kawasaki Mule trim options.
By the way, can we take a moment to appreciate the too-perfect name of 'Mule' on a machine specifically built for work? Toss in a homely face only a mother could slug and there's no questioning this vehicle's lot in life. Hey, at least it is perfectly functional and does a good job of the task at hand. It's only fitting that our search for the perfect Kawasaki Mule tires have the perfect mix of traction and durability
Below you'll find Kawasaki Mule tires in a range of sizes and treads. Be sure to check your application and, if you're still not sure, contact the seller before hitting the 'check price' button
Table of Contents
1. Editor's Choice: Carlisle All Trail II
If you're looking to stick with the stock 23x11x10 Kasawaki Mule tire size, this is a great option. While the manufacture claims that they're designed for hard surfaces, this them a good choice for those taking their Mule over the likes of compacted dirt or expanses of concrete as they go about their chores. According to the ad, this is thanks to a low and wide profile that reduces the soft wallowing chassis roll commonly experienced with other tires, making them some of the best replacement tires for the Kawasaki Mule.
Tread depth is 16mm and, as you guessed from the dimensions, the tires have an 11-inch section width. Real world customers say they've used these tires as direct replacements for Kawasaki Mule tires, with some drivers saying they are better than stock thanks to eliminating wobbly straight-ahead behavior and contributing to less understeer. Note well: these are 6-ply tires, a feature which should help with puncture resistance.
2. Best Light Mud Tire: Maxxis MudBug
The Maxxis brand name will be familiar to anyone who's been shopping for UTV tires in approximately the last ten years. These particular Kawasaki Mule tires have an aggressive tread pattern, with deep v-shaped lugs making them a good choice for soft or muddy terrain. In that light, they have virtually the opposite intended purpose as the Carlisle tires mentioned in this list.
These brutes have an angled tread that pushes mud away from the tire, improving traction. Like others, Maxxis markets these tires as having a sturdy 6-ply construction, helping them to stand up against punctures. Feedback from customers reveal this is a great option for Kawasaki Mule 4010 replacement tires since they're able to go through mud holes with little problem. One satisfied customer claims they can get the job done in a machine that has stock ride height and rarely shifted into 4WD. That's code for "my 4WD is broken", by the way.
3. Duro OEM/General Purpose ATV Bias Tires
Continuing with Kawasaki Mule 23x11x10 tire size options, we find this Duro brand offering a 'general replacement' tire in a number of dimensions including one to precisely fit the Mule. Despite shockingly little product information, and a brand name that sounds like a latex item found in drug stores, its Amazon ratings are quite high; in fact, almost 90% of the hundred or so customers gave them a full 5 star rating. An added bonus is that you can even go up or down 1" in size if you choose to do so without need to purchase different wheels.
It helps that most people have reasonable expectations of the them. That's not to say this is a bad tire - far from it - but the tread pattern of this rubber hoop is good for normal duties. Heck it's right there in the title. Expecting it to dunk on tires with mud-specific tread is unreasonable and will likely leave you disappointed. Plan for basic work tasks in sensible environments, though, and this tire seems to deliver the goods.
Not unlike similar options on our list, the tread pattern and construction of this tire means it is designed specifically for use on hard surfaces and paved applications. This will make it a good choice for the construction site, in a warehouse, or on a security patrol vehicle. The seller says that compared to a standard 'knobby' tire, this thing offers a smoother ride, more responsive handling, better wear when pressed into service on a hard surface.
In the product's question and answer section, one customer says they experienced better wear characteristics than the stock tires that came on their Kawasaki Mule. Despite the listing photograph showing two tires of vastly different widths, it does seem this particular ad is for tires that are 11 inches wide (this is the part where we heartily recommend contacting the seller before buying).
This offering from WANDA tires is almost identical to one of the most popular UTV tires in the industry, the Maxxis Bighorn. If you tackle any kind of treacherous terrain, these are the replacement Kawasaki Mule tires that you want when your old rubber is worn out. The 6-ply construction makes this tire tough and puncture resistant, but the aggressive lug pattern provides great bite in the worst traction conditions. If you're using your mule around the construction site, for security on paved surfaces or maintaining a pristine golf course, these are not the tires for you. If you're running around a farm or using your Kawasaki Mule for hunting, then these are quite possibly your next replacement tires.
6. Massfx OEM Kawasaki Mule Tires
Are you happy with the OEM tires that came on your Kawasaki Mule? If you are, then why bother changing to something different? This set of MASSFX tires are an OEM replacement for the rubber you're currently riding on. Perfect for farmers or recreational riders, the omni-directional lug pattern provides adequate traction in a variety of moderate terrains and the 6-ply BIAS construction make them tough and puncture resistant unless you find yourself driving through a field of nails. These truly are a great deal for a good performing tire when you don't need aggressive lugs.
Additional Resources
Recent Updates
10/19/2021: Added MASSFX ATV tires, ranked product, added additional resources, updated product descriptions.
We are committed to finding, researching, and recommending the best products. We earn commissions from purchases you make using the retail links in our product reviews. Learn more about how this works.
What if I want to fit tires that are larger than stock?
It's an affliction that affects most gearheads: the desire to fit the biggest possible tires onto every vehicle they own. Your author gets overcome with this weakness on a regular basis, it must be noted. While off-road machines generally scoff at the type of abuse that could break a road-going machine in half, one still needs to plan ahead for bigger tires. Depending the size selected, changes to the machine might be needed - whether that's a lift kit, fender trimming, or some other suspension modification will be dependent on your situation.
What are the stock sizes of Kawasaki Mule tires?
Though we've largely focused on the 23x11x10 tire size in this article, Kawasaki's hardworking rig comes equipped in a variety of tire sizes depending on model and trim. The pug-faced Mule 610, for example, has a staggered setup with 24x9 tires up front but 24x11 tires astern (both on 10-inch wheels).
How do I interpret those tire numbers again?
The first digit generally denotes the overall tire height, while the second numeral is its tread width. Those final two numbers are the diameter of the wheel on which it can be installed. If you're shopping for a 23x11-10 tire, you'll be buying hoops that are 23 inches tall, 11 inches wide, fitting a 10-inch wheel.
Do bolt patterns matter when replacing tires?
Excellent question. If you're also popping for new Kawasaki Mule wheels, it is important to get ones that are the correct bolt pattern. Know that most Mules use a 4 x 137 bolt pattern, while Mule PRO models use a 4 x 156 pattern. The old children's song which told us that 'one of these things is not like the other' is very appropriate here. It can be tough to tell the difference between these two bolt patterns, especially on their own, so double check fitment before withdrawing the cash from your bank account.
Published April 26th, 2021 5:15 PM
Top Brands
Popular Articles