59 Views
2021 Kawasaki Mule 4010 4×4 vs. John Deere Gator HPX615E: By the Numbers
June 17th, 2020 8:28 AM
Share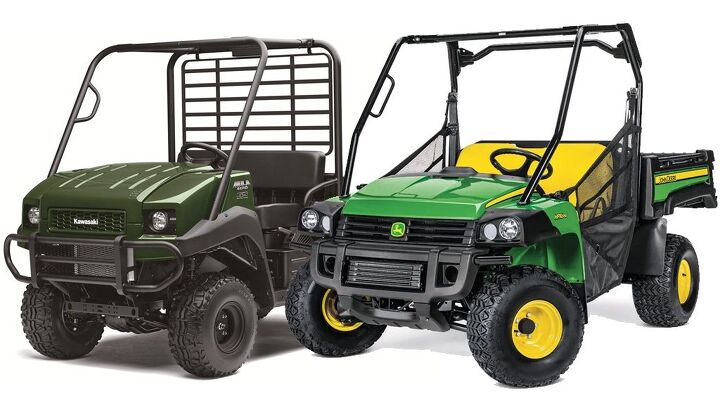 Battle of the workhorse UTVs
The 2021 Kawasaki Mule 4010 4×4 and John Deere Gator HPX615E don't get a lot of press, but these rugged UTVs are exactly what you need when there's work to be done.
Believe it or not, we do actually test machines that aren't high-horsepower turbocharged dune busters. There is a huge market for side-by-side workhorses in this nation, machines that get the job done on a farm or ranch without complaint.
In fact, these rigs are the genesis of the UTV segment. The first word in that acronym is utility, after all, and these things have that trait in spades. Generally configured with a single bench seat, a burly cargo box slung out back, and an engine tuned for grunt instead of outright speed, one will usually find these brutes plying their trade in places where it's too tight (or simply too inconvenient) to drive a pickup truck.
Two UTVs that fit firmly in this working class are the Kawasaki Mule 4010 4×4 and John Deere Gator HPX615E. Call 'em Utility Task Vehicles or Utility Terrain Vehicles. Just don't call 'em lazy.
Powertrains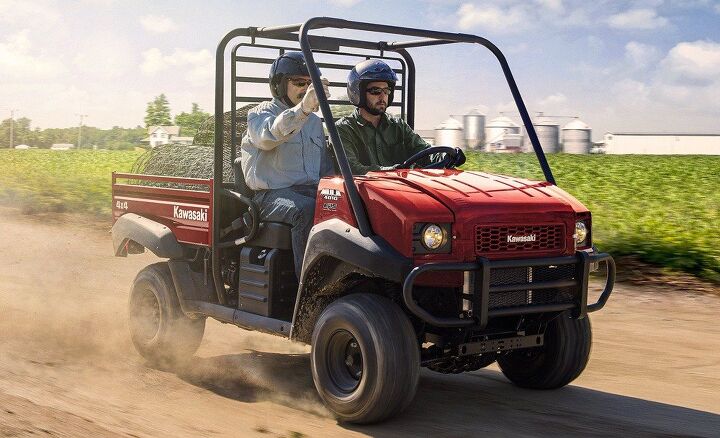 Powering the Kawasaki Mule 4010 4×4 is a 4-stroke OHV twin displacing 617cc and making a maximum of nearly 35 lb-ft of torque. That might not sound like a bundle, but all of it comes online at just 2500 rpm, making it a great mill for towing trailers and hauling loads at relatively low speeds. Selectable 2WD/4WD is on board, of course, along with a dual-mode rear differential with diff lock. The latter will help when you're trying to pull around the muddy part of the barn after a rainstorm.
Stop us if this sounds familiar but the John Deere Gator HPX615E in this post is powered by a, you guessed it, 617cc 4-cycle twin. Direct power comparisons are difficult, since JD publishes horsepower figures, not torque, and Kawasaki does the opposite. Nevertheless, a total of 20 ponies stand ready for duty in the green machine. It is four-wheel drive, as you'd expect, with a positive locking, mechanically actuated (hand-operated) traction assist system.
Suspension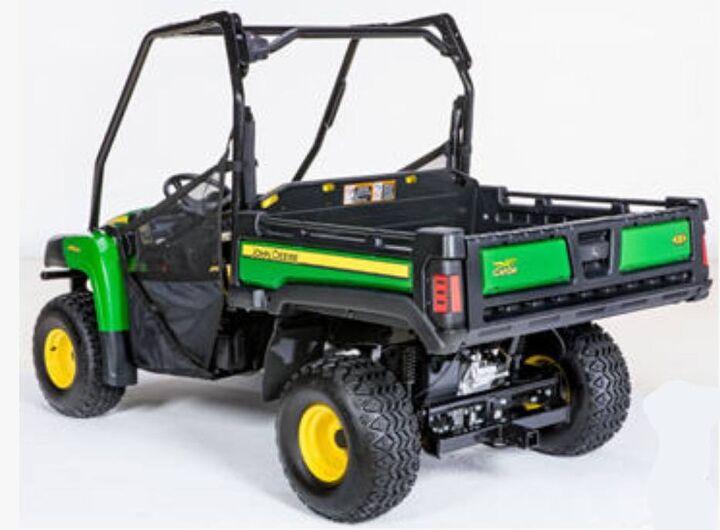 For the 2021 model year, the Kawasaki Mule 4010 has a MacPherson strut front suspension with 3.9 inches of wheel travel. Out back is a DeDion axle setup with just 2.8 inches of wheel travel. Don't mistake this for a liability, as it provides a stout platform for bearing heavy loads. Tires are 23 inches in total diameter on 11-inch wheels. Ground clearance is 6.9 inches and there is electric power steering which helps in providing an 11.2-foot turning radius.
Like the 'Saki, MacPherson struts live up front on the John Deere Gator HPX615E with coil-over shocks under the rear of this UTV. Tires are slightly bigger in overall diameter, measuring 24 inches, but ride on smaller 10-inch wheels. The rubber is an inch wider on the rear axle at 10.5 inches. Ground clearance is 6 inches. Note that the HPX has disc brakes compared to the Mule's drums.
John Deere Gator Buyer's Guide
Size & Weight
To quote those ridiculous click-bait internet ads, what you're about to read might surprise you. Overall length of the Mule 4010 is just 116.7 inches, nearly a foot less than the wheelbase of a Polaris RZR PRO XP (yes, that plays in a completely different segment, but it makes for a good frame of reference). Width is 62 inches and height is nearly 76 inches, so be careful where you park this thing. Curb weight is a not insignificant 1433 lbs and fuel capacity is 6.3 gallons. If you're wondering, its wheelbase is 73.6 inches.
The John Deere Gator HPX615E is even shorter, measuring just 108 inches from tip to tail on a 75.2-inch wheelbase. Width is less than the Kawasaki as well; at just 59.3 inches you'd better get comfortable bumping elbows with your buddy riding shotgun. Height checks in at 73.5 inches. Total dry weight? That'd be a suspiciously even 1500 lbs, not counting whatever's in the 5.3-gallon fuel tank.
Towing & Payload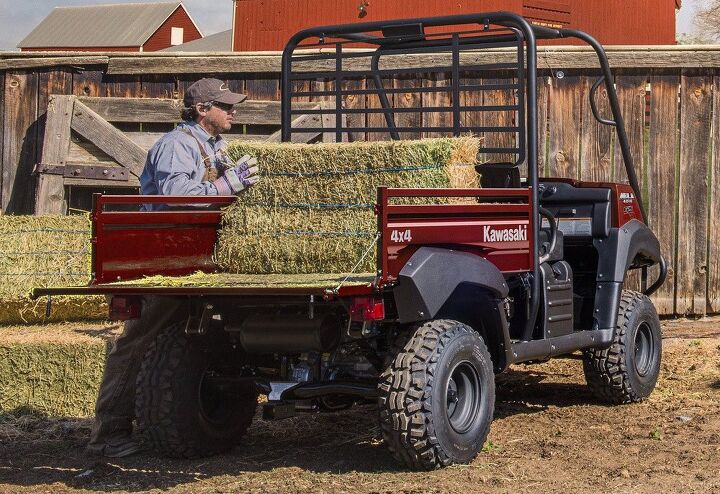 Here's the star statistics for people shopping machines in this segment. The Kawasaki Mule 4010 4×4's cargo box measures 46.3 inches long, 51.6 inches wide, and 11.4 inches deep. Go ahead and slap 800 lbs of mulch or manure back there, as that's its rated capacity. Total load capacity is 1327 lbs, so you can send two of your burliest farm hands out in this thing with little issue. Towing capacity maxes out at 1200 lbs.
The cargo box in the John Deere Gator HPX615E might be a little bit smaller in length, measuring 45 inches long by 52 inches wide by 12 inches deep, but is capable of supporting an even 1000 lbs of weight. Total payload checks in at 1400 lbs, so use caution with the number and size of passengers aboard if you're maxing out the cargo box. Towing capacity on the standard 2-inch receiver is 1300 lbs.
Styling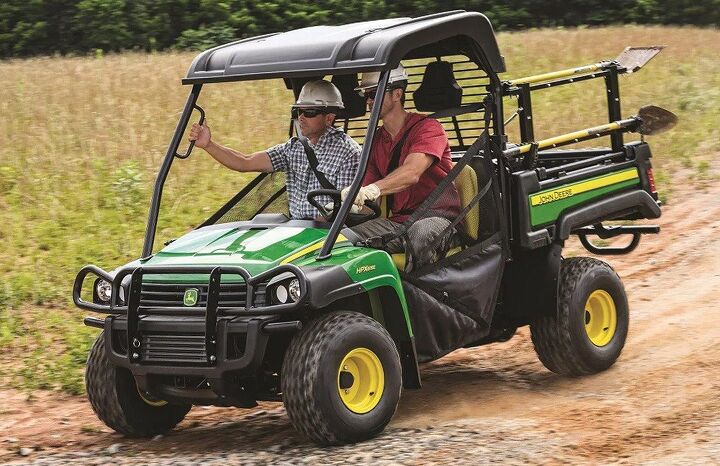 Pure work-based UTVS are generally not purchased for their pleasing aesthetics, with power and payload generally being of greater concern to shoppers in this segment. Still, the Kawasaki Mule 4010 4×4 is especially homely, with a bull-nosed front end and twin round headlights set into square buckets. Hood strakes provide a minimal amount of visual interest, at least. Mules aren't generally nature's best looking creatures; they aren't here, either. But you do get the choice between green and red.
John Deere has at least made an effort to jazz up its workhorse, giving it the appearance of quad headlights in slightly angry-looking angled pods. The front bumper is something more than a piece of protection slapped on the rig's nose, featuring a couple of curves and ribs. JD's trademark colors help, with the bright green and yellow popping like dandelions on your author's front lawn in what is essentially a rolling John Deere advertisement. Whether that's a good or bad thing is up to you.
Pricing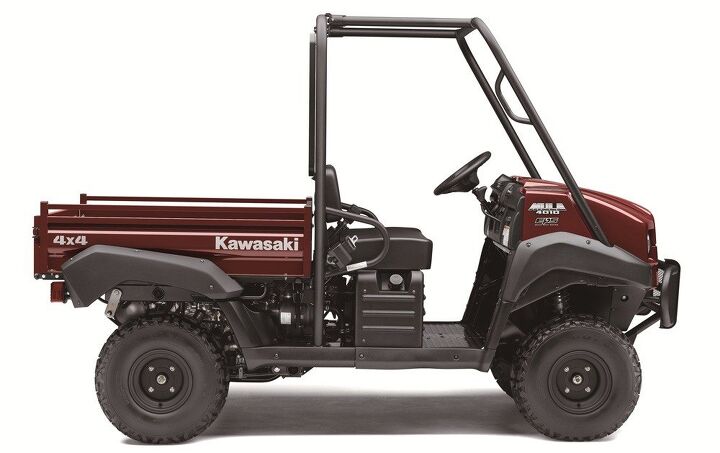 This year, the Kawasaki Mule 4010 4×4 is priced at $10,299 plus a $670 destination charge. That stout front bumper is included in that price, by the way. A soft cab enclosure is available for a not unreasonable $775, while a plastic roof can be added on its own for $120. That's a better value than the available seat covers. Toss in a $100 cab cooling fan while you're at it, ya cheapskate.
For $11,369 of the finest American dollars, one will find themselves in possession of the John Deere HPX615E shown on these digital pages. Included in that price are net-based occupant protections (read: mesh doors) and a black poly roof. All-terrain tires with an aggressive tread pattern for extra traction are a no-cost option, as are bucket seats instead of a bench. One can shave $470 off the asking price by deleting the poly roof.
Published June 17th, 2020 8:28 AM
Top Brands
Popular Articles