126 Views
John Deere Gator Buyer's Guide
November 6th, 2019 3:22 PM
Share
We're committed to finding, researching, and recommending the best products. We earn commissions from purchases you make using links in our articles. Learn more here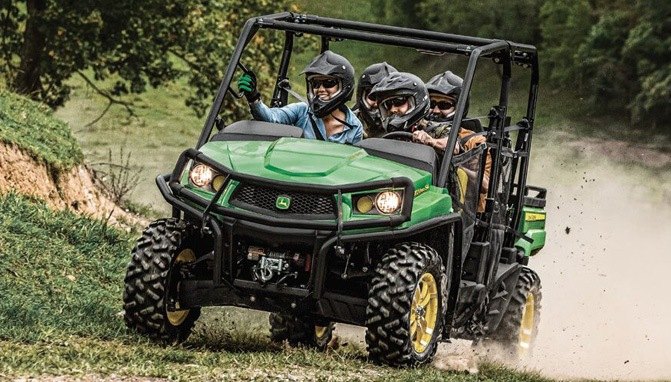 The Gator lineup is more varied than you might think
The John Deere Gator has been produced since the 1992 model year and today offers what just might be the deepest line of Utility Side-by-Side vehicles in the industry. This buyer's guide will look briefly at every model that bears the John Deere Gator name.
Just scanning through the models and looks like there is a John Deere Gator for just about any purpose a worker might need. And beyond that, there is even a Gator for those of you who like to hit the trails and have a good time after the work is done.
John Deere Gator T-Series
This is the John Deere Gator design that started it all. Not a typical modern Side-by-Side vehicle, the Gator T-Series has no Roll Over Protective Structure (ROPS). All told there are five models in the current Gator T-Series.
TS 4×2: Retailing for $7,349, the TS 4×2 features a modest 13.5hp 400cc air-cooled engine, 500-pound cargo box capacity, and 900-pound towing capacity. Front suspension is a single A-arm design, while the rear suspension is non-existent – all cushion comes from the high-floatation, low-pressure tires on solid axles.
TX 4×2: Upgrade to the TX 4×2 ($8,649) and you get a 649cc, air-cooled, V-Twin engine that produces 15.5hp. Specs include 600-pound cargo box capacity, 1,000-pound towing capacity, and an actual rear suspension system (semi-independent coil-over shocks).
TH 6×4: There are two Gator TH 6×4 models – one with a gas engine ($10,749) and one with a diesel engine ($13,349). The gas engine is a 675cc mill that produces 15.5hp, while diesel is a three-cylinder, 854cc offering that produces 18.2hp. Both models can tow 1,400 pounds, while cargo box capacity is 1,200 pounds for the gas model and 1,400 pounds for the diesel. Both machines offer four-wheel drive.
TE 4×2 Electric: For those who operate in areas where a gas engine is a problem, the Gator TE 4×2 Electric ($12,249) is the quiet and clean-running alternative. This unit features a 48V DC motor, 900-pound payload capacity, and 500-pound towing capacity.
TX Turf: The Gator TX Turf is designed to protect the areas you drive on – think grass in parks or golf courses. Features include a 13.5hp, 400cc engine, four-ply Cayman turf tires, four-wheel hydraulic disc brakes, 600-pound cargo box capacity, and 1,000-pound towing capacity.
John Deere Gator HPX Series
Only consisting of two models, the John Deere Gator HPX Series is designed for heavy duty work with little if any focus on trail comfort and performance. These are the machines you should consider for your work fleet.
HPX615E: The Gator HPX615E ($11,159) features a 617cc two-cylinder engine that produces 20 horsepower, bucket or bench seats for two, pickup-style tailgate, dumping cargo box, and four-wheel drive. Specs include a 1,000-pound cargo box capacity, 1,300-pound towing capacity, independent McPherson Strut front suspension, and coil-over shock rear suspension.
HPX815E: The Gator HPX815E ($12,659) is the diesel brother of the HPX615E. It features a three-cylinder 854cc diesel engine that produces 18.2 horsepower.
Mid-Size John Deere Gator XUV Series
Made up of a total of seven vehicles, the Mid-Size John Deere Gator XUV Series includes two- and four-passenger vehicles with fairly compact chassis. Deere considers these crossover models that can work and do a little playing when the time comes.
XUV560E: The Gator XUV560E ($8,399) relies on a 570cc V-Twin that produces 16hp and features four-wheel independent suspension with eight inches of wheel travel at all four corners. Specs include 500-pound cargo box capacity, 680-pound towing capacity, four-wheel drive system with limited slip front differential, and locking rear differential.
XUV590E: Sharing much in common with the XUV560E, the Gator XUV590E differs mostly with its 586cc Inline Twin engine that produces a more robust 32hp with a 48 mph top speed.
XUV590M: Upgrade to the Gator XUV590M and you get the everything offered in the 590E, along with electronic power steering. Towing capacity also increases to 1,500 pounds.
XUV590M Special Edition: Opt for the Gator XUV590M Special Edition ($14,999) and you get a unique black and silver color, along with a host of added options like 26-inch Maxxis Bighorn tires, 14-inch aluminum alloy wheels, FOX monotube racing shocks, sport steering wheel, occupant side retention half doors, roof, brush buard, cargo box rails, rear bumper, floor mats, and 3,500-pound Warn winch.
XUV560E S4: The Gator XUV560E S4 ($9,999) is the most affordable four-seat Gator in the entire lineup. It shares all the features of the XUV560E, along with two extra rear seats. The cargo bed capacity has been reduced to 400 pounds, while towing capacity stays the same at 680 pounds.
XUV590E S4: The Gator XUV590E S4 is the longer brother to the two-seat 590E. It comes with seating for four, while the cargo box capacity is reduced to 400 pounds and towing capacity is 680 pounds.
XUV590M S4: Essentially, Gator XUV590M S4 is the same model as the 590E S4, with the addition of electronic power steering.
Full-Size John Deere Gator XUV Series
The deepest of all John Deere Gator series is the full-size Gator XUV series. These models all feature a wider cargo box with 1,000-pound capacity, up to 2,000 pounds of towing capacity and seating for two, three or four people.
XUV825E: The Gator XUV825E ($13,359) relies on an 812cc three-cylinder engine that produces 52hp and a top speed of 44 mph. Features include seating for two, fully independent front and rear suspension with eight inches of travel up front, nine inches of travel in the rear, and 1,500-pound towing capacity.
XUV825M: This Gator XUV825M ($14,799) shares all the same features as the 825E, along with electronic power steering.
XUV855E: The main thing separating the Gator XUV855E from the XUV825E is its 854cc three-cylinder diesel engine that produces 22.8hp and 36.9 lb-ft of torque.
XUV855M: The Gator XUV855M ($15,839) has the same diesel engine as the vehicle above, along with electronic power steering.
XUV835 Models: There are five XUV835 models and have seating for three and all use the same 812cc three-cylinder engine that produces 54 horsepower. The XUV835E ($13,859) is the base Gator three-seater, all of which can tow 2,000 pounds and offer up four-wheel independent suspension with 7.9 inches of travel up front and 9.1 inches of travel in the rear. The XUV835M ($15,919) includes electronic power steering, while the XUV835M Cab offers up a full cab with doors and roll-down windows. The XUV835M HVAC adds heat and air conditioning to the cab package. Finally, the XUV835R ($24,929) adds LED lights and a Deere green roof.
XUV825M S4: The Gator XUV855M S4 ($16,549) is a four-seat version of the XUV825M we mentioned above.
XUV855M S4: As you can gather from the naming, the Gator XUV855M S4 ($17,589) is a four-seat version of the XUV855M we talked about earlier.
John Deere Gator RSX Series
When we first heard about the Gator RSX quite a few years back, we were pretty surprised. When you think off-road performance vehicle, a John Deere Gator isn't the first thing that springs to mind. And while these aren't pure Sport UTV models like the Polaris RZR, they offer more fun and performance than you'd think of from a company built of work.
RSX860E: The Gator RSX860E is unlike any other Gator we've talked about. This machine relies on a robust 839cc V-Twin that produces an impressive 62hp and a top speed of 60 mph. Features include four-wheel independent suspension with a wide arch design up front, nine inches of front and rear travel, adjustable FOX high-pressure piggyback shocks, and true locking 4WD with electronic locking front differential. Built for more than sport riding, the RSX860E also boasts 500 pounds of cargo box capacity and 1,500 pounds of towing capacity.
RXS860M: The Gator RSX860M ($12,199) has all the features mentioned above, along with electronic power steering.
M-Gator Military Series
Though these aren't available for consumer purchase, the John Deere Gator Military vehicles are worth mentioning. These are only available to US and Canadian Federal agencies and are designed to meet the needs of military operations.
M-Gator A1: The M-Gator A1 features an 854cc three-cylinder diesel engine (diesel and JP8 compatible) that produces 18.5hp and 33 lb-ft of torque. Other features in this U.S. Army certified machine include a reconfigurable cargo box with a 1,000-pound capacity and 14 tie-down locations (eight external, six internal), keyless ignition, rifle mount, fire extinguisher, high-back bucket seats, operator protection system, and front litter carrier.
M-Gator A3-T: The unique M-Gator A3-T was built in collaboration with International Automated Systems and was designed to provide U.S. Army units a "standardized, logistically sustainable, lightweight, all-terrain maintenance vehicle capable of efficiently transporting personnel, tools, test equipment and cargo across the airfield. It shares the same 854cc diesel engine as the M-Gator A1 and offers a payload capacity of 1,400 pounds. Lucas Cooney
I have been working exclusively in digital media since 1997. I started out with TSN.ca, spending nearly nine years creating and editing content on Canada's leading sports website. I left to join VerticalScope, Inc., one of the world's largest online publishers, to start a number of powersports publications. While at VerticalScope, I've helped create and oversee content for a wide variety of different publications, including ATV.com, Off-Road.com, ArcheryTalk.com, Tractor.com, RVGuide.com, and many more.
More by Lucas Cooney
Published July 25th, 2019 10:54 AM
Top Brands
Popular Articles