1 View
Best John Deere Gator Accessories
August 10th, 2022 5:37 PM
Share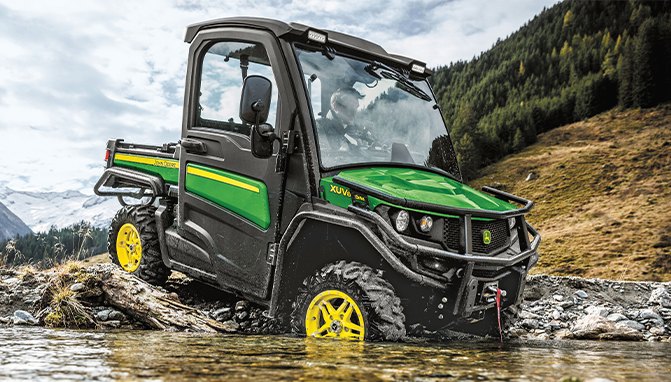 These accessories will get your Gator to work even harder for you
The John Deere Gator lineup is widely popular especially among the utility crowd. They are used by farmers, landscapers and folks all over North America and beyond. As you would expect from a lineup of machines this popular, there are a host of John Deere Gator accessories available owners can get the most out of their UTVs.
John Deere offers a wide array of Gator UTVs and the entire lineup has proven to be reliable, durable and capable. Several years ago, John Deere debuted the 825i and it ushered in a new era of higher horsepower and performance with the Gator lineup. That model has evolved into the 825E and the 835E, both of which produce over 50hp and offer more capability than ever.
No matter which model you have, our best John Deere Gator accessories guide is sure to have something that will take your machine to the next level.
Table of Contents
1. Editor's Choice: Black Boar Hitch
One of the great things about a UTV is their ability to tow a trailer, which makes a hitch one of the smartest John Deere Gator accessories you can buy. The Black Boar Multi-Hitch connects to the Gator's receiver with a hitch pin and a bridge pin. This system creates a hitch ball, winch strap loop, and pin hole to connect a variety of trailers, and towable accessories.
The shank of the Black Boar Multi-Hitch is six inches long and the hitch ball has a two-inch rise for ground clearance. The hitch ball (1/7/8? or 2?) is rated for up to 2000 pounds, while the winch strap loop can handle up to 5000 pounds.
2. SuperATV Heavy Duty Windshield
A windshield is one of our favorite John Deere Gator accessories, as it can help keep the occupants warmer and more comfortable. There are plenty of great options available, including this versatile offering from SuperATV. This is a three-in-one windshield, as it lets you choose between fully closed, vented, and open. We like options and you won't find many more in windshield than this. Beyond its versatile design, other features include shatter-resistant 1/4? polycarbonate, XR Optic hard coating (inside and out) for scratch resistance, speed nuts that allow for easy access to the hood, and all necessary hardware and instructions for installation.
Most Gator owners use their machine for some kind of work, and there is no other accessory that is better for helping get things done than a winch. The Warn VRX-45S is one of the best John Deere Gator accessories available with 4,500-pounds of pulling power and the added stability of synthetic rope instead of wire cable. The VRX series is new from Warn, and Warn is one of the best winch brands available. The VRX is waterproof with solid connections for long-lasting use. Its 4,500-pound capacity will help get your Gator out of a tough spot, or help you move heavy objects out of the way, like a fallen tree or other obstacles on the farm or jobsite. It comes with an easy-to-install toggle switch and all the wiring needed.
A lot of owners use their machines for working around the farm, hunting, and/or doing serious yard work. One of the best John Deere Gator accessories helps turn your UTV into a mini-tractor of sorts by adding a three-point style hitch and a slew of specialized dirt-working accessories. The Kolpin Dirtworks System plugs into your Gator's 2-inch receiver hitch and adds a hydraulic three-point system for use with accessories like a chisel plow, disc plow, landscape rake or back blade. This system adds all kinds of versatility to your Gator and lets you work up gardens, food plots, flower beds and more, as well as smooth out yards, clean debris and straighten out the driveway.
Another Kolpin products that will come in really handy is its Rhino Grips. These useful grips are among the best John Deere accessories you can find, or for any other working UTV. The Rhino Grips mount in a wide variety of locations and give you a solid and secure place to carry large tools. Like shovels, axes, line trimmers, guns and so much more. One of the hardest things to do is carry a shovel or other large tool on your Gator when you have to run across the property to get somewhere. They always seem to bounce around and fall off. Then you either have to stop and go back for them, or worse, get to where you're going and realize it's gone, so you have to go back along the way you came and hope you can spot it. The Rhino Grips let you set your shovel or other tool into the ribbed, rubber-finned grips and then secure the tool with rubber straps. It makes for very secure carrying and takes a lot of stress and aggravation with it.
Another versatile John Deere Gator accessory is a plow. This plow kit from KFI is ideal for clearing snow or moving sand, dirt or gravel. The plow is part of a kit that includes the 66? Poly-Pro straight blade, 3/16? steel rib and frame construction, shot blasted and powder coated black steel frame, plow markers, replaceable blade face, 21? of vertical blade height (27? with the included snow flap), 1/2? adjustable skids, and a mid-mount design that delivers 40-50% more lift height.
7. Swisher Finish-Cut Mower
When talking about the best John Deere Gator accessories, you want something that can make it even more useful. While the Gator is capable for trail and recreation use, the average owner is going to use it for other things more related to work. It's just the John Deere way, it seems. One accessory that makes a ton of sense and works very well with the Gator is a Swisher 44-inch Finish Cut Trail Mower. This powerful, pull-behind mower makes short work of your lawn, trail or other area that needs to be mowed quickly and efficiently. It has a self-contained 10.5 horsepower Briggs and Stratton engine and is extremely sturdy and well made.
Recent Updates
August 10, 2022: Removed promoted product recommendation
September 8, 2021: Added a promoted product recommendation.
April 5, 2021: Added windshield and plow options to the list.
We are committed to finding, researching, and recommending the best products. We earn commissions from purchases you make using the retail links in our product reviews. Learn more about how this works.
What accessories are best for my John Deere Gator?
With so many Gator models available from John Deere, and the wide range of previous models they offer, we looked at accessories that will work with most of the models available. The first Gator came out back in the late 1980s and resembled a three-wheeler with an extra set of wheels in the back, actually making it a five-wheeler. When Kawasaki created the first Mule shortly thereafter, John Deere switched things up and started producing Gator models that resemble what we have today. That is a long time to be making Gator machines, and with that history, comes a lot of machines. Will every accessory here fit every model ever produced? No, but there is something on this list for every Gator owner out there and these are the best John Deere Gator accessories to make your machine more capable.
Published December 15th, 2020 5:08 PM
Top Brands
Popular Articles