156 Views
Best John Deere Gator Roof Options
February 2nd, 2021 10:27 AM
Share
We're committed to finding, researching, and recommending the best products. We earn commissions from purchases you make using links in our articles. Learn more here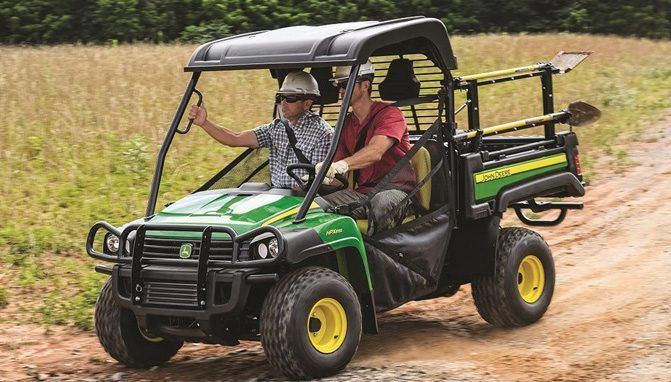 For protection from sun, rain or rocks, a good roof is something that every John Deere Gator shouldn't be without
We all know that the weather doesn't always cooperate with our wishes, so installing a John Deere Gator roof is a great investment to provide all the weather protection you'll need in the event of a sudden downpour. Your pants will thank you the next time you climb into the seat after a storm, and so will your upholstery.
But there are other benefits to installing a roof on your John Deere Gator as well. Rain isn't the only enemy threatening to spoil your drive; sometimes, sitting directly under the hot, beating sun can be just as uncomfortable, and a bit of shade goes a long way. In the case of hard plastic roofs, you might find that you have a whole new surface to mount accessories like auxiliary lighting and cargo baskets, that open up new avenues to expand your Gator's versatility even more.
To help you navigate the market so you can find the perfect John Deere Gator roof for your needs, we've put together this list of the best Gator roof options on the market today, in no particular order.
Table of Contents
1. Rough Country Molded UTV Roof
A well-trusted brand with a large following in the off-road and powersports communities, Rough Country offers this molded universal-fit UTV roof, sized just about perfectly for the Gator. It's made from UV-resistant polyethylene, meaning it should be able to soak up the sun's beating rays for years without serious degradation or fading, and it tips the scales at just over 10 pounds – hardly enough to raise your Gator's center of gravity. Better still, the universal two-piece UTV roof installs quickly and easily onto the roll bars with a set of galvanized p-clamps that have been vinyl-coated to ward off corrosion. The roof also features a recessed area that's perfectly sized for a cooler or a couple of jerry cans to be strapped down, leaving the cargo bed open for other items. As John Deere Gator roof options go, this is one of the best around – especially at its price point.
2. Ecotric Black Plastic Hard Top Roof
Billed as a "high-quality direct replacement" for factory hard roofs, this black plastic hard top UTV roof from Ecotric is the perfect roof for the John Deere Gator owner that prefers something with a lower profile than Rough Country's offering. It's reinforced in all the right spots – the product of hours of exhaustive research and development – so as to meet or exceed OE strength and durability standards. Translation: it may look simple, but it's more than up to the task of keeping your Gator's cockpit shaded, dry, and shielded from falling debris like twigs and acorns. It's priced similarly to Rough Country's universal UTV roof, and although this particular roof doesn't have much customer feedback on Amazon, the overwhelmingly positive feedback on other Ecotric products, such as the company's light truck roof rack crossbars and more model-specific UTV roofs, speaks to Ecotric's commitment to quality.
3. John Deere Gator OPS Soft Roof
We'd be remiss if we didn't include John Deere's own Gator OPS soft top roof. It's no hard top, but what you lose in rigidity you gain in lightness; this John Deere Gator roof weighs a small fraction of what the hard top roofs on this list weigh, and it's still more than up to the task of protecting your cabin from sun fade, falling debris, and the random downpour. This John Deere Gator roof is made from durable fabric with a water-repellent coating, and it attaches easily and tightly with a simple dual tension strap system for a perfect fit on John Deere's OPS roll bar system, not to mention a two-year warranty against defects. On top of it all, it's about as affordable as they come.
If you're looking for additional protection for your ride, these windshields are perfect companions to any John Deere Gator roof.
4. SuperATV Heavy-Duty Scratch-Resistant Full Windshield
One of our favorite sources for all things ATV and UTV, SuperATV offers this strong, durable polycarbonate full windshield for the John Deere Gator. Protection from the elements is one thing, but flying rocks and other trail debris are quite another. The shatter-resistant windshield is a ¼"-inch thick, 250 times stronger than glass, and features a hard optic coating on both sides that resists scratches so you'll have a clear view for years to come. Better yet, it's designed and formed specifically for your Gator model, with a weatherproof seal at the bottom to keep rain and sleet from leaking past into the cabin and can work with most soft or hard top roofs. There may be other, cheaper John Deere Gator windshields on the market, but there are few manufacturers we trust as much as SuperATV.
5. SuperATV Heavy-Duty Rear Windshield
You can get the same excellent SuperATV windshield protection for the backside of your John Deere Gator's cabin, thanks to the company's polycarbonate rear windshield. This part is absolute overkill, made from the same strong, 1/4"-thick polycarbonate as their front windshields, with a light tint to further reduce the UV rays entering your side-by-side. It's also a worthwhile upgrade if you're looking to minimize the bothersome "suction" noise that sometimes comes with just using a front windshield. Compatible with both soft and hard top roofs, the SuperATV polycarbonate rear windshield is the perfect solution to stop rocks and other debris, blowing rain, and sliding tools and other cargo from entering the cabin through the rear.
Is it better to have a hard or soft roof?
This really comes down to owner preference. Hard roofs offer better protection from trail dangers like branches, rocks, etc. but are more of a permanent fixture on your UTV. A soft roof is great when you want to keep yourself protected from the elements but still want the option of an open-air riding experience.
How hard is it to install a roof on my UTV?
Again this depends on which style of roof you go with. Most hard top roofs can be installed in less than a half-hour, requiring only basic hand tools to get the job done. Soft tops are by far the easiest to install as most utilize straps that require no tools at all and can be installed in a matter of minutes.
We are committed to finding, researching, and recommending the best products. We earn commissions from purchases you make using the retail links in our product reviews. Learn more about how this works. Aaron Brzozowski
Aaron is a freelance writer, videographer and car enthusiast based out of the Detroit area. He has a special affinity for the Porsche 944 series, and once owned a Volvo 240 sedan with a Weber carb in place of the factory EFI system. His work has appeared on AutoGuide, GM Authority, /Drive, and VW Vortex, among other sites.
More by Aaron Brzozowski
Published February 2nd, 2021 10:17 AM
Top Brands
Popular Articles