615 Views
Best Can-Am Defender Doors
May 25th, 2021 12:04 PM
Share
We're committed to finding, researching, and recommending the best products. We earn commissions from purchases you make using links in our articles. Learn more here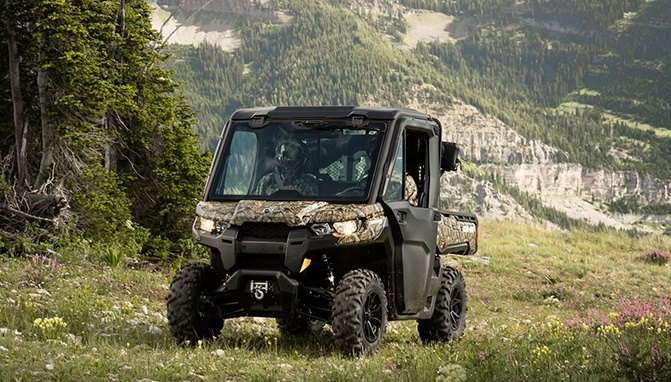 For when you need to add a little extra protection to your Defender
The Can-Am Defender has been really catching on as a utility and utility/recreation machine as of late. The machine was designed as a contender to the market space dominated by the Polaris Ranger, and since its introduction in 2016, it has steadily gained in popularity and sales. As people add this incredibly capable machine to their lives, there comes a need to customize it to specific lifestyles. One option to tailor the Defender to your needs is to add doors, be it half or full. There are some interesting options for Can-Am Defender doors that add extra protection to your Defender cab.
Table of contents
1. Editor's Choice: Super ATV Aluminum Half Doors
Half doors are pretty sweet for those wanting extra protection and a cool, custom look, without having to enclose the entire cab. These doors from SuperATV are incredibly sturdy. They have an aluminum tube frame with an aluminum outer skin. The hardware bolts directly to the Defender and a sturdy, well-designed latch keeps the door closed when you're out on the trail. Like many door systems, these Can-Am Defender half doors open suicide-style (from the front) and carry the weight on the frame at the rear of the seat. They are a cool, stylish way to keep mud and dirt from coming into the lower half of the cab. Plus if you are planning on a custom wrap for your Defender, these are definitely something you'd want to add.
Promoted Product: Kemimoto Soft Cab Enclosure Doors
Many of you who own a UTV don't stop using it when the weather turns cold. Windshields and a roof are common additions to a machine, like the capable Can-Am Defender, and door kits are a natural addition, too. The downside to adding doors is cost, especially when it is something you might want to take off during the summer months when you want to cool things down a bit. Kemimoto makes a durable and affordable soft-door kit for the Can-Am Defender that adds that level of protection for your cab, without laying waste to your bank account. These door kits are made from a durable PVC material with clear, roll-down windows and sturdy zippers for opening and closing. The doors mount tightly to the machine to keep snow, mud, and the other elements out, while keeping you warmer inside. The doors include slots that allow you to have side-mounted mirrors, too. Kemimoto covers the doors with a six-month warranty for added peace of mind.
Kemimoto is extending a special 16% savings on your purchases when applying the unique code ATV during checkout.
Can-Am created its own half doors and even included them on special edition versions of the Defender. There is an old saying that goes something along the lines of, "Nothing fits like factory." This is pretty true here, as well. Being true factory Can-Am Defender doors means they are going to bolt right on and look like they were there right as the machine rolled off the assembly line. These doors have a rear hinge, so they open from the front. The door has a metal frame with a plastic skin and interior pockets for added storage. If you wanted factory Can-Am Defender doors, this is what you need.
3. SuperATV Full Cab Doors
Yet another option for Can-Am Defender doors comes again from SuperATV. These full frame doors are actually pretty cool. Instead of opaque plastic, steel or aluminum, these are lightly-tinted, ¼-inch, abrasion-resistant polycarbonate. You can see through the entire door while still enjoying protection from the elements.
They have a carbon steel frame and durable latches and hardware to ensure they last a long time. There is a rubber weather seal around the entire door to keep dust and mud out and they even have a bolt-on side mirror for additional value and vision. One of the cooler options for Defender doors out there.
4. Seizmik Can-Am Defender Soft Door Kit
Seizmik has been making UTV accessories for many years, so it only makes sense that the brand has a set of quality doors for the Can-Am Defender. Designed to fit all Defender models, these doors mount quickly without cutting or drilling into any part of the vehicle. They are supported by a steel frame and feature a 2-stage double rotary latching system that maximizes latch engagement while requiring less effort to close.
Recent Updates
November 7, 2023: Promoted Product recommendation added.
March 29, 2021: Removed items no longer available and added the soft doors.
We are committed to finding, researching, and recommending the best products. We earn commissions from purchases you make using the retail links in our product reviews. Learn more about how this works.
Why aren't there more Defender door options available?
That's a good question and all we can say is, the aftermarket is always coming out with new products. R&D takes time and money, and there has to be enough demand for products that aren't already out there. As the Can-Am Defender grows in popularity, there will be other companies offering doors and other body parts for the machine.
What is the difference between a full and half door for my Defender?
Generally speaking, if you want to fully enclose your cab area, you need a full door system, along with a roof, and front and rear windshields. You can add Can-Am Defender half doors to the same setup, but, obviously, you're not going to be fully enclosed. You can, however, add half doors to a machine without any other can parts. Full doors, in general, require a roof and front/rear windshields to properly seal. Derrek Sigler
Derrek's love for all things ATV started when he was a mere 11 years old, growing up on his family farm. His mom gave him and his sister a choice - get a horse, or a three-wheeler. The sister wanted the horse, and Derrek wanted the ATV. Luckily he won out, and was soon burning up the trails on a Yamaha Tri-Moto 200. By the time he was 14, he had saved enough of his own money by working on the farm and in his folks restaurant to buy a new 4-wheeler. That happened the day he and his mom were driving past the dealership and saw 1987 Banshee. His mom had no idea what he was buying, and he never looked back. He's been riding ever since, and been writing professionally for many years. He has ridden all over North America and been behind the controls of just about every machine out there. And yes, he still has his 1987 Yamaha Banshee.
More by Derrek Sigler
Published May 1st, 2020 2:38 PM
Top Brands
Popular Articles