22 Views
Best Can-Am Defender Seat Covers
January 31st, 2022 7:46 PM
Share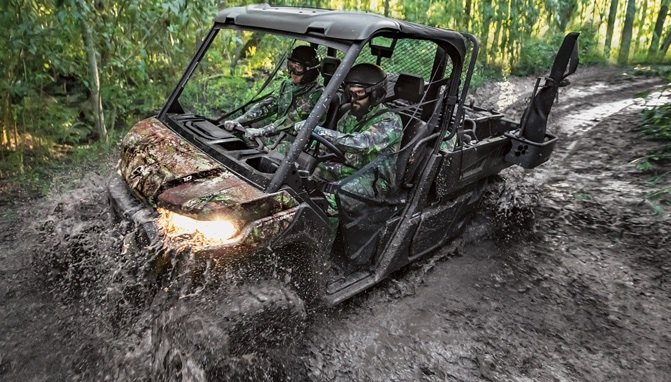 Get new life out of your seats and protect them from further damage
A set of Can-Am Defender seat covers is the perfect antidote to the damages and routine wear-and-tear your Defender's seats are faced with every time you use and abuse it. But it's not just damage from excess water, UV light, and sand abrasion that Can-Am Defender seat covers can guard against; the best seat cover sets are made from thick, durable material that also provides protection against cuts and tears from years of hopping in and out, or from incidental contact with sharp tools.
Of course, there's another big reason why you might shop for a set of Can-Am Defender seat covers: appearances. Seat cover sets often feature attractive-looking nylon weaves or leather-like vinyl that look sharp and provide added comfort. Some retailers even offer two-tone seat cover color schemes, camouflage print, and other designs, although those often tend to be expensive or made-to-order, which can leave you waiting several weeks for your new covers.
Convinced? Then you'll want to take a peak at our list of the best Can-Am Defender seat covers on the market today.
Table of Contents
1. Black Cordura Seat Covers
Durable, inexpensive, and effective, these black Cordura Can-Am Defender seat covers from Motorcycle Parts Plus are what you get when you just need something that will do the job. They're made of 600-denier Cordura nylon that's as puncture- and wear-resistant as it is comfortable. These covers are also water-resistant, so there's no need to sweat a bit of rain, puddle splashes, or, well, sweat. Crucially, this seat cover kit comes with six individual pieces so that when installed, you can retain your flip-up passenger seats – one of the hallmark features that makes the Defender such an asset.
If you care about keeping your bum warm on those chilly mornings, you'll want to consider these OEM Can-Am Defender seat covers with built-in heating elements. Naturally, they're one of the pricier options out there, and in order for them to warm, you'll also need Can-Am's Heated Accessory Electrical Harness. But making them a more palatable option is the fact that you can pick-and-choose which seat or seats you want to cover: driver, outside passenger, or both.
Granted, heat isn't all they provide; these Can-Am Defender seat covers also yield exceptional protection of the factory seat bottoms, thanks to their durable, water-resistant, easy-to-clean vinyl construction. Each kit comes with the seat bottom cover with integrated heating element, and a dash switch with high- and low-heat settings.
3. Universal UTV Kid Cushion
Side-by-side riders with younger passengers will love this one: a universal "kid cushion" from UTV Mountain Accessories. Of all the Can-Am Defender seat covers on the market, this is the only one we're aware of that provides three inches of cushion and a generous boost in height. But beyond covering the seat and keeping it protected from the odd pocket knife and jean rivet, and even beyond helping shorter riders to see over the dash, this kid cushion helps improve those riders' seat belt positioning, keeping it across the chest and shoulder where it should be – not across the throat.
Related Accessories
Neverland Deluxe Waterproof Oxford UTV Cover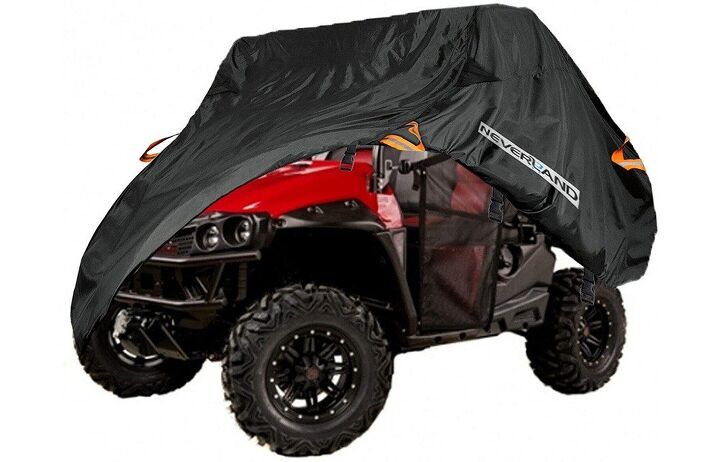 If it's seat coverage and protection you're after, few things are going to be as effective while your Side-by-Side is parked than a full UTV storage cover. For our money, we're going with this universal cover from Neverland. Made from Denier Oxford Cloth materials, this UTV cover is both waterproof and durable, delivering excellent protection for your side-by-side, and Neverland offers a range of different sizes to fit an array of Can-Am Defender models; just be sure to look up the dimensions of your particular Defender before you pull the trigger. It also features strong, high-visibility handles with reflective striping, and a pair of air vents ensure that your UTV doesn't collect too much moisture.
Can-Am Defender Driver Underseat Storage Bin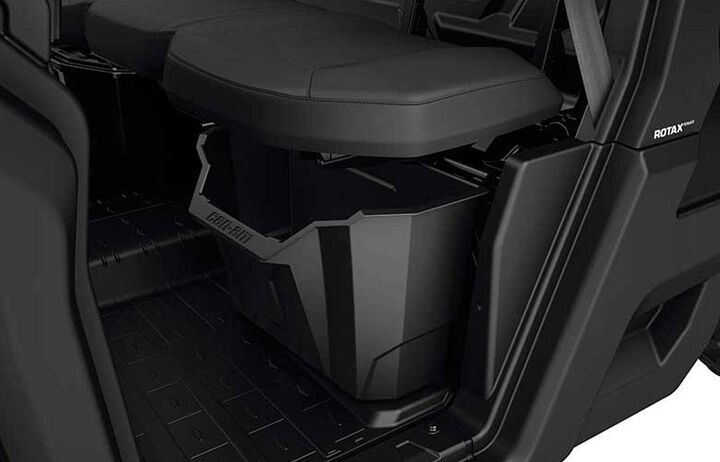 One of the Can-Am's best features for those who work is the flip-up seats, which give you easy access to the space underneath. It'd be a shame not to use that space for storage, and that's exactly what these OEM underseat storage bins allow you to do. Snapping into place below the driver and passenger seats, these durable polypropylene storage bins can store up to 4 gallons' worth of gear, and the passenger-side bin includes a water-resistant lid to keep items clean, dry, and safe from the elements. The driver-side bin doesn't have a lid, making it better-suited for weather-resistant things that you might need to grab immediately in a pinch.
Can-Am Seat Belt Shoulder Pads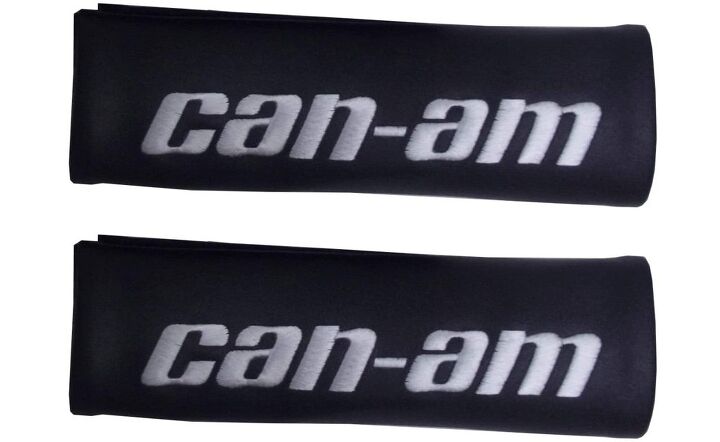 When the terrain gets rough and your UTV is being tossed around by ruts and bumps, your seat belt can get to feeling mighty uncomfortable. You can spare your neck and shoulder with these Can-Am seat belt shoulder pads. Manufactured and sold directly by Can-Am, these pads slip right onto the seat belt, sliding up or down into position to keep your shoulder belt from acting more like a fine-tooth saw. Plus, they look stylish, with an embroidered Can-Am logo in white that elevates your seat belt's appearance, and they come in packs of two, protecting both driver and passenger.
We are committed to finding, researching, and recommending the best products. We earn commissions from purchases you make using the retail links in our product reviews. Learn more about how this works.
Published August 10th, 2020 12:11 PM
Top Brands
Popular Articles