551 Views
Best Polaris Ranger Snow Plow Options
October 21st, 2021 5:38 PM
Share
We're committed to finding, researching, and recommending the best products. We earn commissions from purchases you make using links in our articles. Learn more here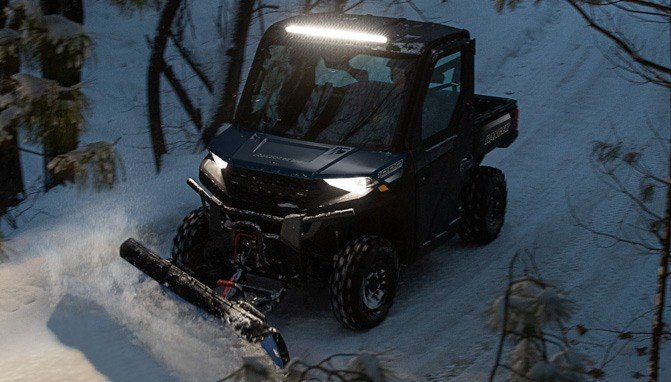 4 plow blades to transform our Ranger into a snow clearing machine
As the northern hemisphere plunges into winter's icy grip, now might be a good time to think about getting a Polaris Ranger snow plow, putting your side-by-side to work this winter instead of sending it into storage.
UTVs like the Polaris Ranger make great snow plows for longer driveways and smaller parking lots – places that a full-size truck with a plow can't easily navigate, and which a shovel or snowblower would take an unreasonable amount of labor to clear. Both UTV manufacturers and the aftermarket recognized this years ago and today there are a variety of options of snow plow blades ready to transform your Ranger into the snow-pusher it was meant to be.
But not all Polaris Ranger snow plow blades are made equal. Widths range anywhere from 50 inches up to 72 inches, affecting not only how much area you can clear in one pass, but also how able your Ranger is to push through it. Shoppers with smaller-engine Rangers, or those who live in areas that routinely see monster blizzards, would be wise to keep that in mind. And there's also the blade material and coating to take into account. The vast majority of UTV snow plow blades are made from 11- or 12-gauge steel, but the sort of coating in place to protect the steel from rusting varies much more.
Here, we've rounded up the best Polaris Ranger snow plow options on the market, so you can compare them all in one stop and make an informed choice.
Table of Contents
1. Editor's Choice: KFI UTV Snow Plow Kit for Polaris Ranger
The KFI UTV Snow Plow Kit for the Polaris Ranger covers all the bases. It's available in 60", 66", and 72" sizes, formed from either 11-gauge sheet steel or molded poly, giving you some freedom when it comes to exactly what style is right for your needs. Better yet, the kit is all-inclusive, shipping with push tubes and a mount so you don't have to go and assemble a range of parts; everything you need is right there as soon as you take delivery. It's a bit on the pricey side, especially if you spring for the available poly construction, but worth the investment if you want a complete, well-designed kit that installs in seconds and delivers up to 30 inches of lift.
2. Best Hydraulic Operated Plow: Polaris Glacier Pro Snow Plow System
We wouldn't be doing our job properly if we didn't get around to mentioning Polaris's own Glacier Pro snow plow system. The blade is available in sizes from 60 to 72 inches, with both poly and steel blades available, and the steel blades look especially great, with the Polaris name proudly stamped into the sheet steel under a durable matte black finish. It's not the fanciest of Polaris Ranger snow plow blades, but it's built to last, and both it and the other major component – the model-specific integrated mount/push bar frame ( like this one) – are designed and built for maximum compatibility with the Ranger. If you're the sort who'd rather not roll the dice on third party equipment, this is the option for you.
3. Warn ProVantage Side X Side Plow System
If you've got a penchant for proven big name brands and customization options, then the Warn ProVantage ATV and Side X Side plow system is for you. Blades are available in sizes from 72 inches at the large end, all the way down to 50 inches at the shortest. The smaller sizes are aimed more at ATVs than side-by-sides, as 50 inches isn't even long enough to cover the full width of the Polaris Ranger, but hey, we won't tell you how to live. More crucially, Warn's snow plow system offers more opportunities for fine-tuning, with straight and standard blade profiles, a motorized pivot mount, and even a bucket conversion kit expanding the number of possible uses. This does mean you'll have to buy individual parts separately; even the basic plow base and Polaris-specific mounts are sold separately. But that flexibility might be worth the inconvenience.
4. Tusk SubZero Heavy Duty UTV Snow Plow Kit
A simple, straightforward, reliable Polaris Ranger snow plow kit, this Tusk SubZero Heavy Duty plow is ready to go when you are, assuming you've got a winch mounted up front. One consideration made here that we especially like is the inclusion of a synthetic rope to spare your winch line from wear and tear as you raise and lower the plow blade. It's all about the little things. Versions are available for Ranger models from the 400 all the way up to the 1000, each one packaged with square-tube push bars and a simple, model-specific mount, which makes shopping for a Tusk SubZero for your rig about as straightforward as it gets.
What are the top features to look for when picking out a snow plow for my RANGER?
First and foremost is the width of the plow blade. A popular width for the RANGER is 60" wide, but you could go narrower. While a narrower blade means less weight on the front end, it also means more work for you. Another important feature you can base you buying decision on is how the blade is actuated. The most popular way to raise and lower your blade on a UTV is to use a winch. Many UTVs already have them installed or can easily get one mounted so you can raise and lower the blade from the seat of your cab. Hydraulically actuated plows are also popular but also come with a much higher price tag. The benefit of these are that they're easy to actuate from the cab but also give you the ability to move the pitch of the blade from left to right, where a winch actuated only raises and lowers the plow blade.
I've made my choice in snow plows, but is there anything else that I need to get?
If you live in a location where you need a snow plow, you likely already have tires suitable for the terrain. If you don't, that is probably where your next investment should be. You want a set of tires that works well in the snow, so look for a good set of mud tires that have an aggressive lug pattern and good self cleaning ability. You also may want to invest in some snow chains for your rig as well.
Additional Resources
Recent Updates
10/20/2021: Ranked Products, updated product descriptions, updated product links, added FAQ, added additional resources
We are committed to finding, researching, and recommending the best products. We earn commissions from purchases you make using the retail links in our product reviews. Learn more about how this works. Aaron Brzozowski
Aaron is a freelance writer, videographer and car enthusiast based out of the Detroit area. He has a special affinity for the Porsche 944 series, and once owned a Volvo 240 sedan with a Weber carb in place of the factory EFI system. His work has appeared on AutoGuide, GM Authority, /Drive, and VW Vortex, among other sites.
More by Aaron Brzozowski
Published November 12th, 2020 4:19 PM
Top Brands
Popular Articles