1 View
March 29th, 2021 1:01 PM
Share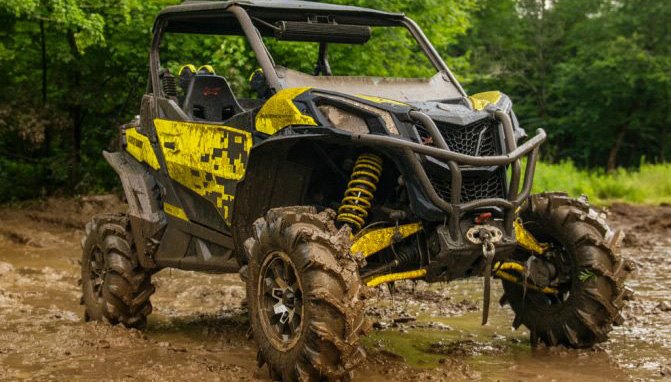 Mud tires for every budget and all types of mud
Regardless if you're driving a high-horsepower Sport UTV, a hard-working Utility model, or one of the many great machines that fall somewhere in between, as spring time approaches, many of us start thinking about playing in the mud. To have the most fun getting dirty, you need the best UTV mud tires you can get.
Selecting the right mud tire for your machine is a matter of knowing how aggressive you want the tire to be, and what your budget will allow. There are some mud tires that will make short work of a mudhole, but will also tear your lawn apart if you drive across it, while others are a little less aggressive, but will still give you more traction than the stock knobbies your machine came with.
Figuring out which kind of mud tire you need for your UTV really boils down to what type of terrain you normally drive your UTV over. If you are always looking for the biggest and baddest mud holes around, look for the more aggressive options on our list. You'll want tall treads that are well spaced out to both dig into the mud and easily clear it out so it doesn't weigh down your tire. But if you spend more of your time more casually hitting the trails and maybe doing some rock crawling, we've found some options that will offer you a smoother driving experience with enough bite to play in some more moderate muddy environments.
Here are the best UTV mud tires on the market to help you decide.
1. Editor's Choice: Sedona Mudda Inlaw Radial
Sedona, like many other UTV tire manufacturers, offers several tires worthy of making this list. The Mudda Inlaw Radial, however, is our pick and not just because of the catchy name. These are really great, aggressive mud tires. These are radial tires, meaning they will balance out well and not beat you up on the trail. They have an 8-ply carcass for extreme durability and a 2-inch deep tread that deepens to 2 ¼ inches at the outside edge, to give you even, outstanding traction that pushes mud away from the tire. The style and direction of the tread make this an aggressive tire that can be ridden to the mud pit, not just through it. In other words, the Mudda InLaw is on the short list of best UTV tire for trail and mud.
Maxxis is one of the biggest brands in rubber, so it makes sense that it makes a monster mudder that is one of the best UTV mud tires available. The Maxxzilla Plus is a hyper-aggressive 6-ply tire with 1.75-inch deep tread. The design of the tire grips anything and the tread is self-cleaning, which is amazing given how aggressive it looks. The secret lays in the channels molded into the tire face that direct the muck and slop out and away from the tire. This is one of the bigger side-by-side mud tires and it is very aggressive, making it a better fit for a machine with a lot of clearance and a lot of horsepower to pull it.
Of the best UTV mud tires offered by STI, the Out & Back Max, is its most aggressive one that will work with any UTV thanks to the wide range of sizes available. The Max is a meaty tire, with 2-inch deep directional stepped-lug tread that digs in and force the mud out and away from the tire. These 8 ply UTV mud tires are tough, too, with tread that wraps around the sidewall for added protection and traction. The tread blocks are spaced well, but not so far apart that the tire is too rough to ride from the trails to the mud holes. However, it is aggressive enough that it'll make short work of your lawn, so be careful where you drive.
4. Best Competition Mud Tire: Gorilla Silverback MT2
If you look at what the ultra-high performance UTVs are running for mudders, you'll notice that the tires tend to be narrower. The idea, which is the same as swamp buggy racers use, is that the faster you go in the mud, the narrower you want the tire, so it digs though the mud instead of float over it. The MT2 from Gorilla is one of the best UTV mud tires for ultra-high performance machines. It has three-stage, 2-inch lugs across the entire surface with bead-to-bead lugs for ultimate traction for ruts and deep slop. This is a tough, 6-ply tire that runs true to size, even a low pressure. But if you've got a long ride to your nearest mud hole, understand that this tire will not be the smoothest on hard pack.
5. Best Extreme Mud Tires: SuperATV Assassinator
If you absolutely refuse to get stuck in the mud, it's hard to think of anything you'd rather have on your machine than SuperATV Assassinator tires. With mud-slinging three-inch lugs, the Assassinator basically acts like a rotating shovel that can work its way through the nastiest muck you can find. And the self-cleaning tread pattern ensures the tire doesn't get bogged down with heavy mud. Despite their appearance, the massive lugs offer pretty good centerline support, providing a relatively comfortable ride on the trails. Without a doubt one of the best UTV mud tires available today, the SuperATV Assassiantor is not for everybody. With individual tires weighing anywhere from 50 to 76 pounds depending on size, you need a powerful machine with plenty of low-end grunt to take full advantage of their performance.
Not every great mud tire is hyper-aggressive. The EFX MotoMTC is one of the best UTV tires for trail and mud. It has a deep, interlocking tread patterns with 1.25-inch deep tread. If you're looking for a serious swamp tire, this isn't the one for you, but if you are looking for rubber that will get you through moderate mud holes and still let you enjoy the trail home, this is a great choice. It has a solid contact patch and 6-ply construction, with decent sidewall tread.
Kenda has been a go-to tire brand for ATV and UTV owners for years now, with the venerable Bearclaw being a beloved replacement tire. But the Kenda tire lineup has a more appropriate tire for this list - the Executioner. This is a 6-ply tire made specifically to tackle the slop with a tread depth of just over an inch. It's reinforced traction knobs are designed to reduce knob rollover when you are using lower tire pressure, which improves ride comfort and helps increase tread life. It also features Kenda's rim saver to help protect your wheel against rock and rut damage. The Kenda Executioner is available in eight sizes in 25-, 26-, 27-, and 28-inch diameters.
It's not hard to see how the Cryptid made a list of best UTV mud tires. All you'd need to do is see how many of the special mud-edition factory UTVs come with this exact tire to know that it is a great choice. At the center of the classic chevron tread pattern, the lugs are 1.5 inches deep. At the shoulder, they expand to 2 inches deep. This gives the Cryptid a flat profile with plenty of sidewall bite for pulling you out of ruts, while retaining decent trail manners between mud holes. The center lugs are grooved for self cleaning and the tire carcass is a true 6-ply that is very durable. And it's from ITP, one of the most trusted names in UTV tires.
9. Interco Black Mamba Lite
The Black Mamba is one seriously aggressive tire, made for extreme conditions. This isn't a tire for speeding through a mud hole; this a tire for clawing your way back out of nasty, foul-smelling, thick sludge. A wide open tread patterns acts like a paddle tire, with big blocks of tread that wrap all the way to the bead. Clumps of knobs smooth out the ride between paddle sections. The Black Mamba is a 6-ply tire that is made with legendary Interco toughness. There are other great mud tires from Interco, but if going through places you probably shouldn't go is your jam, this in one of the best UTV mud tires for you.
10. Best Budget Mud Tire: Tusk Mud Force
Tusk products have built a great reputation for being inexpensive but high in quality. The Tusk Mud Force tire is very interesting in that it has a solid 6-ply construction, and ¾-inch wrap-around tread that is very directional and highly self cleaning. The tire was designed to have a constant contact patch with the ground, making it one of the best UTV tires for trail and mud. The best part is the price. These tires are a fraction of the cost of most options on this list.
Who Makes the Lightest UTV Mud Tire?
With mud tires, all the rubber that is molded into the tire to make that extreme tread can add a ton of weight. Add to that the casings for the tires to make them puncture resistant, and you end up with a pretty heavy tire. To combat the weight, you will see manufacturers use different compounds to lower the weight. If they can get the same protection from a 6-ply tire over an 8-ply, that saves weight. Another area they sometimes cut weight is by reducing the tread depth. Even a ¼ of an inch can cut a pound off a tire.
You'll also notice that the higher performance machines tend to run narrower tires. These are big, heavy machines, so there is no amount of flotation from the tire that will help. Quite the contrary, the wider the tire on a heavier machine tends to cause the tire to push and not get as much bite in the mud. The narrower tires dig in and grab.
What is the Best UTV Mud Tire?
Picking the best UTV mud tire for your machine is all about picking the tire that best fits your conditions and budget. Some tires are made to work best in mud alone, and will not give good stability and handling on a regular trail. Tires that work well for more all-around use will have a bigger contact patch for dirt and hard pack use.
Price can also be a concern. You may have noticed that some of the tires on this list cost in excess of $200 each, while others retail for less than $80. If the budget is a concern, know that each tire on this list was selected because it works. It will give you better traction in muddy conditions over the stock tire on your machine, with one or two exceptions. Set your budget and stick with it. Mud tires do you no good if you don't have enough gas money to go riding.
Recent Updates
March 26, 2021: Added the Kenda Executioner to our list.
We are committed to finding, researching, and recommending the best products. We earn commissions from purchases you make using the retail links in our product reviews. Learn more about how this works.
Published October 21st, 2020 11:39 AM
Top Brands
Popular Articles