4 Views
May 19th, 2021 4:38 PM
Share
We're committed to finding, researching, and recommending the best products. We earn commissions from purchases you make using links in our articles. Learn more here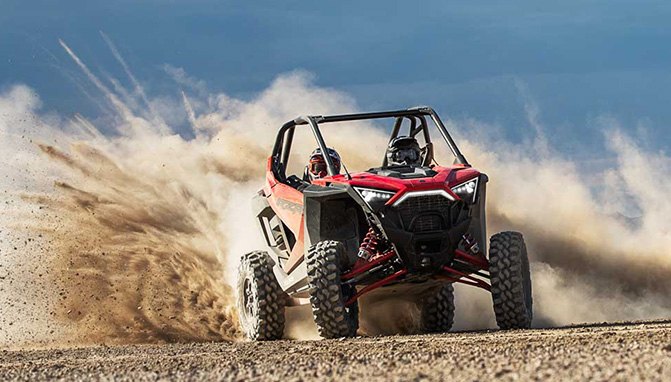 These wheels add strength and style to your favorite UTV
Whether you're looking for a quick, bolt-on styling mod for your side-by-side or you're wanting to change up to a different set of tires, Fuel UTV wheels represent one of your best aftermarket part options.
Formed in California in 2009 by MHT Luxury Alloys, Fuel Off-Road has quickly ascended through the ranks to become one of the most well-regarded and best-known brands in the off-road aftermarket wheel space. Naturally, most of that recognition was earned in the truck and SUV spaces, but Fuel UTV wheels are no lesser in quality and design, and today, the company sells a full range of extraordinarily well-made alloy off-road wheels, including both single-piece and genuine beadlock designs.
Here, we've rounded up the five best Fuel UTV wheels available today, including both one-piece and beadlock designs, and representing a range of sizes from 14 inches all the way up to 24 inches in diameter.
Table of Contents
1. Editors Choice: Fuel Vector UTV Wheels
One of the most popular models in the Fuel off-road UTV wheels lineup is also one of the strongest: the Fuel Vector. Fuel Vector wheels are available as either a single-piece or beadlock design, with rugged good looks characterized by twelve thick individual spokes and an almost rally racing-inspired aesthetic. Matte black is the dominant color option, and the only finish available for the genuine beadlock version of the Vector, but matte bronze with a contrasting matte black faux beadlock ring is an option on the one-piece design. Two lug patterns and four-wheel sizes are available, from 14 to 15 inches in diameter, to accommodate a range of different UTV models.
Sizes: 14x7 +38mm, 15x7 +13mm, 15x7 +38mm, 14x7 +13mm (one-piece version only), 14x7 +0mm (beadlock version only)
Bolt Patterns: 4x156, 4x137
The Fuel Nutz wheel is sort of a stand-out in the UTV wheel market in that it's offered in just one size: 14x7. That might narrow the model's appeal some, as might its single available finish, but what it lacks in color and size options, it makes up for with its unique, brawny appearance. Simply put, it looks like no other wheel on the market, with a distinctive fork-pronged machine-finish graphic and spade-shaped openings set against a standard matte black backdrop. Best reserved for those who prefer a small wheel/big sidewall combination with plenty of cushion, the Nutz isn't the most accommodating of Fuel UTV wheels, but it's easily one of the most unique looking.
Bolt Patterns: 4x110, 4x156
3. Fuel Maverick UTV Wheel
If you're a fan of the "tuner" look, you might like the Fuel Maverick: a strong, rigid-looking UTV wheel with an extreme deep-dish design and a matte black finish with contrasting bright milled spoke accents. The Maverick is one of the most wide-reaching designs in the Fuel off-road UTV wheels range, with numerous sizes and offsets ranging from 14 inches in diameter all the way up to a full 24 inches. That's absolutely massive for a UTV wheel, but if you're going after a certain look, the Fuel Maverick is certainly one way to get there. Both one-piece and true beadlock versions of the Maverick are available, and the wheel offers three different bolt patterns for broad compatibility.
Sizes: 14x7 + 13mm, 14x7 +38mm, 15x7 + 13mm, 16x7 +13mm, 18x7 +13mm, 20x7 +13mm, 22x7 +13mm, 24x7 +13mm
Bolt Patterns: 4x110, 4x156, 4x137
Beadlock Sizes: 14x10 +0m, 14x8 +0m, 15x10 +0m, 15x8 +0m, 14x7 +38m, 15x7 +38m, 15x7 +13m, 18x7 +38m
Beadlock Bolt Patterns: 4x156, 4x137
Get racy good looks and extraordinary durability with the Fuel ANZA UTV wheel. These Fuel off-road UTV wheels flaunt a deep-dish five-double-spoke design in the tradition of some of our favorite performance car and truck wheels, with contrasting beadlock rings and fasteners. Whether those beadlock rings are functional or just aesthetic depends on whether you pony up the extra cash to get Fuel's genuine beadlock ANZA or stick with the more affordable one-piece design. The beadlock version is available in two fetching finishes – anthracite with a black beadlock ring, or black with an anthracite ring – and the one-piece version introduces a third option: bronze with a black ring. No matter which one you get, there are really no wrong answers: the ANZA is one sharp-looking wheel, through and through.
Sizes: 14x7 + 13mm, 14x7 +38mm, 15x7 + 13mm, 15x7 +38mm
Bolt Patterns: 4x110, 4x156, 4x137 (beadlock version only)
5. Fuel Lethal UTV Wheels
Want a sharp-looking no-nonsense wheel with solid performance and durability? The Fuel Lethal is ready to deliver. The Lethal is among the more streamlined offerings in the Fuel UTV wheels lineup, with just one finish available: matte black with machined spoke accents and contrasting bright faux beadlock ring fasteners. But with two available bolt patterns and two sizes – 14 inches and 15 inches – the Lethal can still be fitted to many of the most popular UTV models currently on the market, and with its eight-split-spoke design and contrasting bright machine finish accents, the Lethal can provide an instant boost in appearance to any ride.
Sizes: 14x7 +13mm, 15x7 +13mm
Bolt Patterns: 4x156, 4x137
Additional Resources
We are committed to finding, researching, and recommending the best products. We earn commissions from purchases you make using the retail links in our product reviews. Learn more about how this works.
Where Are Fuel UTV Wheels Made?
Formed in 2009 by MHT Luxury Alloys, Fuel Off-Road is headquartered right in the USA – in the city of Compton in Southern California. That's also where the company proudly produces all its Forged Series truck and SUV wheels, using a state-of-the-art production facility. However, not everything that Fuel makes is manufactured here in America. Some of their tires, for instance, are produced by Tri-Ace Tire Co., LTD. out of China. Fuel doesn't explicitly state where its UTV wheels are constructed, but they are almost certainly manufactured somewhere outside the US.
What are The Strongest Fuel UTV Wheels?
Fuel UTV wheels are all generally rated for up to 1,000 pounds of load each, regardless of size, with strong aluminum alloy construction and approximately the same amount of heft; one-piece 14x7 Fuel UTV wheels tend to weight 15 pounds no matter which design, vs. 16 pounds for the same wheel in beadlock. In other words, it's hard to determine from the specs alone which Fuel UTV wheels are strongest, and in all likelihood, whichever wheel model you choose will be able to hold up to years of heavy off-road abuse – within reason. However, if we were betting people, we'd put our money on Fuel Vector wheels being the strongest in the UTV wheel lineup. They feature the most spokes of all the wheel models listed here, with twelve in all, all evenly spaced with no great, big gaps between any two spokes. They're also the closest in appearance to genuine rally race car wheels – wheels that are designed to withstand some of the harshest, most daunting off-road jolts known to man. Considering all that, it's not hard to imagine that the Fuel Vector might have a higher tolerance for torture than most other Fuel UTV wheels. Aaron Brzozowski
Aaron is a freelance writer, videographer and car enthusiast based out of the Detroit area. He has a special affinity for the Porsche 944 series, and once owned a Volvo 240 sedan with a Weber carb in place of the factory EFI system. His work has appeared on AutoGuide, GM Authority, /Drive, and VW Vortex, among other sites.
More by Aaron Brzozowski
Published May 19th, 2021 4:09 PM
Top Brands
Popular Articles