96 Views
Best UTV Wheels For Improved Performance and Looks
October 15th, 2021 6:21 PM
Share
We're committed to finding, researching, and recommending the best products. We earn commissions from purchases you make using links in our articles. Learn more here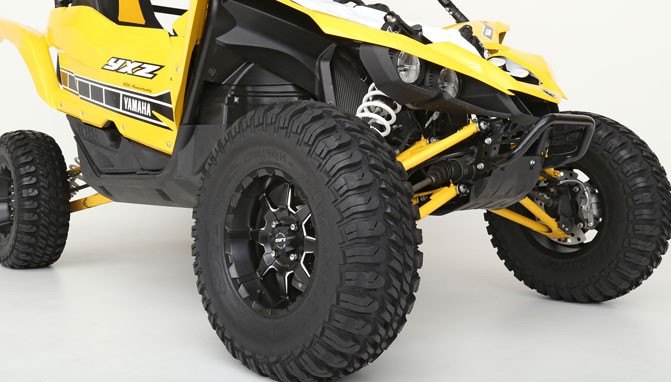 New wheels can add style and performance to your UTV
Swapping out the wheels on your UTV is an easy upgrade and something many of us do. In fact, it happens to be one of the first things people do with a new ride, often before it even leaves the dealership. There are many different wheels on the market, so picking the best UTV wheels for you can seem a bit daunting.
The first thing you think of when you see a UTV with a sweet set of rims is that it looks good. That's very much true. Changing out the wheels lets you add a bit of personal flair to the machine and the right set can show a bit of attitude, or a bit of class. That's the cool thing – you can decide.
There are performance benefits to doing a wheel swap, too. If your ride has steel wheels, there is a bit of weight savings to be squeaked out. Plus, aluminum wheels tend to be somewhat stronger than steels wheels. Running beadlock wheels not only offers up a tough look, but they also have a serious performance side as they help keep the tire on the rim.
Whether you're looking for a style change, or looking to upgrade to something tougher, changing your wheels can help achieve both. Here are our picks of the best UTV wheels you can add to your machine.
1. Editor's Choice: Sedona Storm Beadlock
We had a chance to test out a set of Sedona Storm beadlock wheels on our Honda Pioneer project vehicle (you can read our review here) and they did not leave us disappointed. The Storm is also offered without beadlock wheels, but if you want to be able to run lower tire pressure without worrying about your tire popping off the wheel, the beadlocks are a great option.
Visually, the Storm wheel is striking with its eight-spoke design, but it is also built to last with A356 aluminum construction and a 6061 aluminum beadlock ring. If you happen to run tires with thicker beads, you can pickup beadlock spacers to accommodate them. Topping off the look is satin black snap-in cap.
The Sedona Storm beadlock wheel is only offered in a 14-inch size, but there are three different bolt patterns available (4/110, 4/137, 4/156).
2. Best Mid-Price Beadlock Wheel: System 3 Off-Road SB-3 Beadlock UTV Wheels
As one of the newer brands in the ATV/UTV industry, the wheels that come from System 3 Off-Road are some of the best in the business. System 3 claims that their SB-3 line of wheels are the strongest cast UTV beadlock wheels on the market and with the number of professional UTV racing teams that run them would leave us to believe it. The wheels have a 1,500 lb. load rating and are available in a variety of sizes and finishes to compliment the look of any UTV and color scheme you might have. To ensure that your tires are securely clamped to the wheels, the SB-3 beadlock wheels come with high-quality 5/16" Grade 8 Beadlock Bolts. Perfect for race or play, you're sure to love these wheels.
3. Best No Budget Beadlock: Method Race Wheels 405
For all out high performance, it's awfully hard to beat Method's 405 Beadlock wheel. Designed more for high powered Sport UTVs than Utility-focused machines, the 405 beadlock is 15 inches in diameter, which gives you the option of moving up to some larger tires. Not only does this mean better traction in the slop, but it also increases ground clearance. Throw in 6061 aluminum construction and a reinforced inner lip and you know these wheels are built tough. These wheels also come with a black forged beadlock ring and Grade 8 hardware that is rated for 1600 pounds of load.
Beyond race-ready performance, the 405 beadlock is also easy on the eyes. We love the bronze version pictured above, but you can also opt for matte black if you like things a touch more understated.
4. Best Non-Beadlock Option: KMC KS133
While KMC may be best known for its beadlock wheels, the KS133 is a fantastic traditional wheel choice. You can pick this one up dressed in satin black, bronze and machined aluminum. No matter the color choice, you are getting a wheel designed for strength above all else. KMC boasts its powder coat finish will stand up to whatever off-roaders can throw its way.
Each KS133 wheel has a load capacity of 1250 pounds and the only available size is 15x6, which gives you the option of going with taller tires. Both 4x156 and 4x137 bolt patterns are offered...each with a 38mm offset.
STI Tire & Wheel does a couple of things that really set it apart from other manufacturers. It makes outstanding products from a quality and durability standpoint. And, it makes some of the most colorful wheels you can find, making them a great choice for the UTV driver looking to customize his or her ride with something that looks as good as it performs. The HD7 wheels come in radiant red, blue and orange, as well as black and polished finishes.
Doing a little research, it's hard to find a review of the HD7 Radiant wheels that isn't glowingly positive. And I checked three different retailers just to make sure. One owner said the red on his wheels didn't quite match the red on his RZR, but that was about the most scathing thing we've seen written.
You can get the STI HD7 Radiat in red, blue, orange, or matte black and smoke. The only available size is 14x7, but three different bolt patterns and two different offsets are offered.
The Sedona Spyder wheels are a great option for someone looking to add a custom black-wheel flair to their UTV while saving a little bit of green, as this is a surprisingly affordable wheel choice. The wheel features a beefy eight-spoke design with a pair eye-catching stainless steel rivets between each of the spokes.
As for construction, Sedona built the Spyder using A356 aluminum and outfitted each wheel with a reinforced lip for added strength.
7. ITP SD Series Black Ops
ITP is one of the biggest names in UTV tires and wheels. It should be – ITP has been at it for a long time and has been making some of the best products on the market. The Black Ops comes from the Severe Duty line which means it carries a two-year warranty against structural defect. It also means that it's a tough wheel. The wheel has ITP's Rock Armor wheel lip and an out beadlock. These lightweight wheels are designed to handle the rigors of racing and extreme trail use. They also look pretty sweet.
The ITP SD Black Ops wheel is offered in 12x7, 14x7, and 15x7 sizes, which means they will fit most any UTV or Utility ATV on the market and give you the option of pretty much any tire size you can think of.
MSA makes some of the most highly sought after wheels in the ATV and UTV industry and it it all started with the M12. This sleek wheel is outfitted with an eight-spoke design and we love the little pocket at the base of each spoke that look like little hands stretching out to the lip of the wheel. We think it is one of the best looking UTV wheels made today.
MSA makes the M12 in both satin black and gloss black and it comes in an impressive array of sizes, including 14x7, 15x7, 18x7, 20x7, and 22x7, making it a perfect partner for any off-road tire.
As a company that's been in the wheel game for over 20 years, it was only natural for Raceline Wheels to jump into the UTV market with some of the strongest and best UTV wheels available. Their Ryno beadlock wheels feature a stylish, yet rugged split 10-spoke design in a wheel that's constructed from heavy-duty A356 aluminum. The beadlock ring is made from forged aluminum and is secured in place with Grade 8 zinc hardware for strength and durability. Available in both 14" and 15" wheel sizes and and three different finishes, the Ryno beadlock wheels are definitely some of the best UTV wheels you can get to withstand the punishment from modern high performance UTVs.
Recent Updates
April 27, 2021: Added the Sedona Storm, KMC KS133, and MSA M12 Diesel recommendations.
10/15/2021: updated product links, added Raceline Ryno and System 3 Off-Road Wheels, updated product descriptions.
We are committed to finding, researching, and recommending the best products. We earn commissions from purchases you make using the retail links in our product reviews. Learn more about how this works.
How do I measure wheels for a UTV?
There are a couple different sets of numbers related to UTV wheels you need to consider. The first one is size and it's pretty easy to figure out. If you have 14x7 wheels, that means your wheel is 14 inches in diameter and 7 inches wide. That's important when it comes to finding a tire to fit the wheel. The second key number is the bolt pattern, which means the spacing of the lugs on each wheel. It is vital to know what your bolt pattern is before buying new wheels. If your bolt pattern is 4x156, that means you have four bolt holes and and the center of one bolt hole is 156mm from the center of the opposite bolt hole. Your owner's manual will tell you exactly which bolt pattern your vehicle has.
What type of lug nuts should I use on UTV wheels?
This depends on what kind of wheels you have. Some wheels required tapered lug nuts, while others require a flat lug nut. Check with the wheel manufacturer to see which one you need. Derrek Sigler
Derrek's love for all things ATV started when he was a mere 11 years old, growing up on his family farm. His mom gave him and his sister a choice - get a horse, or a three-wheeler. The sister wanted the horse, and Derrek wanted the ATV. Luckily he won out, and was soon burning up the trails on a Yamaha Tri-Moto 200. By the time he was 14, he had saved enough of his own money by working on the farm and in his folks restaurant to buy a new 4-wheeler. That happened the day he and his mom were driving past the dealership and saw 1987 Banshee. His mom had no idea what he was buying, and he never looked back. He's been riding ever since, and been writing professionally for many years. He has ridden all over North America and been behind the controls of just about every machine out there. And yes, he still has his 1987 Yamaha Banshee.
More by Derrek Sigler
Published March 15th, 2017 8:19 PM
Top Brands
Popular Articles