55 Views
Best Hi-Lift Jack Options For ATV And UTV Owners
May 7th, 2021 3:19 PM
Share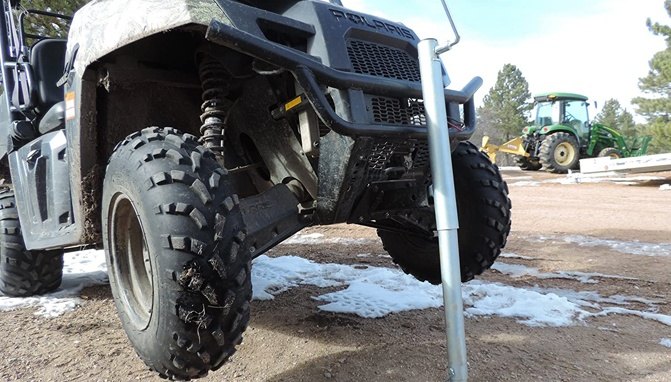 Get all the lift you need with one of these jacks designed for off-road vehicles
If you've gone this long as an ATV or UTV owner without a hi-lift jack in your arsenal, you really don't know what you're missing.
With their high ground clearances and long suspension travels, ATVs and UTVs are often simply incompatible with the average conventional lift jack; they just don't raise high enough to permit the tires to clear the ground. A good hi-lift jack, which can raise the vehicle chassis up to 30 inches or higher, is one solution. Along with a reliable set of high-rising jack stands, that's just about all you should ever need to raise your vehicle for wheel changes, exhaust repairs, and whatever other jobs you might have lined up.
(Always make sure that your vehicle is safely, securely placed on ramps or jack stands before positioning yourself below it. Never rely on a jack alone to suspend the vehicle if you need to climb underneath the chassis.)
But apart from supplying plenty enough lift for most under-vehicle maintenance and repair tasks, a hi-lift jack – sometimes called an off-road jack or a trail jack – is one of the handiest tools you could ever hope to have off-road. You can use it to raise the chassis of your vehicle enough to get it unstuck if you ever bottom-out, or lift a wheel enough to backfill a hole or slide a sand ladder into place. You can even use it as a manual winch in some situations, pulling the chassis out of harm's way while your electric recovery winch provides the forward pulling force.
To help you find the right hi-lift jack for your needs, we've rounded up the best options on the market for ATVs and UTVs.
Table of Contents
1. Editor's Choice: Hi-Lift 36" UTV Jack
The original, and still among the best, the Hi-Lift 36" UTV jack is right-sized for your ATV or UTV with a 36-inch height, and a 31-pound weight that makes it easily transportable: just secure it to the roll bar or bodywork and off you go. It's made from cast iron with a black powder coat finish, rendering it exceptionally strong and durable with a rated load capacity of 4,660 pounds and a tested load capacity of 7,000 pounds. Included is a gold zinc-plated winch/clamp/spreader attachment that expands the tool's versatility and makes it one of the most handy tools you could ever ask for in the field.
2. Smittybilt Universal Trail Jack - 54"
While Smittybilt is a brand closely associated with Jeep products, the Smittybilt Universal Trail Jack is certainly up to the task of lifting up your UTV. This jack is outfitted with an adjustable connector clamp and is built of solid cast steel. The steel is protected by a powder coat finish and all hardware is zinc plated to withstand the elements. As for the numbers, this jack can handle loads up to 4660 pounds and lift up to 54 inches - more than enough to handle any lift kit or long travel suspension you'd find on a UTV. The whole package (including the removable handle) tips the scales at 30 pounds.
3. Polaris Off-Road Jack Kit
Polaris manufactures its own take on the classic hi-lift jack design, the Polaris Off-Road Jack Kit, but you don't need to be a Polaris owner to take advantage of its compact design and ultimate practicality. It's made from black powder-coated steel, not cast iron, while still managing an impressive 3 tons – 6,000 pounds – of lifting capacity and delivering up to 33 inches of lift. All of that adds up to a hi-lift jack that's a bit lighter and easier to deploy than Hi-Lift's 36-inch unit, with some included cast aluminum brackets to mount the jack directly to your cage, depending on what model UTV you've got.
4. Torin 33" Ratcheting Off-Road Utility Jack
We tend to err on the side of caution when it comes to recommending low-cost "budget" products, but Torin is no cheap knock-off brand; it's a well-known, trusted manufacturer. That makes this Torin 33" Ratcheting Off-Road Utility Jack a real bargain, with a 33-inch height and a 6,000-pound weight capacity rating for significantly less money than any other brand on this list. It doesn't hurt that Torin's 33-inch hi-lift jack features a fetching red powder coat finish that helps it stand out amidst the sea of predictable black options, nor does the fact that it tips the scales at just under 26 pounds, making it a relative lightweight.
5. Pro Eagle Talon Off-Road Jack
The Pro Eagle Talon is a 1.5-ton jack that looks a lot more like a common car or SUV jack than anything else on this lift. Realistically, it performs just like those, except it has an eight-inch adjustable extender than allows you to get up to 28 inches of lift height. It also comes with large wheels for easier positioning, solid steel axles, and built-in sand plate for flotation on mud, dirt or sand. It only weighs 38 pounds so it's also easy to carry. We had a chance to review one of these units and our writer came away impressed. You can read the review here. Compared to some of the other hi-lift jack options on this list, the Pro Eagle Talon offers more stability. However, it also has a higher price tag. Fortunately, a full two-year warranty does offer some peace of mind.
6. Hornet Outdoors Quick Lift Jack
While it's technically not a hi-lift jack, we've decided to include this Hornet Outdoors Quick Lift Jack on our list because it's a near-perfect companion for your next tire change. It's rated to lift up to 2,000 pounds – enough to cover the most popular UTV models on the market – and raises up to 36 inches with a handy, eight-inch-long lift tongue delivering plenty of reach. Another perk: the whole unit, which is made from steel with a rust-resistant galvanized coating, weighs just 18 pounds, making it one of the most super easy bring along with you.
Recent Updates
May 7, 2021: Added the Smittybilt universal trail jack and included some additional resources below.
Additional Resources
We are committed to finding, researching, and recommending the best products. We earn commissions from purchases you make using the retail links in our product reviews. Learn more about how this works.
Can you use a regular car jack on your ATV or UTV?
As we discussed at the top of this article, using the jack from your car or SUV on your off-road vehicle can be a challenge. Most conventional jacks just don't have the lift height necessary to get your tire off the ground. Of course, some folks have been known to come up workarounds by using wooden blocks or other items to extend the reach of their jack, but that can be dangerous not only to your machine, but also to anybody who is nearby when using it. The same choice is saving up and buying a quality hi-lift jack for your off-road vehicle. It will pay for itself just by saving you some unnecessary aggravation.
Published January 8th, 2021 4:45 PM
Top Brands
Popular Articles