34 Views
Pro Eagle Talon Off-Road Jack Review
November 4th, 2020 1:49 PM
Share
We're committed to finding, researching, and recommending the best products. We earn commissions from purchases you make using links in our articles. Learn more here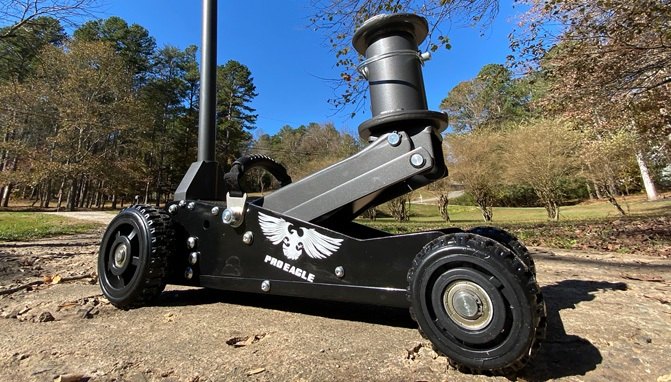 We put Pro Eagle's new 1.5-ton big wheel jack to the test
We recently picked up the new Pro Eagle Talon 1.5-ton jack for use on our UTVs with long-travel suspension. Here is our review.
There will be times in your UTV life that you will wish you could get more height from your tired old floor jack. It is not uncommon for me to search the garage for blocks of wood or anything solid that I can place on the lift pad to get a little more height. This is especially true with todays long travel suspensions on the pure sport machines where the suspension seems to just keep dropping as if the tires are glued to the garage floor.
After attending a few desert races on the west coast, I began to notice a trend of jacks with larger wheels and some even having rubber tires instead of the traditional steel casters. This would obviously make travel across rough terrain and even sand or gravel much easier. There were also homemade jack conversions that had lift pad extensions that gave the user the advantage of starting right under the machine frame without even pumping up the jack one time. In my mind this was a huge advantage and not to mention so much safer than stacking wood on the lift arm.
After searching for companies across the country I was introduced to Pro Eagle. This company specializes in getting your rig up in the air safely and securely in many different ways. Because I also use my floor jack for my truck and occasionally the wife's car, I needed something to be very versatile in the shop. During my search I found that Pro Eagle had just introduced a 1.5ton Big wheel jack to the world, called the Talon, and within a few days the Pro Eagle Talon box was sitting on my porch.
When you open the box, you will find the big hard rubber wheels and a set of external snap rings to attach those wheels to the jack. It is also noteworthy that every jack sold by Pro Eagle has its own serial number just in case you need some type of part or service in the future. It also locks in the 2-year warranty when you register that serial number.
So, my first experience with the Pro Eagle Talon, 1.5-ton big wheel jack came with a service on our 2014 Honda Pioneer 700. This machine needed an oil change so it was a perfect time to see how well Pro Eagle could perform. I wouldn't need my new 8-inch adjustable Pro Eagle lift extension for this low-slung rig. The large wheels on the jack keep it moving along rough terrain and even the rocks in the driveway were no match for this jewel. The Pro Eagle Talon pulls really easy as well, most likely from the ball bearings in the wheels. It sometimes rolls so smooth that it will slip away from you if you are not careful on smooth uneven terrain. Keep in mind that this jack only weighs in at 38 pounds, so moving it in and out of the truck or lifting it for any reason is much better than typical steel floor jacks.
In just 2 pumps my Honda Pioneer 700 was in the air and ready for some jack stands. Pro Eagle claims the full height can be achieved in 4 pumps and that's almost 2.5 feet of lift when combined with the 15-inch extension installed. There was no squeaking or groaning from the jack when being pumped, like some jacks make when being used. Another cool feature I noticed when pumping the jack is that the twin plungers are covered in rubber boots. This keeps the dust dirt and anything else from getting on the seals and ruining the jack prematurely. Yet another mark in the quality and durability slot for Pro Eagle products.
After my Honda had been serviced, I decided to try the Pro Eagle Talon jack out on a longer travel suspension machine. The 2021 Polaris RZR XP has massive amounts of suspension travel and is one of those rigs that seems to be so difficult to get a tire in the air with traditional floor jacks. One thing I wanted to test was the ability to not only get the rig in the air but to do it in a difficult and somewhat unstable surface like my yard.
The Pro Eagle Talon has a belly pan or "skid plate" of sorts along the bottom and the company claims that this keeps the jack from sinking in the dirt by providing a solid base. After a little bit of settling (basically the depth of the front wheel to the bottom of the jack skid) my jack stood firm and lifted the almost 1500-pound rig with 20 inches of usable suspension travel almost high enough to get a wheel off of the machine. I opted for the 5-8-inch extension when ordering and although it was close to high enough, I would order the 15-inch extension for a better lift on these longer travel machines.
Overall, to say I'm impressed with the capability and function of this new jack is an understatement. One thing you cannot help but notice about Pro Eagle jacks is the price. My Pro Eagle Talon has an MSRP of $379. I think you have to consider the price, however, as these jacks are not cheap big box store type products and their commitment to quality as well as dependability is duly reflected in the product. Not to mention the 2-year warranty that comes along with every jack purchase.
When it's all said and done the Pro Eagle Talon jack does perform well and the small things on the jack like that sweet carry handle and off-road capable tires make this purchase even more worth the investment for me. I think I'll even get one of their jack mounts for my truck bed so I can have it with me on the road as I travel to the best off-road riding spots around the east coast.
Become an ATV.com insider. Get the latest news first by subscribing to our newsletter here.
We are committed to finding, researching, and recommending the best products. We earn commissions from purchases you make using the retail links in our product reviews. Learn more about how this works. Published November 4th, 2020 1:49 PM
Top Brands
Popular Articles