403 Views
Best Kids ATV Helmets For Every Budget
May 25th, 2021 12:52 PM
Share
We're committed to finding, researching, and recommending the best products. We earn commissions from purchases you make using links in our articles. Learn more here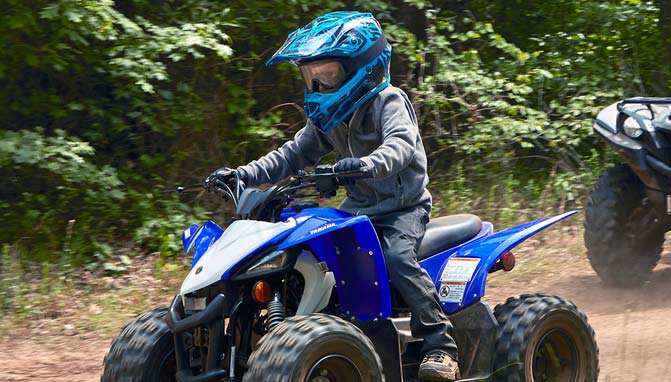 Keep your kids riding safe with one of these best youth ATV helmets
Shopping for the best kids ATV helmets can be tough with so many brands and features you have to take into consideration. We help make your shopping simple with our list of best helmets that are sure to fit every budget while keeping your little rider as safe as possible.
It occurred to me the other day when we published the Best Youth ATV of The Year story, that picking out the best youth ATV helmets should go right along with it. As parents, we want our children to be as safe as possible at all times, and that starts with ensuring that kids are wearing helmets, the most important piece of safety equipment you can buy.
I remember as a kid riding around on my Yamaha Tri-Moto 200 three-wheeler, my mom insisted I wear a helmet all the time. I had buddies with ATVs who'd come over to ride and they never wore a helmet until one of them got hurt (on his own property) and all of a sudden the kids were wearing helmets. Get your kids wearing helmets from the start, so that if they should ever consider riding without one, it will feel unnatural to them. We've got a great list of helmets that are loaded with features, work with every budget and most of all look cool so your riders won't mind wearing one.
Table of Contents
1. Editor's Choice: 6D ATR-2Y Youth Helmet
As parents or guardians, you want the best kids ATV helmets to ensure your little riders safety. The 6D ATR-2Y provides the ultimate protection in the youth off-road helmet market. In their quest to be one of, if not the best off-road helmet manufactures, 6D received a grant from the NFL to research concussion prevention in helmet technology thanks to their Omni-Directional Suspension Technology. They use multi-density EPS foam in the interior of the helmet with isolation dampeners to help soften any blows. This kids ATV helmet from 6D is also different from the adult-sized versions in that it's tailored to offer better protection to the developing brain of a child. This helmet is also loaded with features that you'd normally find in adult helmets such as multiple ventilation ports (both intake and exhaust), removable comfort liner and a 3-year limited warranty. It's the highest priced helmet on our list, but you get what you pay for.
2. Troy Lee Designs SE4 Polyacrylite Youth Helmet
Troy Lee Designs is all about that moto life and it shows in their kids ATV helmets. Available in a variety of colors and designs, the TLD SE4 Polyacrylite youth helmet is another top notch lid in a sea of youth ATV helmets. The polyacrylite shell is lightweight and features a MIPS (Multi-directional Impact Protection System) liner, multiple ventilation ports (intake and exhaust), 3D contoured cheek pads that feature quick-release functionality for safe helmet removal by EMS responders, and is available in two sizes to fit a variety of head sizes. It's a great helmet for someone who want's their little ones to be stylish and safe.
Let's face it; kids want stylish youth ATV helmets as much as adults do, and won't wear it if they don't like the way it looks. When my daughter was five years old, the first kids ATV helmet we found was red and blue and very much themed for a boy. "No, no, no, no, Daddy." We ended up spending $75 more for one with pink on it. At least it was a good helmet and fit her, so I paid it and left with a happy kid. Another brand that knows kids want style to go with the safety that parents want is Fox Racing. The Fox V2 youth ATV helmet comes in four shell sizes and four EPS foam liner sizes to ensure a comfortable fit and has stylish looks that you expect from a fashionable brand like Fox. The V2 youth ATV helmet also features magnetic visor attachments that allow the visor come off in the event of a crash preventing your kids heads from spinning around if the visor was to get snagged in the event of a crash. An added plus is that the Fox V2 youth ATV helmets are reasonably priced, making them one of the best youth helmets out there.
4. Fly Racing Kinetic Helmet
You can't put a price on the safety of your kids. In reality we all have budgets, and as much as we want to get our kids that $400 helmet with every cool feature many of us have budgets to live on. Enter the Fly Racing Kinetic line of youth ATV helmets. These helmets have quality features that you find in some of the higher end helmets like removable liners and cheek pads, a multi-port ventilation system, and a lightweight shell. The fact that the shell might be slightly heavier, you won't get a MIPS liner, and the graphics might not be as flashy doesn't mean that it's not a quality helmet that offers great protection for right around $100.
5. HJC CL-XY2 Youth Helmet
Established in 1971, HJC is no stranger to the helmet market and their CL-XY2 is one of the popular youth ATV helmets available today. Affordably priced under $100, the CL-XY2 kids ATV helmet offers solid protection, style and fit. Features include: full front-to-back ventilation, removable and washable liner and cheek pads and a large eye port for maximum visibility from a DOT approved helmet. Available in multiple colors and graphics that your little ones are sure to approve of.
Today, I have kids of my own. And I know firsthand the importance of a helmet. I would never ride without one and my kids don't either. You would probably agree with me that youth ATV helmets are vitally important. While it may seem easy for you to pick a helmet for yourself, here are some tips to help you when you're looking for youth ATV helmets for your kids.
What To Look For in ATV Helmets For Kids
When picking out kids ATV helmets, you need to take into account safety, size, fit, styling and cost. There are a few other things, which we'll touch on shortly, but on the safety front, never buy a used helmet. One that has been used may be damaged. Helmets, even the most expensive ones, are one-and-done, meaning one hard hit and you need a new one. Make sure you have the size and fit correct. Measure one inch above your child's eyebrows and around the biggest part of their head. The ATV helmets for kids should fit snugly and not wiggle much at all. Resist the urge to upsize and let your kid grow into it. Yes, it will save you a little money up front, but that is asking for trouble. Let's dig a little deeper.
How important is it for my kid to wear a helmet?
It may be easy to think that kids don't have to wear a helmet because maybe they're riding slower or something. There is always the old adage too that kids bounce back from injuries quicker than adults, and there is some validity to that. Kids do tend to recover better from concussions than adults. However, studies have proven that head injuries are still nothing you would want your child to deal with. There can easily be cognitive, associative and behavioral damage from a traumatic head injury that may mask as something else. That's not a risk any of us would be willing to take. Better to get into the habit of always wearing a helmet, regardless of the speed.
How do you size an ATV helmet?
We'll kick things off with the obvious. Youth ATV helmets need to fit correctly. Let me say that again - YOUTH ATV HELMETS NEED TO FIT CORRECTLY! It can be a sucker-punch to the budget when your kid takes a growth spurt right after you bought a new helmet for him or her, but it happens. Resist the urge to go up a size and let them grow into it. Until they do, your child is wearing a helmet that isn't protecting them as well as you would like.
Finding the right fit is easy. Start by measuring your child's head around the biggest point – roughly an inch above the ears and eyebrows. A seamstress tape measure works great for this. Then you should select the corresponding helmet size from the manufacturer's size chart for a helmet you're interested in. The sizes the manufacturers list are based on DOT-regulated head-forms, so they should be pretty close for everyone, but as someone with a big melon on my shoulders, I can tell you that it is not always the case. That's why having the kid try on the helmet is very important. It's ok to buy online, but your child needs to try it on and you need to make sure it fits right before they go out the door to ride.
The youth ATV helmet should fit snuggly, but not pinch or hurt anywhere. If your kid has never worn a helmet before, it may seem strange or uncomfortable at first, but push through, mom and dad! This is important stuff. A properly fitting youth ATV helmet should also fit close around the cheeks. The easy test I always use for an initial fitting is to have my kid turn his head quickly and then stop it. If the helmet wiggles at all, it's too loose and goes back on the shelf for another size. If your child wears a ponytail, take it out. Don't try to get a helmet that fits over it. Getting proper fit from youth ATV helmets requires a little detective work from you, too. You've got to make sure the helmet fits right and that your kid isn't just saying it does because he or she likes the way it looks.
Does my kid need ATV goggles too?
Yes, by all means, your child also need age-appropriate goggles when they are riding an ATV. A good-fitting, youth-sized goggle gives your child proper eye protection from dirt, debris and impacts. Proper youth sizing means the frame is smaller to better fit your child's face. It also means the goggles will fit into a kids-sized helmet and not leave gaps that dirt, dust and debris can get in through. 100% makes some of the best goggles on the market and their youth-sized versions have the same style and functionality as the adult-sized goggles. They share the same size lenses and tear-offs as the adult-sized goggles, so finding replacements is easier and more economical.
How do I get my kid to want to wear the helmet?
If you tell your kids they HAVE to wear a helmet, they might, but they won't like it. But you can help them to want to wear it by letting them pick out the colors and models. That can be harder when you're at your local shop trying them on, as some dealerships don't have the space to stock a bunch of models in every size. I know from my daughter, that if they don't have the color she wants, she is going to fight me with fierce determination about it. She gets that from her mother, I swear. And honey, if you're reading this, I mean that in the nicest way possible.
Here's a suggestion – if your local dealership doesn't have the youth ATV helmets your child wants, talk to them about ordering it. My local shop ordered in a new helmet for a little girl and when she came in to get it, they made a fuss over her that made her feel extra special. If you know what helmet fits best, but can't find the right one locally, try a mail order company, like Rocky Mountain ATV/MC.
How do I tell if the ATV helmet is damaged?
If your kids are like mine, you can expect them to once and a while not take care of their helmet like they should. If they throw it down, you need to look at it. Chances are nothing will be wrong, but you have to look it over. Any serious damage to the outer shell, and it's toast. And the same goes for inspecting it if your child has an accident. Youth ATV helmets are disposable, just like any helmet. The EPS foam inside is good for one use. No matter how much you paid for the helmet, if that foam lining takes the hit, you buy a new one. Most any manufacturer will inspect it for free. Your dealership can help. You can also take it to the local police department in some cases. The old saying that kids are tough and bounce back is true. But keep in mind that a traumatic head injury isn't something they can bounce back from as well as say, an ankle sprain.
Make sure the helmet is in good condition and that it meets all of the minimum safety requirements. Never, ever buy a used helmet for your child, or for yourself for that matter. Never play around with safety.
Recent Updates
March 15, 2021: Added additional information on how to choose the best kids ATV helmet.
We are committed to finding, researching, and recommending the best products. We earn commissions from purchases you make using the retail links in our product reviews. Learn more about how this works. Derrek Sigler
Derrek's love for all things ATV started when he was a mere 11 years old, growing up on his family farm. His mom gave him and his sister a choice - get a horse, or a three-wheeler. The sister wanted the horse, and Derrek wanted the ATV. Luckily he won out, and was soon burning up the trails on a Yamaha Tri-Moto 200. By the time he was 14, he had saved enough of his own money by working on the farm and in his folks restaurant to buy a new 4-wheeler. That happened the day he and his mom were driving past the dealership and saw 1987 Banshee. His mom had no idea what he was buying, and he never looked back. He's been riding ever since, and been writing professionally for many years. He has ridden all over North America and been behind the controls of just about every machine out there. And yes, he still has his 1987 Yamaha Banshee.
More by Derrek Sigler
Published February 17th, 2021 5:21 PM
Top Brands
Popular Articles