276 Views
Best Polaris RZR Wheels and Tires
August 13th, 2021 2:15 PM
Share
We're committed to finding, researching, and recommending the best products. We earn commissions from purchases you make using links in our articles. Learn more here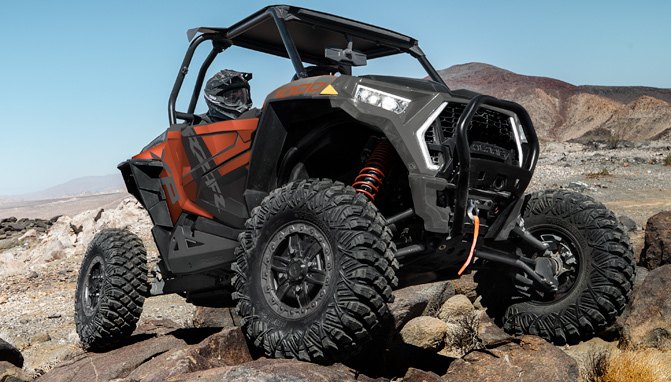 Transform the look and performance of your RZR with a new set of wheels and tires
The right set of Polaris RZR wheels and tires can completely transform your ride.
Think about it: the only part of your RZR that makes contact with the ground is the tires, so every single input – throttle, brakes, and steering – is transmitted to the trail through them. Having the right Polaris RZR tires for the job will ensure maximum traction and predictable handling for optimal performance. And unless you feel like replacing them every season, they should also be engineered for durability and longevity, with tough, long-lasting rubber compounds and chip- and puncture-resistant design features.
But your Polaris RZR wheels play a major role in the performance of your machine, too. Each wheel acts as both a rotating mass, affecting acceleration, braking, and steering by essentially acting like a big gyroscope, and as unsprung mass, slowing your suspension's response time by adding to the total weight each spring and damper has to account for. The lighter the better, in other words, but this has to be weighed against the overall strength of the wheel, which is crucial in any sort of off-road driving, and whether beadlock wheels are required, as the beadlock rings and hardware introduce extra weight.
In other words, there's no simple answer when it comes to the "best" Polaris RZR wheels and tires. But don't despair. We've put together this handy list with some of our favorite wheels and tires for the RZR model range, including simple lightweight wheels, beadlock wheels, all-terrain tires, and mud-terrain tires, so you can pick and choose which Polaris RZR wheels and tires are best for you.
1. Best Wheel: ITP Hurricane UTV Wheel
The ITP Hurricane is the complete package, as Polaris RZR wheels go: simple, lightweight, handsome, and backed by one of the most trusted names in aftermarket powersports wheels and tires. It doesn't offer beadlock capability, but the ITP Hurricane more than makes up for that with a slinky, sporty design featuring eight split X-shaped spokes, and an ITP-exclusive "Rock Armor" inner lip that provides exceptional structural integrity. The wheel is rated for up to 1,200 pounds of load, and ITP is so confident that the Hurricane can hold up that it even ships with a Lifetime Structural Warranty. And despite its strength, the ITP Hurricane is still remarkably light, leveraging every ounce of its heavy duty aluminum alloy to maintain a weight of just 15 pounds.
2. SuperATV Bandit H-Series Wheel for Polaris ATV/UTV
Shopping for Polaris RZR wheels on a budget doesn't need to mean saying goodbye to quality – or to a recognized brand with an airtight reputation, for that matter. The SuperATV Bandit is an affordable wheel from one of our go-to sources of top-quality aftermarket powersports parts, and it packs a ton of value, with tough aluminum alloy construction and a brawny H-shaped split-spoke design with either a machined or gloss black finish. Each wheel also ships with the necessary lug nuts and metal valve stem included, so you don't have to go hunting down other parts after purchase; just select the right tires, have them mounted, and go. True, the Bandit H-Series is a tad heavier than the ITP Hurricane. But at 17 pounds per wheel, we'd hardly call it "hefty," and you're getting a lot of wheel – and an excellent aesthetic boost – for the money.
3. Method Race Wheels 401 Beadlock Wheel
The most serious, hardcore off-roaders all generally use beadlocks: thin metal rings that fasten onto the wheel lip and clamp down on the tire bead, holding it tight to lessen the risk of separation out on the trail. If you're looking for your own set of beadlocking Polaris RZR wheels, check out the Method Race Wheels 401. Neither the cheapest nor the lightest RZR wheel on the market, the Method 401 more than makes up for it with its super tough billet aluminum beadlock ring with zinc-plated Grade 8 hardware, and its astonishing 1,600-pound load rating – supreme toughness delivered by its high-pressure cast construction and stout, beefy design. The manufacturer itself calls the 401 an "extremely robust wheel that stands up to the abuse of racing, trail riding, and weekend trips," and that just about says it all.
4. Best Tires: Sedona Rock-a-Billy Radial Tire
With a super tough 8-ply rating and radial construction for a smooth ride and predictable handling at speed, the Sedona Rock-a-Billy sits somewhere near the top of our list of the best all-around Polaris RZR tires. It doesn't hurt a bit that the Rock-a-Billy proved itself a winner at the 2016 UTV Terracross Championships. Despite its name, the Sedona Rock-a-Billy isn't just handy over rocky terrain, although its integrated stone ejectors and grippy shoulder lugs do help it excel on rocks. Rather, it performs over all sorts of common trail terrain, from hardpack to gravel, and even some light mud, thanks to its deep, aggressive tread design with generous void areas and plenty of biting edges. That, plus a special tread compound developed to not only outgrip but outlast the competition, makes the Rock-a-Billy a worthy choice for your next set of Polaris RZR wheels and tires.
5. BFGoodrich T/A KM3 Mud-Terrain Radial Tire
As one of the premier OE tire suppliers to multiple off-roading passenger vehicles, BFGoodrich knows a thing or two about what makes a good tire. It's all on full display in the BFGoodrich T/A KM3 mud-terrain radial tire. With the brand's capable Krawl-TEK compound and a "Linear Flex Zone" that allows the tire to envelope and grab onto terrain features, the T/A KM3 is ready for some of the world's toughest terrain, featuring 8-percent better grip on rocks and slick surfaces, and plenty of mud capability with a deep, aggressive tread and alternating scalloped shoulder lugs. BFGoodrich's proprietary CoreGuard Max technology keeps the sidewalls safe from chips and punctures using a unique compound on that portion of the tire, and as an overall package, the BFGoodrich T/A KM3 is a standout among all Polaris RZR tires.
6. Maxxis Carnivore All-Terrain Radial Tire
The Maxxis Carnivore is one of the most popular, best-selling powersports tires in North America because it's just that good. From rocks to roots, to desert terrain and even mud, the Carnivore is more omnivorous than its name suggests, devouring just about any terrain in sight. It features tough, puncture-resistant 8-ply-rated radial construction and a full 28/32" of tread depth, with loads of variable-angle biting edges and aggressive shoulder lugs that provide plenty of side bite. Read the reviews on any website and you're likely to encounter a flood of 5-star ratings and emphatic endorsements, and it's an outstanding option for your next set of Polaris RZR wheels and tires.
7. Best Wheel/Tires Package: Tusk Racing Terrabite Tires and UINTA Beadlock Wheels
If you just want to buy a complete wheel-and-tire package in one go and be on your merry way, this package is for you. Featuring four 14" Tusk UINTA beadlock wheels and 32" Tusk Terrabite tires, this package ships with the tires already mounted, so you can simply slap on your new wheels and ride. The price is excellent, considering what all you get: genuine beadlock Tusk Racing wheels shod in an attractive Gunmetal finish with black accents, with tough Grade 8 beadlock ring bolts and a 1,200-pound load rating, wearing one of the best all-terrain Polaris RZR tires ever to come from the aftermarket. Featuring an 8-ply rating, a smooth and predictable ride courtesy of radial construction, and a 3/4"-deep tread with copious amounts of bite in dirt, sand, and rocks, the Terrabite is a formidable all-purpose UTV tire, and here, it ships with one of the heartiest, best-value Polaris RZR wheels around – and with free lug nuts, to boot.
What Size Polaris RZR Wheels And Tires Should I Get?
There are numerous different measurements to consider when shopping for new Polaris RZR wheels and tires, which can make finding the right set something of a headache if you're ill-prepared. The first and most crucial couple of metrics, bolt pattern and lug diameter, are for all intents and purposes fixed; unless you plan on fitting a set of wheel spacers with an alternate bolt pattern, these numbers must match those of whatever Polaris RZR wheels you're purchasing.
Like most Polaris models, the RZR has a 4/156 bolt pattern – four lugs spaced 156mm apart diagonally – with either 12mm or 3/8" studs.
The next measurement that needs to be considered is the offset. This describes how far the "center" of the wheel is from the inner lip and outer lip of the rim, and both measures are typically given in inches. As an example, a 4 + 3 offset is one where the wheel center is set 4 inches in from the inner lip, and 3 inches back from the outer lip. These numbers always sum to the total width of the wheel – in this example, 7 inches.
Most factory Polaris RZR wheels have a width of 7 inches and an offset of 5 + 2, so a set of 4 + 3 wheels like those in our example will widen the track by 1 inch on each side. This isn't necessarily a bad thing, but it can affect handling, and especially if you plan on upsizing your Polaris RZR wheels and tires relative to the stock setup, choosing the wrong offset can create new body or chassis interference issues. Try and stick to an offset similar to your factory setup wherever possible.
All this still leaves the rim diameter and width, and the tire height and width, to consider. Here, things can get complicated simply because there have been so many models within the Polaris RZR lineup, some with 12" wheels and others with 14" ones; some with 25" tall tires and others with 27" or even 29" tires. The table below gives a rundown on some of the different sizes of factory Polaris RZR wheels and tires, but if you're looking to upsize either component, we recommend searching Polaris web forums to see what other owners have had success fitting, and considering the extra load on the powertrain from the increased weight and taller effective gearing.
| | | |
| --- | --- | --- |
| Model | Wheel Size | Tire Size |
| 2008+ RZR 570 / 800 | 12x7 | 25x8-12 (Front) / 25x10-12 (Rear) |
| 2009-'14 RZR 800 S | 12x7 | 27x9-12 (Front) / 27x11-12 (Rear) |
| 2011-'14 RZR XP 900 / 2015+ RZR 900 | 12x7 | 27x9-12 (Front) / 27x11-12 (Rear) |
| 2013+ RZR XP 1000 | 14x6 (Front) / 14x8 (Rear) | 29x9-14 (Front) / 29x11-14 (Rear) |
Additional Resources
Become an ATV insider. Get the latest news first by subscribing to our newsletter here.
We are committed to finding, researching, and recommending the best products. We earn commissions from purchases you make using the retail links in our product reviews. Learn more about how this works. Aaron Brzozowski
Aaron is a freelance writer, videographer and car enthusiast based out of the Detroit area. He has a special affinity for the Porsche 944 series, and once owned a Volvo 240 sedan with a Weber carb in place of the factory EFI system. His work has appeared on AutoGuide, GM Authority, /Drive, and VW Vortex, among other sites.
More by Aaron Brzozowski
Published August 13th, 2021 2:13 PM
Top Brands
Popular Articles